The Night After Christmas
Posted by Beth Huffer on Monday, 12/28/2015
The phrase "'Twas the night before Christmas," from Clement Moore's "A Visit from St. Nicholas" is familiar to most of us, but less familiar is the poem, "The Night after Christmas," written by Dr. Robert Archer. Archer, born in 1794 in Norfolk, Virginia, wrote the parody for his granddaughter in 1866. The poem describes the aftermath of the visit from "Old Santa Claus," showing the disastrous effects of overindulgence: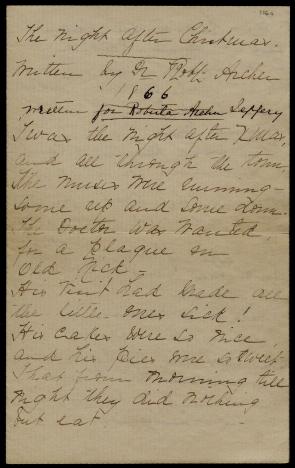 'Twas the night after Xmas, and all through the town,
The nurses were running—some up and some down.
The Doctor was wanted for a plague on Old Nick —
His visit had made all the little ones sick!
His cakes were so nice, and his pies were so sweet,
That from morning till night they did nothing but eat.

Their hearts were all light and peeped out of their eyes;
Their stomachs were tight and chock full of mince pies.
The vision of sick children escalates as the poem continues:
The children were rolling about on the floor!

The bed clothes were ruined, the carpet was spoiled,
And their pretty night dresses were crumpled and soiled.
Unlike Moore's description of a benevolent St. Nick, Archer's Santa Claus watches this scene unfold and tells the children,
"In every thing sweet, there's a drop that is bitter,
But cheer up my children you'll soon be all right"
And cracking his whip he soon dashed out of sight.
Despite the suffering, the children vow to do it all over again the next year.
Download a pdf of "The Night After Christmas" here.