Ohio History Teacher of the Year Interviewed about WWII Fallen Soldiers Project
Posted by Gilder Lehrman Staff on Tuesday, 02/11/2020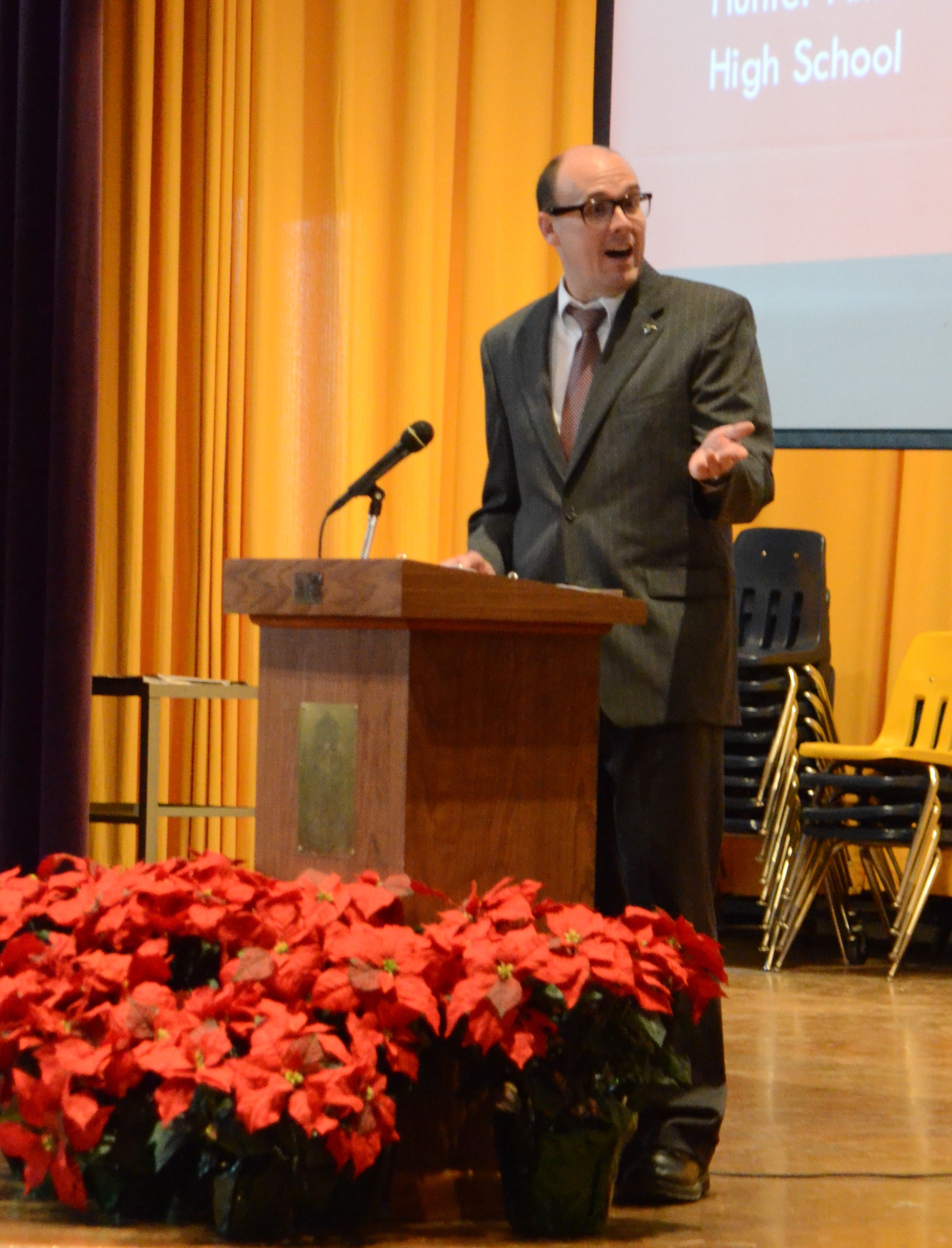 Joseph Boyle, the 2019 Ohio Teacher of the Year, has, since 2014 led a powerful teaching unit with his students at Morrison R. Waite High School in Toledo. Using only primary source documents, Boyle's students reconstruct the lives of fallen World War II soldiers from their community and present eulogies for them at a public event. His students, the state of Ohio, and now the country at large have been inspired by the work done by this Toledo native. 
Mr. Boyle kindly answered our questions about this program in February 2020.
How did you come up with the idea of matching students with fallen WWII soldiers from Toledo?
In 2011, one of my students and I were selected for National History Day's Albert H. Small Normandy Institute. The centerpiece of the institute was the "Silent Hero" project, in which we spent the better part of six months researching one service member from our state who was buried at Normandy American Cemetery. The students delivered eulogies at the gravestones of the men they memorialized, and it was just an incredibly moving experience. On the bus back to Paris from the cemetery, a few other teachers and I said to each other, "Why couldn't we do this back in our hometowns, and kind of hyper-localize it?"
When I got home, I pitched the idea of a semester elective on World War II with an individual memorial project at its heart. I was lucky to have an administration and board of education that shared the vision, and we launched the course in 2013.
Can you describe the steps you take to prepare and then realize the entire project every year?
Well, I hope none of my prospective students will read this, because I'm going to give away the secrets! When the class started, I was kind of surprised to find out that there was no list of the war dead specifically from Toledo. The War Department had a countywide list, and the Navy Department had an alphabetical book of everyone from the state, with their next-of-kin addresses. So, my first job was actually identifying who Toledo's dead were, and that took the better part of a year to build out the initial list of just Toledoans killed in the war. Then I realized that I was probably missing some; the primary source documents only listed the men who'd listed the county as their home. That excluded dozens of men who had lived in Toledo through childhood, and moved away—or those who counted, say, Cleveland, as their home town, but had built adult lives in Toledo. That led me to read somewhere in the neighborhood of 3,000 clippings from the Toledo newspapers that were maintained at the Toledo-Lucas County Public Library after the war, and I found about 150 men that had been missed in the initial cull of names.
I realized that if I was assigning one service member to one student each year, there were going to be varying degrees of extant documents on them, so I started doing background research on all 1,125 of them, and built a spreadsheet with their branch, rank, service number, unit, dates of death and birth, which schools they went to, if they were in yearbooks, where there were newspaper clippings, what their address was in the census, and so on.
So now the process is a lot easier. We're doing the fallen in alphabetical order, so I plug the addresses of the next 54 men into Google Earth as pins. Then as soon as I get my class lists, I plug the students' addresses in as differently colored pins, and I try to match each student up with the service member who lived closest to them. I mess with it a little bit after the first day of class, when the kids take a survey, and then if I know I have a football player, I match him with a football player from the 1930s. Basically, just trying to make sure each student has a meaningful match. Then, at the beginning of the second week of class, I assign the students their fallen hero, and they get a certificate with the name, rank, and serial number, which is all I give them. They have to find the rest, and rebuild their serviceman's life, service, and circumstances of death.
What was it like doing this project for the first time in 2014?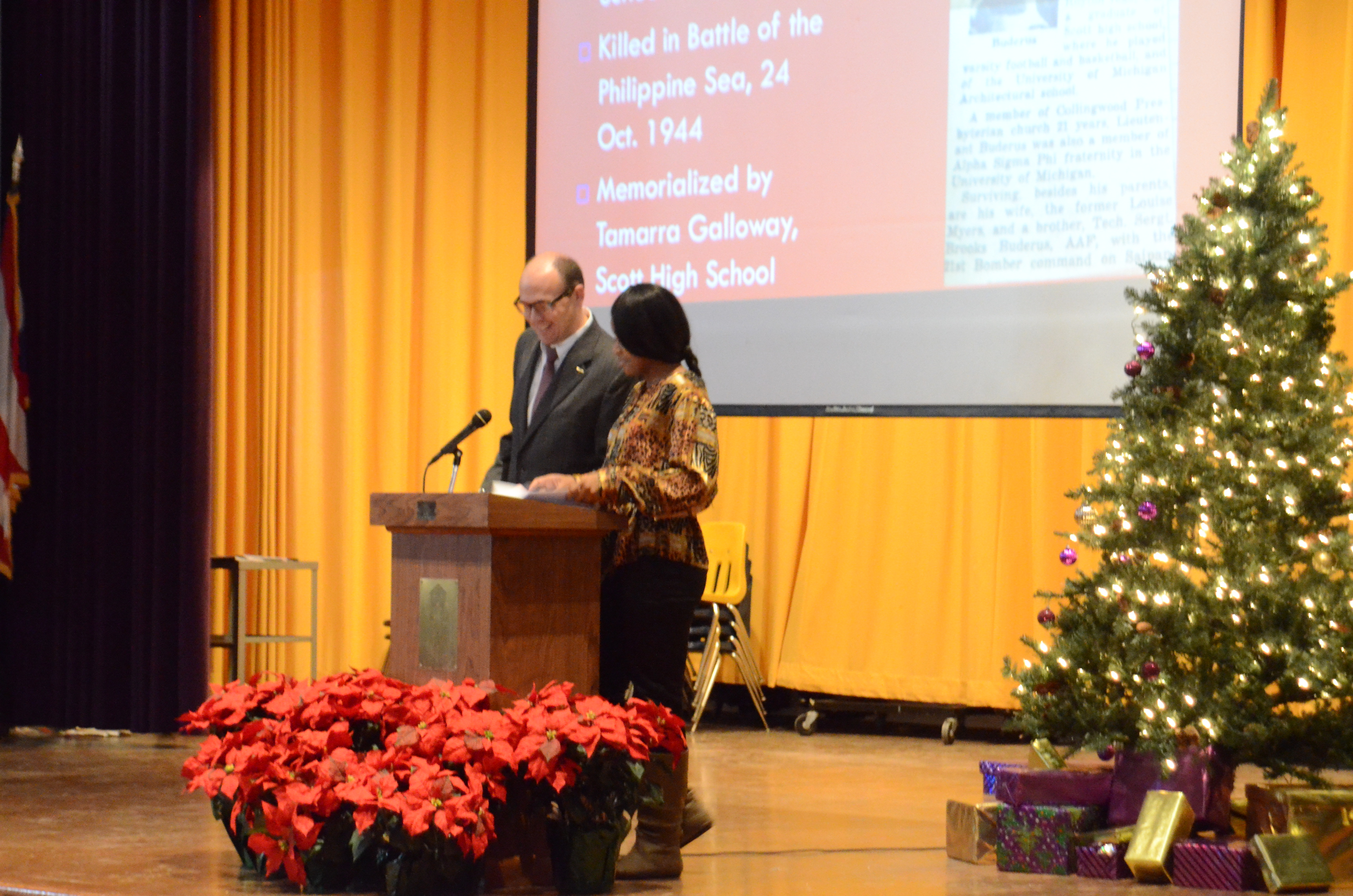 The project was wholly overwhelming the first year. I had 64 students, and was still feeling my way with it. It was incredibly difficult keeping the different projects straight, and then trying to confirm every detail in their projects. The other difficult thing was organizing the culminating assembly, held on Pearl Harbor Day, when the students present their research in the form of a eulogy for a room full of their peers, veterans, current service members, school and district administrators, and virtually every year, some of the relatives of the fallen whom we have located. I had absolutely no idea how to pull off an assembly like that, and I give all the credit in the world to Jen Lawless, a district administrator who really helped me understand what it was going to take. When it was all over, there was just a wave of emotion that crashed over me. That first year, we had three families of the fallen, including one sailor's son, in the audience. Watching the relatives interact with my students was everything you want as a history teacher—those kids fully understood the relevance of history in that moment.
The students that first year had no idea what to expect. Some of them were kids who had been in my classes before, and knew they'd have to do some kind of project. Others didn't know me at all. And the way they rose to the challenge was inspiring. To this day, one of my students from that first year visits the grave of her sailor once a year and brings flowers.
The response we got from the school district and the community was overwhelmingly positive. I think people realize, right now, how close we are to completely losing this history. And as I have talked about with a friend who's launching another World War II memory project, we don't want World War II to get World War I'd. There seems to be a visceral understanding of that in the community, and it really helps us underscore the importance of the class to the kids.
How have you adjusted the project in the years you've done it? And why?
The first year, we tried to get Individual Deceased Personnel Files on all of the men we were doing. The problem with a semester class of 30–60 kids is twofold. First, those things aren't free! Second, the National Personnel Records Center does fantastic work with limited resources, but their turnaround time understandably isn't always quick enough to serve a course that begins in late August and research has to be wrapped by Thanksgiving. So, we stopped going after the IDPF and pursued more documents that are available online.
That was another major change. The first couple years I had the students go to the local library to access Ancestry. But then I found out Ancestry has a truly excellent classroom grant program that allows the kids to get access to their suite of products in school. Ours is a large urban district with all of the challenges inherent, and being able to get access while at school was a real godsend for our kids and their research.
What have been some of the most memorable soldier–student matches over the years?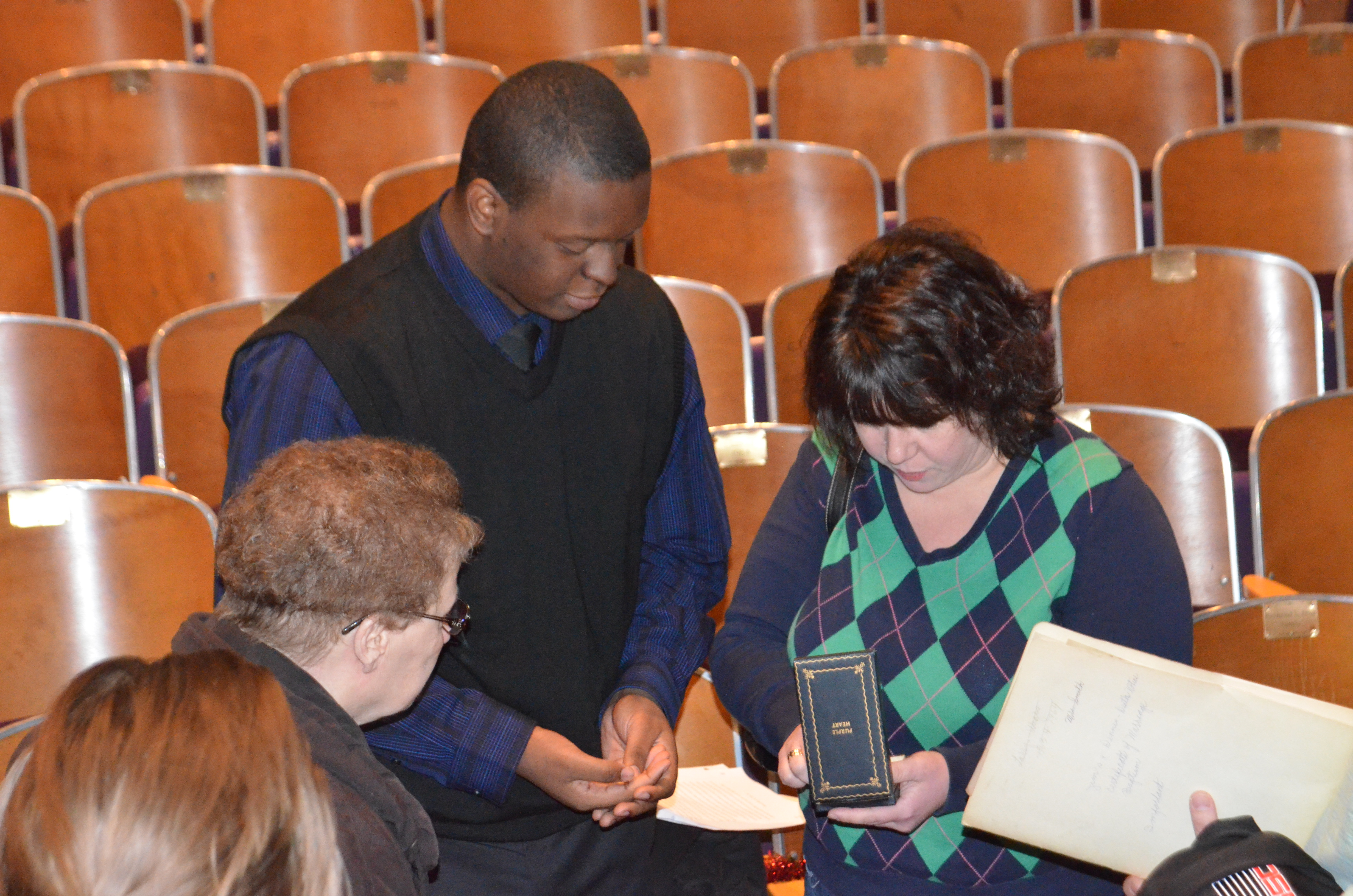 Just this year, we had a student who got a soldier from the same block he was from. This student has walked by his fallen hero's house every day for three years on his way to school. Another incredible match was a student I mentioned from the first year. Ashlee researched a sailor from Toledo, found the son he left behind, and met him at the assembly. She's the student who's gone back to John's grave every year. Another really incredible one was Marrissa, who researched a soldier from the east side of town. He went overseas, met an English woman, dated her a bit, and then was sent over to Belgium, and was killed in action. The day after he died, the young woman and her mother went to the base to find him, because she was pregnant. Marrissa found that soldier's English son, and his niece who still lived in Toledo. It was a truly special story.
Another one of my favorites was done by Jeremiah, who researched an African American enlisted man who served, obviously, in a segregated unit. Over the years, we've found that the records on black servicemen, and especially the local press coverage of black servicemen, was just embarrassingly terrible. With so little to go on, Jeremiah wrote his eulogy about the larger problem, and how many men had been forgotten when they were alive, much less after they'd died. It was incredibly powerful.
Probably the craziest one we had was a student named Essli, who researched a Toledoan who was listed as dead, name on the memorial, everything. Two weeks into the project she says, "Mr. Boyle, I don't think my guy died." Sure enough, her soldier was listed as dead, and came home well after the war. She found his family, including a grandson who joined the service partially because of the family tradition begun by his grandfather. The family told us these amazing stories about when he came home, and people fainted when they saw him, because everyone was sure he was dead! Out of 272 projects, that was the only one we've allowed about someone who survived the war!
What realizations have you personally had since starting this project?
My entry point to this was my great uncle, Paul Boyle, who was killed in the hedgerows of Normandy. I spent my adult life researching Paul, and was sure his was a unique story, and that the echoes of his life through three generations were unique. What I understand now, because of the kids, is the universality of the experience of families who lost someone. That's my personal realization.
My professional realization, which had been percolating a while anyway, is just how meaningless history is if we can't connect it to a student's personal experience. These kids end up fascinated by the war not because of B-17s, MG-34s, and Panzers, but because they've made a personal connection with a person who was in so many ways just like them. That fact has changed the way I teach everything.
Any realizations you've had about the World War II era since embarking on this project?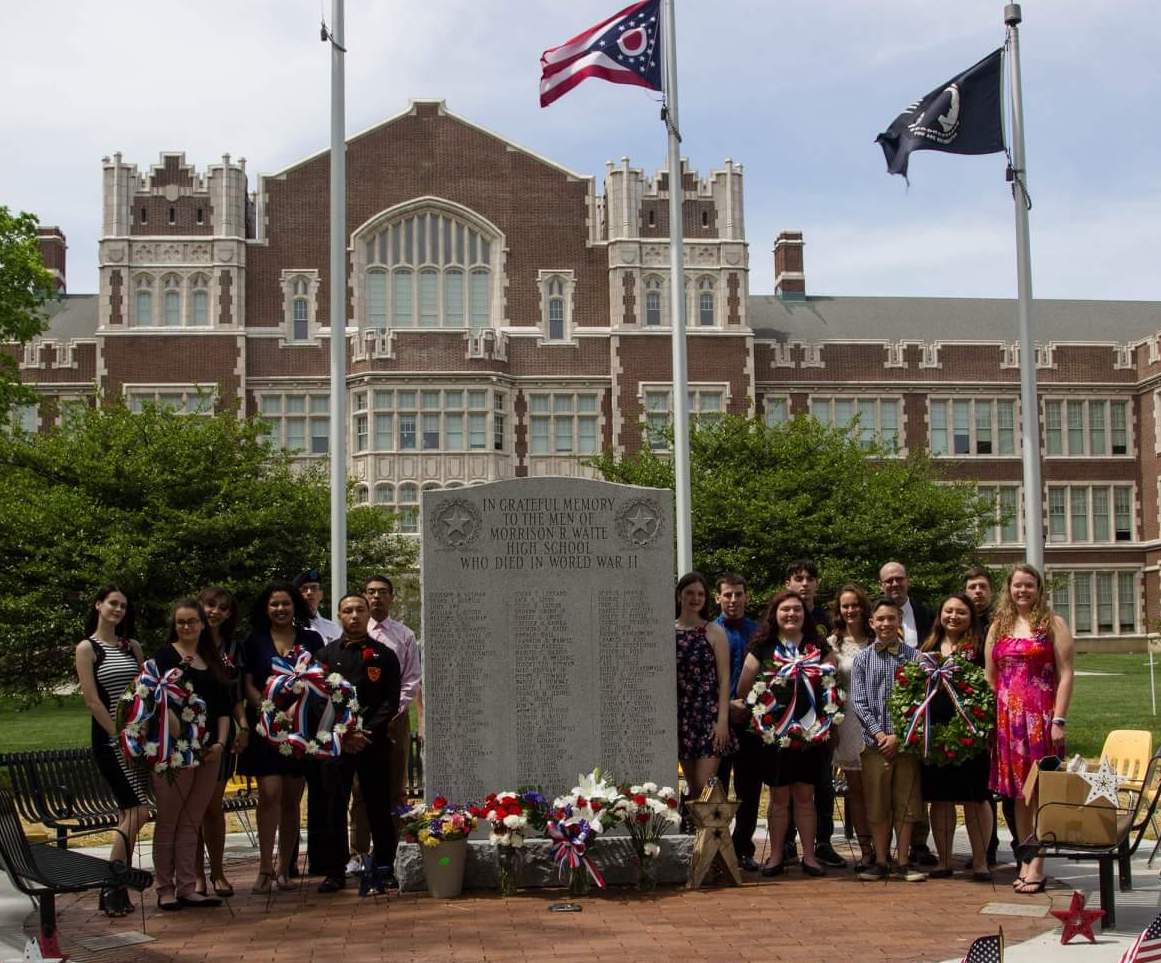 I guess the biggest realization about the era was how many more similarities there are between the young men and women of the 1930s and '40s and the kids in my classroom today. We sometimes find that our guys were stringing along a few girls at the same time, or they got suspended for cutting classes, or they were part of a dirty play in a football game, or got in a big fight. The "Greatest Generation" hagiography has made the men and women of that era into marble statues, and when they were 17, they were only marginally different from the kids researching them now. I've tried to keep in mind that people are more or less the same over time and space because of this project.
Has this project led to any others in or out of the classroom?
The World War II project spurred me to propose another elective that will debut in the winter of 2021, specifically focused on Toledo history. I can't wait to take the things we've learned about the city in the war era and expand on them in the new course. It also made me focus on a bigger project. I always wanted a textbook that could tell the story of the war, and the story of Toledo during the war. Over the past eight years, I've been accumulating information and primary sources from Toledo during the war. So, a few years ago, I decided to start doing some focused research to see if I could tell the entire story of the war through the stories of Toledoans. I began writing the book in the summer of 2019, and I'm about 80,000 words into it now. I'm talking with some publishers, and hope to have the book complete by the end of this year.