Playing ball for the troops: Yankees/Dodgers/Giants exhibition benefit game, 1943
Posted by on Wednesday, 03/27/2013
There's no denying the important role that baseball has played in America's past. It has always been considered more than a game, whether played by professional athletes or kids at the sandlot. This was never more obvious than during World War II. By 1943, the war was raging in Europe and the Pacific. American mothers and fathers sent their sons to war and those who stayed home made whatever sacrifices they could, great or small. President Roosevelt weighed in on the decision to allow baseball to continue in what is now known as the "green light letter" to Major League Baseball commissioner Judge Kenesaw Mountain Landis: "[T]hey ought to have a chance for recreation and for taking their minds off their work even more than before." Baseball served as a welcome distraction from fear and anxiety during WWII, and, more directly in some cases, as a means for raising the funds necessary to ensure victory.
The Gilder Lehrman Collection piece highlighted here comes from the papers of Sylvia and Morris "Moe" Weiner. Moe served in the US Army Quartermaster Corps during the war. He and his wife, Sylvia, corresponded daily just as any young couple would do separated by an ocean. Sylvia was very active in volunteering to support the war effort and other social causes. After the war she had a successful career as a social worker serving New York City.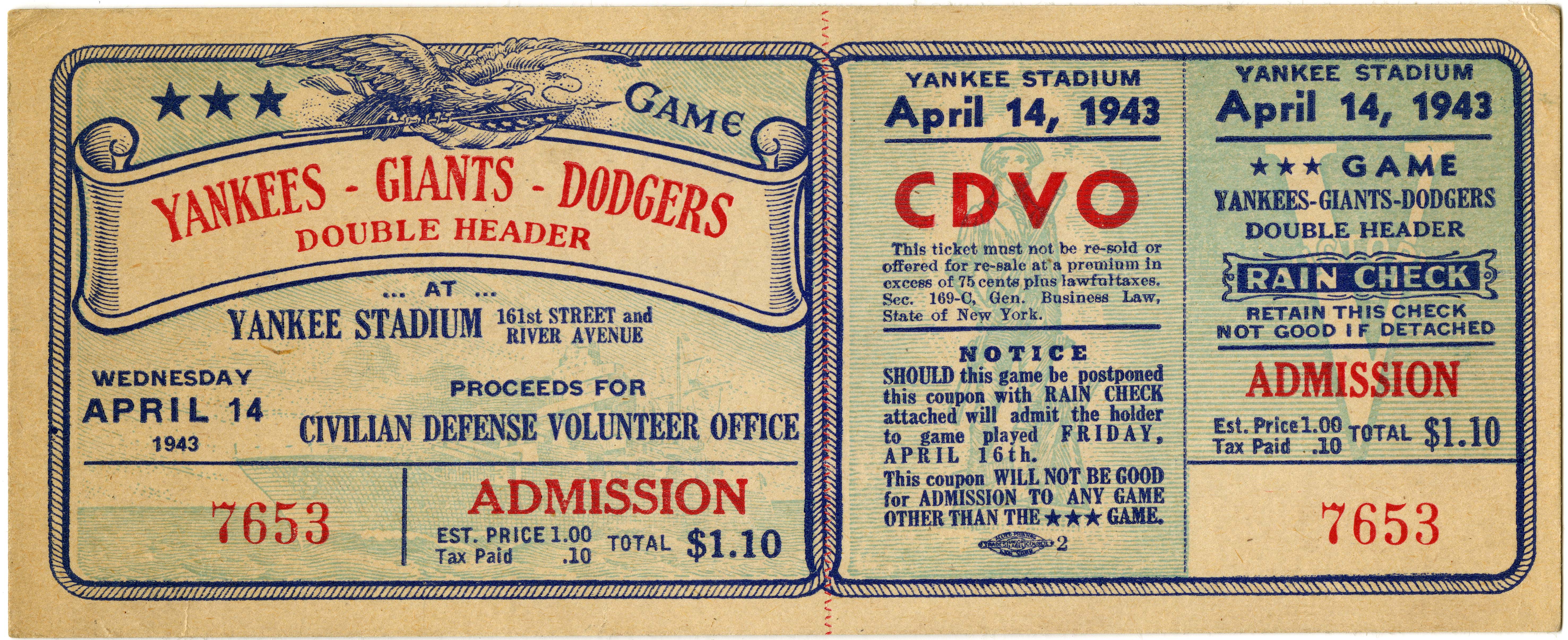 Their papers are quite extensive and contain more than 1,500 letters, which are currently being processed by an intern. While surveying the boxes we came across a folder marked "Miscellaneous," which had some unusual items, including this unused baseball exhibition game ticket from April 14, 1943. The game was held as a benefit for the Civilian Defense Volunteer Office. The CDVO was a part of the larger national Office of Civilian Defense and was charged with raising national morale while preparing and educating the public on a range of issues, including emergency planning and medicine.
This interleague doubleheader was a rare event for Yankee Stadium. The first game pitted the home team Yanks against the Brooklyn Dodgers with the victor taking on the New York Giants in the final. No team started many of their "regulars," since most were already drafted and serving overseas. Nonetheless, the stadium was sold out. While unseasonably cold weather kept many home on game day, the advanced ticket sales raised $75,000 for the CDVO, which in 2012 dollars roughly amounts to $1,000,000. Those who were not at the game could listen to Mayor Fiorello LaGuardia narrate part of the second game from the booth. The New York Times printed Mayor LaGuardia's opinion of his less-than-accurate commentary: "This is indeed embarrassing you know . . . but I have to do it because the CDVO needs the money, and that's why I'm doing it. So you must bear with me, and what I don't know you do, and I'm sure after I'm through all the errors will be corrected." Even though his stint at the mic was considered a failure by the paper, it could be said his amusing color commentating was before his time.
The first game was handily won by the Dodgers 6-1 over the Yankees. Then the Brooklyn fans in attendance were really heard after their team shutout the Giants to win the short series. The second game was also an experiment in humility for the Yankees as they were spectators in their own stadium. In all, the exhibition was a success; it raised a significant amount of money and helped boost the morale of New Yorkers. Although this ticket is a small piece of nostalgia, it tells a greater story. It's an example of the role that baseball played during the war and it reminds us that the communal aspect of wartime America was vital to the nation's endurance.
Sources
Bazer, Gerald, and Steven Culbertson. "When FDR Said 'Play Ball.'" Prologue Magazine 34, no. 1 (Spring 2002). http://www.archives.gov/publications/prologue/2002/spring/greenlight.html
Drebinger, John. "35,301 See Dodgers Defeat Yanks and Giants in CDVO Twin Bill at Stadium." New York Times, April 15, 1943.
"Mayor Broadcasts Part of Ball Game: But His Performance at CDVO Double-Header Doesn't Make Professionals Worry." New York Times, April 15, 1943.