Respected General turns traitor, 1780
Posted by Sandra Trenholm on Thursday, 08/22/2013
Benedict Arnold, whose name is now synonymous with the word "traitor," was once a well-respected American officer responsible for key victories at Fort Ticonderoga, Crown Point, Fort Stanwix, and Saratoga. Arnold's contemporaries were shocked when his plot to surrender West Point to the British was discovered in September 1780. Historical records indicate that Arnold's betrayal had begun in the spring of 1779 when he handed over military intelligence to the British. On August 3, 1780, he assumed command of the garrison at West Point, New York, and began to secretly negotiate its surrender to the British.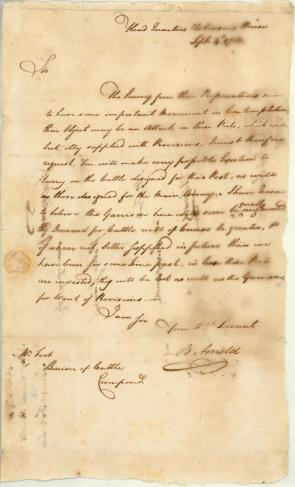 On September 4, Arnold ordered Ebenezer Foote, inspector of cattle in the Continental Army's Commissary Department, to move cattle from the countryside to West Point, because, according to this letter, he had "reason to believe the Garrison here will soon be greatly augmented the Demand for Cattle will of Course be greater." On the surface, it appears that Arnold was attempting to secure adequate supplies for the American troops. However, in hindsight we know that Arnold already planned to turn the garrison over to the British.
Two weeks after writing this letter, Arnold met with British spy master Major John Andre to confirm the bargain for West Point and to deliver the plans for the fortifications. While attempting to return to the British lines, Andre was stopped, searched, and arrested by American militia. A well-meaning American officer informed Arnold of Andre's arrest, giving Arnold time to make his escape. He defected to the British, served with them for the rest of the war, and lived out the remainder of his life in exile in Britain and Canada. John Andre was tried as a spy and executed on October 2, 1780. Americans attempted to exchange Andre for Arnold, but the British rebuffed the offer.
How did Arnold go from hero to traitor? Jealousy, a lack of recognition for his successes, a new loyalist wife, and a need for money to support a lavish lifestyle all factored in to Arnold's betrayal.
Transcript
Head Quarters Robinson's House
Sept. 4th. 1780.
Sir
The Enemy from their Preparations seem to have some important Movement in Contemplation, their Object may be an Attack on these Posts, which are but illy supplied with Provisions, I must therefore request. You will make every possible Exertion to hurry on the Cattle designed for this Post, as well as those designed for the Main Army. I have reason to believe the Garrison here will soon be [inserted: greatly] augmented the Demand for Cattle will of Course be greater, & if we are not better supplied in future than we have been for some Time past, in Case these Posts are invested, they will be lost as well as the Garrison, for Want of Provisions. –
I am sir
Your Hble Servant          
B. Arnold