Robert E. Lee writes about friends and "the daughters of Eve" at Fort Monroe, 1834
Posted by Sandra Trenholm on Tuesday, 06/18/2013
This gossipy and personal letter captures the close friendship between Robert E. Lee and John "Jack" MacKay. It offers an example of letter writing in the days before the instant communication provided by telephones and the Internet. It also demonstrates the camaraderie and easy-going friendship of army officers as well as the relatively carefree life enjoyed by US soldiers prior to the Civil War. It serves as a reminder that even the greatest of historical figures were human and spoke of girls, babies, and "blushing."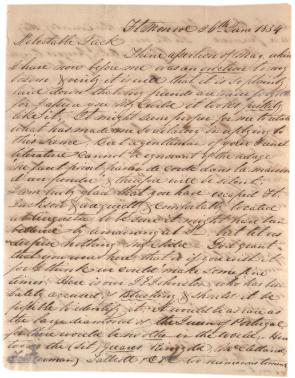 Lee and MacKay became friends while they were cadets at the US Military Academy at West Point. Upon graduation in 1829, both men joined the Engineer Corps and Lee's first assignment was to build Fort Pulaski, near Savannah, Georgia. The MacKay family, who lived in Savannah, "adopted" Lee and gave him a room in their home to use whenever he was in the city. Lee's friendship with MacKay would continue until the latter's death in 1848. Jack was one of the few people with whom Lee felt comfortable enough to share his humorous side.
In this June 1834 letter addressed to "Delectable Jack," Lee begins by playfully chiding his friend for not writing sooner and then updates him on the many West Point classmates and Army friends stationed at Fort Monroe, at Old Point Comfort near Hampton, Virginia. With so many mutual friends stationed at one place, Lee wished MacKay could be there to take part in the fun: "Grant that you were here, that is if you wish it, for I think we could make some fine times."
The playful way in which Lee describes the trials of his comrades reveals the lighthearted atmosphere at the fort. He hints that Joseph Johnston "has been lately accused of Blushing," Reports that the Hugers have had a little boy, and predicts "the arrival of a Small French, it may be _____ A girl. Promising boys hereafter." He wishes that MacKay had told him the name of Farley's Dulcinea, since the man is nearly inconsolable.
Lee also mentions the many young ladies who are expected to visit over the summer. He mentions several women, but it is his overall roguish commentary that is the most memorable.
As for the daughters of Eve, in this country they are framed in the very poetry of nature & would make your lips water & fingers tingle. They are beginning to assemble to put their beautiful limbs in this salt water. . . .
The "fine times" at Fort Monroe would not last forever. Trouble between the Engineers, who were working on the fort, and the Artillerists, who manned the fort, had erupted several times in 1834. A month after writing this letter, the Engineers were ordered by the War Department to evacuate Fort Monroe and to station themselves on Rip-Raps, a man-made island where Fort Calhoun was to be built. Lee, who did not want to be on that swampy island, reluctantly accepted a transfer to Washington as the Assistant to the Chief of Engineers.
Transcript
---
Ft Monroe 26th June 1834
Delectable Jack
            Thine assertion of May, which I have now before me, was an onction to my bosom, & verily it is well that it is so plainly laid down, that thy friends are never forgotten for I assure you My Child it looks peskily like it. It might seem proper for me to relate what has made me so dilatory in replying to this same. But a gentleman of your French literature cannot be ignorant of the adage 'ne faut point parles de corde dans la maison d'un pendu' & therefore will be silent. I am truly glad that you have escaped Ft. Jackson & are quietly & comfortably located at Augusta, to be sure it might have been bettered by remaining at S –, but let us despise nothing My Child – God grant that you were here, that is if you wish it for I think we could 'make some fine times.' Here is our JE Johnston, who has been lately accused of Blushing, & should it be possible to identify it, it would be as rare as the large diamond of the Queen of Portugal, for there would be no other in the world. – Here too is the (sit), greaves, Ringgold, McClelland, Fren(erman) Tallcott &c &c too numerous to mention As for the daughters of Eve, in this Country they are framed 'In the very poetry of nature' & would make your lips water & fingers tingle. They are beginning to assemble to put their beautiful limbs in this salt water & among the rest we expect some friends of ours. What Say you to the Misses Mason? But not so fast, for our Sister Nanie has gone on to N. York with Miss Matilda Macomb, on a visit to Mrs Stanton (Miss Alexandrine) But Miss Teaco has promised us a visit & for your sake I hope she is a lady of her word, in which case she will never forget you. The Point is in mourning for the loss of our good Colonel, who however cheers us on his departure with the expectation of his speedy return, predicated on the reluctance of Genl Walker Armistead to relinquish his agricultural pursuits. He having lately clawed off till October. Col. Fanning is now in Command & he & his dame have taken possession of the big House. The population of the Point has been encreased by one little Huger boy, & I take it upon myself to predict the arrival of a Small French, It may be ___________ A girl
Promising boys hereafter' – Ned French is still in Charleston, but we have heard that the order for his transfer to this post is out – Why did you not mention the name of Farleys Dulcinea, that I might have plagued him! For here he plays the inconsolable (For the loss of Miss Catherine Wirt) Frances himself in his Casemate by the Side of Constantine Smyth & they may at any time be found in a corner of one or the other room reenacting the 'Sorrows of Werter' – It is reported that 2 Compis from here with a full train of Field Artillery will take a jaunt over the Alleghany for the purpose of testing the carriages. Today we received the intelligence of Mr Stevenson's nomination to England & Mr Taney's to the Treasury Dept. having been rejected by the Senate, Mr Forsyth is spoken of to succeed Mr McClane, Mr Woodbury to take Cass' place & J. Fennimore Cooper to be Secy of the Navy. This last having come out in a political pamphlet shewing what he knows – But I forget I never mention Politics, thinking that you see all the Slang-whang in the papers, & care & believe as much as I do – Dick Tilghman is still on the Cumberland road, Tom K. has been relieved, I have not heard from his since, but expect from his sentiments expressed on former occasions, it was at his request. Joe told me [y]esterday he had written to you. The Boy is so [text loss] up these late days with Miss Mattie Starke that though pretending to be philosophical, is rather nervous. – Mackay did I depend upon you My Friend for tidings of your kind family, I should perish, but thank God I have other resources – when you write do Say for me all that is good & clever & tell them that I am famishing for the sight of them, The idea alone thrills through my heart like the neigh of my blooded stallion now does through my ears – Touching your promotional speculations, God grant you were a 1st now. Do not wait for me, for there is no prospect – You are aware that my assists Capt Talcott & Lt King are at the west on duty & that I am Comd –  [illegible] alone – Mrs. Lee & Young massa are well, they would doubtless send some messages, but I am at my labours & they are ignorant of my intentions – Prentis is in Washington & Landon Carter writes me so [text loss] up with fat, dignity & diplomacy that his [text loss] Creditors would not know him, which is as much as to say that Col. Johnston & myself have made some bad investments – We have been celebrating the death of the Good La Fayette all day – Au revoir my friend au revior
RE Lee