Romeo Smith: Slave, Soldier, Freeman
Posted by edward on Monday, 03/12/2012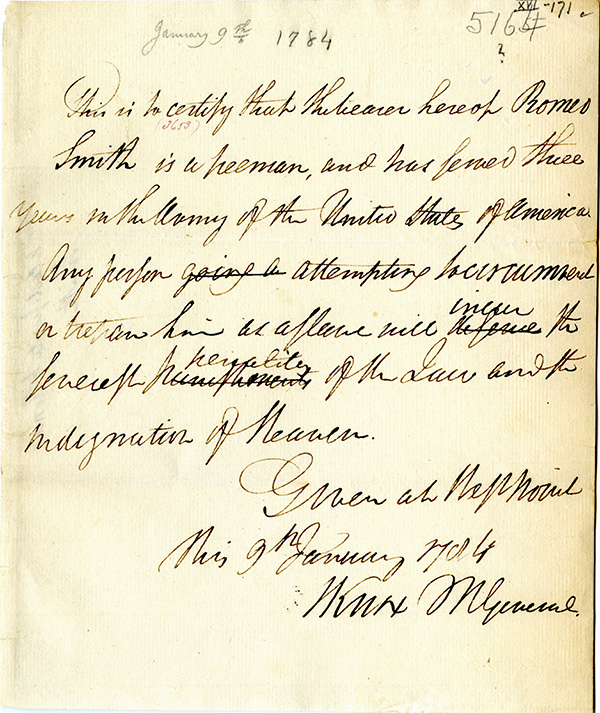 Born enslaved, Romeo Smith of Windham, Maine, entered the Continental Army with the promise of freedom in exchange for military service. He served in the 7th Massachusetts for three years and was supposedly manumitted. Yet in January 1784, the threat of being reclaimed as an enslaved person surfaced and Romeo sought the assistance of General Henry Knox. The document featured here is Knox's retained draft certifying Smith's freedom.
"This is to certify that the bearer hereof Romeo Smith is a free man, and has served three years in the Army of the United States of America. Any person [struck: going a] attempting to circumvent or trepan him as a slave will [struck: deserve] [inserted: incur] the severest [struck: punishment] [inserted: penality] of the Law and the indignation of Heaven."
This draft allows us to see Knox's word choice and gives us insight into his opinions. The certificate, as it was originally written, used stronger language. Knox edited "deserve the severest punishment" to "incur the severest penalty." His changes make the document sound more official, but also more neutral. His original wording suggests that Knox might have felt anger or indignation over the attempt to enslave a soldier who had faithfully served the American cause.
This certification is only one of many interesting items in the Gilder Lehrman Collection's materials relating to African Americans during the American Revolution.