Soldier Spotlight: A Union Soldier Loses a Daughter
Posted by Sandra Trenholm on Wednesday, 11/11/2015
George Tillotson from Greene, New York, enlisted in the 89th New York Infantry in November 1861. Some of his Civil War–era letters are among the 15,000 letters in the Gilder Lehrman Collection written by servicemen. He wrote home on a wide range of topics, from gruesome descriptions of the war to witty observations of people and events, and even flirty endearments to his wife and her "kissing battery." Tillotson's letters are both jovial and caustic as he describes camp life in detail and complains about the war.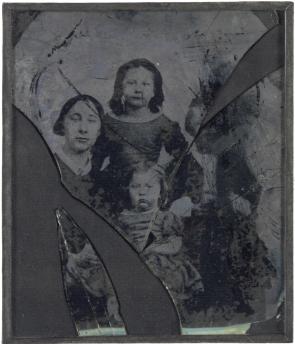 Although there are few letters from his family in the collection, through George's letters we can catch a glimpse of life on the home front. These letters address the daily tasks of running a farm, building a new home, having a child start school, battling a scarlet fever epidemic, and suffering the loneliness and fear that come from having a loved one at war.
Letters George wrote during the summer of 1862 remind us of hardships on the home front as well as on the battlefield. George had been in the army for five months and was stationed at Roanoke Island, North Carolina, when his wife, Libby, sent him the photograph featured here. The photograph was damaged in the mail and began a heartbreaking series of correspondence.
Tillotson mourns the death of his daughter
April 17, 1862: "Your letter of the 6th inst containing your pictures I received to-day all safe but not quite sound the glass being cracked. I can assure you it affords me a great deal of pleasure to gaze on those loved countenances but it would a great deal more to embrace those originals."
June 28, 1862: "You cant imagine the shock which the announcement of Lucys death caused me. I have been in the hospitoll now for three or four weeks but am getting better."
July 9, 1862: "I read Violas letter to George Sherwood today and had a crying spell over it, you can guess why. Has Leon and Georgina got well. Save them if it cost the farm and all the rest."
July 19, 1862: "Oh! how I do wish Dear Lib that I was at home to share your troubles, anxiety, sorrows, and to relieve you in some of your phisical labors, though anxiety and sorrow for our loss and our danger to loose I feel acute enough here. How I tremble to think how near Georgiana also has been to the brink of the grave."
July 24, 1862: "I am very anxious for the next letter from home for I have fears for Georgina yet in spite of the doctor's assurances but last night I dreamed of being at home and found all there to kiss except Lucy and her I enquired for."
July 30–August 1, 1862: "It is now almost a month since I have heard from home and Georgiana then so sick you can imagine my anxiety for a letter. .  .  . Oh! How I wish I knew how Georgina and all the rest of you have got along since July 5th a fellow might as well be banished to the island vandermonsd land [Vandemonian Land or Tasmania, Australia] for all the changes of communication."
The children eventually recovered, but their father's fear for their health is palpable for the rest of the war.
This archive contains 208 items spanning from 1861 to 1898, including 169 Civil War–era letters from Corporal George W. Tillotson to his wife, Anne Elizabeth "Libby"; 17 letters written to Tillotson by his wife, sisters, and fellow soldiers; two photographs; official documents relating to Tillotson's military service; and 11 documents relating to the service of his son, George H. Tillotson, in the National Guard during the Spanish American War.