Frederick Douglass and Booker T. Washington at the Tuskegee Institute, 1892: A Little-known Encounter
by Adele Alexander
Featuring a passage from Adele Alexander's book in progress, A Black Suffragist in the Jim Crow South: Adella Hunt Logan's Epic Journey
Author's Introduction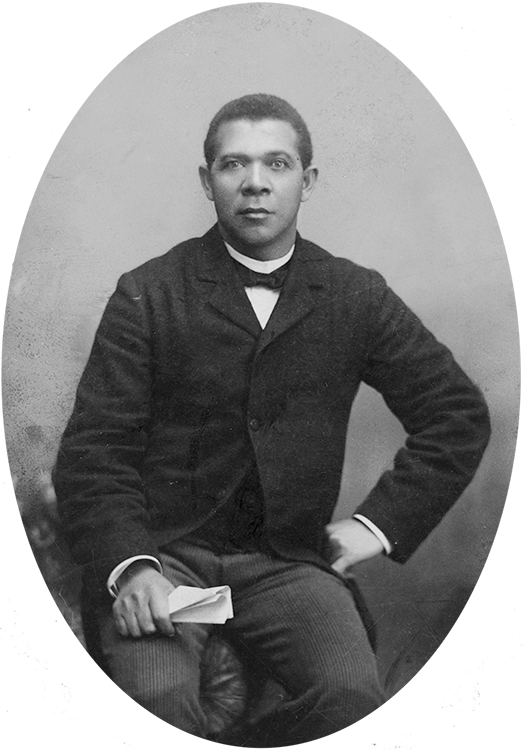 Most historians consider Frederick Douglass and Booker T. Washington the most prominent African American leaders of their eras. Born into slavery in 1818, Douglass raged at everything he had experienced himself and otherwise knew about the "peculiar institution." Nearly forty years younger than Douglass, Washington too was born in bondage, in 1856. In his writings and speeches, he addressed his people's anguish with honor and dignity, but far more cautiously than his predecessor.
Douglass initiated and participated in anti-slavery and women's rights protests, while Washington argued that slavery had provided an important "school" for his "primitive" people and equivocated about women's political and social equality. Unlike Douglass, Washington touted accommodation instead of resistance as the most viable route toward progress for "the race." His most famous autobiographical account was Up from Slavery (1901), a title I evoke at the conclusion of the excerpt below from A Black Suffragist in the Jim Crow South.
However one might evaluate their sometimes antithetical methodologies and philosophies, both Frederick Douglass and Booker T. Washington were major leaders. In 1881, Washington founded the Tuskegee Institute in rural Alabama and continued leading it until his death in 1915. During that span, his school became the country's largest and best-known institution for African Americans. Washington was received by royalty, consulted with several presidents, and worked in concert with industrialists and philanthropists such as Andrew Carnegie and Julius Rosenwald.
One intriguing exercise for historians is to look for intersections between the lives of giants such as Douglass and Washington, who met just once. Questions inevitably arise: What did they talk about? Did they like and admire one another or not? Since the participants were of different generations, did this meeting suggest a "passing of the torch"? Martin Luther King Jr. and Malcolm X met only once, during the congressional debates concerning passage of the 1964 Civil Rights Act, and no one has reported the content of their brief encounter. We have no evidence of what Douglass thought of Washington, and the closest we can come to knowing how Washington viewed his predecessor is revealed through his laudatory (and largely ghostwritten) 1906 book, Frederick Douglass: A Biography. In his memoir Up from Slavery, Washington stressed not any differences between their philosophies, tactics, or actions, but rather pointed out striking parallels in their lives.
I've been reading about these two extraordinary men for decades, but only recently came across an anecdote which suggests that they may have shaken hands as early as 1878. Some mystery even clouds the slightly better-documented account of their 1892 meeting that I've recreated here, which might explain why other historians have hardly addressed or analyzed the incident.
One version of the encounter (documented with a grainy photograph) has Douglass, at the age of seventy-five, visiting Tuskegee Institute in late March 1892, when Washington was only thirty-five. Another account suggests that the event took place a couple of months later. Historians often must try to reconcile such minor inconsistencies—and sometimes major ones too. But whatever the exact date, the occasion has been described as a "commencement address" attended by thousands of local black people as well as eminent guests of both races. Washington unquestionably would have orchestrated the event both to honor Douglass and to enhance his school's and his own burgeoning renown and reputation.
One potential complication, however, was that Douglass's wife was a white woman and the state of Alabama banned interracial marriages. A number of violent incidents occurred in the Deep South when black men and white women were seen together in what appeared to be intimate relationships. Finding no evidence to the contrary, I've assumed that Helen Pitts Douglass, her husband's usual travel companion, did not accompany him on that trip. It wouldn't surprise me if Washington, a cautious man, had suggested, or even directed, that she not come. Though only in his mid-thirties at the time, Washington, a two-time widower, recently had married again. All three of his wives were African Americans.
In large part, my interest in this encounter stems from the fact that I am presently completing research on the life of the African American suffragist Adella Hunt Logan (1863–1915). If the similarity between my name and Logan's strikes you, here's the reason: I am her only granddaughter. In the early 1890s, Adella was an attractive young mother, teacher, and librarian, and the wife of Warren Logan, who was Booker T. Washington's protégé when they were schoolmates at Virginia's Hampton Institute. For decades, Warren Logan served as Washington's second-in-command, as Tuskegee Institute's vice principal and treasurer. But while Warren wholeheartedly dedicated himself to his leader's mission and methods, Adella was a firebrand who chafed against the political and personal confines that the place and times engendered. Her main, and decidedly controversial passion, was universal woman suffrage.
To recreate Douglass's 1892 visit to Alabama, I've relied on myriad sources, including Louis R. Harlan's award-winning Booker T. Washington, the Making of a Black Leader, 1856–1901, and the voluminous Booker T. Washington papers at the Library of Congress, some of which, along with the photograph of Douglass at Tuskegee, are available online.
To make my book as accessible as possible, I've created a narrative history not only based on extensive research, but also enlivened by personal details and dialogue that I hope will intrigue the general reader.
Several years after the incident detailed here, to describe and characterize the Tuskegee Institute, both Adella Hunt Logan and the brilliant but controversial black intellectual giant W. E. B. Du Bois, one of her "frenemies" who became Booker T. Washington's fiercest critic, used the phrase "the Hither Isles," which I imaginatively attribute to Douglass. Susan B. Anthony, Sojourner Truth, and Ida B. Wells, whom I also mention below, not only were Douglass's friends and allies, but also leaders in the struggle for woman suffrage.
Excerpt from A Black Suffragist in the Jim Crow South: Adella Hunt Logan's Epic Journey (forthcoming) by Adele Alexander
Adella Hunt Logan was especially pleased to learn that Frederick Douglass, the tawny colossus whom many of her people lauded as the "King of the Freedmen," but who also boldly championed women's rights, soon would visit Tuskegee Institute. What she'd heard about his unqualified demands for black men's suffrage ("with no apron strings attached") during the debates of the late 1860s concerning ratification of the Fifteenth Amendment, thrilled her, but he'd also raged about how "our mothers, wives and daughters are beaten, assaulted and hung from lampposts, not because they are women, but because they are colored."
In the spring of 1892, Booker T. Washington proudly informed members of his inner circle, including the Logans, that Frederick Douglass had agreed to deliver the school's graduation address, but Adella was fairly certain that Douglass's white wife wouldn't join him in that part of the country where interracial unions were forbidden by law and often penalized in practice. Many southern savages were primed to assault any colored man who appeared to have any intimate relationship with any Caucasian woman such as the second Mrs. Douglass.
The evening before the graduation, the Washingtons hosted a private reception to honor their distinguished visitor. On that occasion, Adella told Mr. Douglass how much she admired him and his friends Sojourner Truth, Ida B. Wells, and Susan B. Anthony, then entreated him to sign copies of his three autobiographies for the school library and a portrait photograph for her. She'd proudly hang that image on her study wall, and several years later heard her son tell an inquisitive friend: "Mamma says his words are thunder, so I think he must be God."
Cradling Adella's small hand in his huge one for a long moment and admiringly beaming down on her, Douglass said, "Thank you for your compliments, Mrs. Logan, and I greatly respect those of you who toil so nobly here in the vineyards of these hither isles."
Before dawn the next day, thousands of rural Alabamians began flocking to Tuskegee Institute to hear Douglass deliver his popular and oft-repeated speech, "The Self-Made Man." They ranged from dark-skinned tykes to grizzled old-timers who'd trudged for hours to reach the campus, or driven their wagons that clogged the surrounding dirt roads. The ceremony itself and Mr. Washington drew some of them, but Frederick Douglass, who in years to come Adella would remind her young son and daughter (both of whom she took with her to the historic event) that they'd met in person, attracted far more. Their aging hero had learned to write in the face of daunting odds; recruited black troops to fight for their freedom; served his government at home and abroad, and touted racial equality and women's rights. He was their lion in winter who'd resisted, escaped from, and evangelized against human bondage, and also staunchly opposed Abraham Lincoln's proposals to "repatriate" members of the race to Africa. They too were Americans, Douglass insisted, and belonged in the United States as much as did any white folks.
Douglass was a bit hoarse and palsied that spring morning, but despite his seventy-five years, he stood arrow straight at the podium as he imparted his wisdom of and for the ages.
First addressing the school's white visitors, he urged: "If a Negro cannot stand, let him fall. Give him a fair chance then leave him alone, but make sure you give him that opportunity." "Without exertion," he continued for the graduates, "there will be no acquisition; without labor, no knowledge; without friction, no polish and without conflict, no final victory."
"Work with your hands, my young people, and they'll grow strong," he roared. "The same is true when you work with your mind. And remember this: right is of no sex; truth is of no color!" That maxim had graced the masthead of his acclaimed abolitionist newspaper, The North Star.
Douglass declared himself impressed by the changes in the American South that he perceived, having heard about Alabama's past racial horrors in what he called the "hither isles." Plucking a phrase from Revelations to rapturous applause from the huge throng, he concluded, "This satisfies my vision of a new heaven on a new earth."
Adella believed Douglass saw himself as passing the torch of leadership to a new generation, especially to their principal. Frederick Douglass, who wrote My Bondage and My Freedom, and Booker T. Washington, who over the years would document his own journey "up from slavery," seemed two of a kind. They agreed that the strongest would survive and thrive, but offered scant compassion or solace for those impeded by race, sex, poverty, ignorance, violence, and injustices. That failing deeply disturbed Adella. Mr. Douglass no longer was the virile stallion she'd envisioned from years past, but with his noble brow, piercing eyes, and frizzly pewter mane, he was the most spellbinding person she'd ever encountered.
---
Adele Logan Alexander, writer and historian, has taught extensively, most recently at George Washington University, and published three books on African American and women's history. She is the author of A Black Suffragist in the Jim Crow South: Adella Hunt Logan's Epic Journey, forthcoming.