Gilder Lehrman's Summer Interns Report In
Posted by Gilder Lehrman Interns on Wednesday, 08/29/2018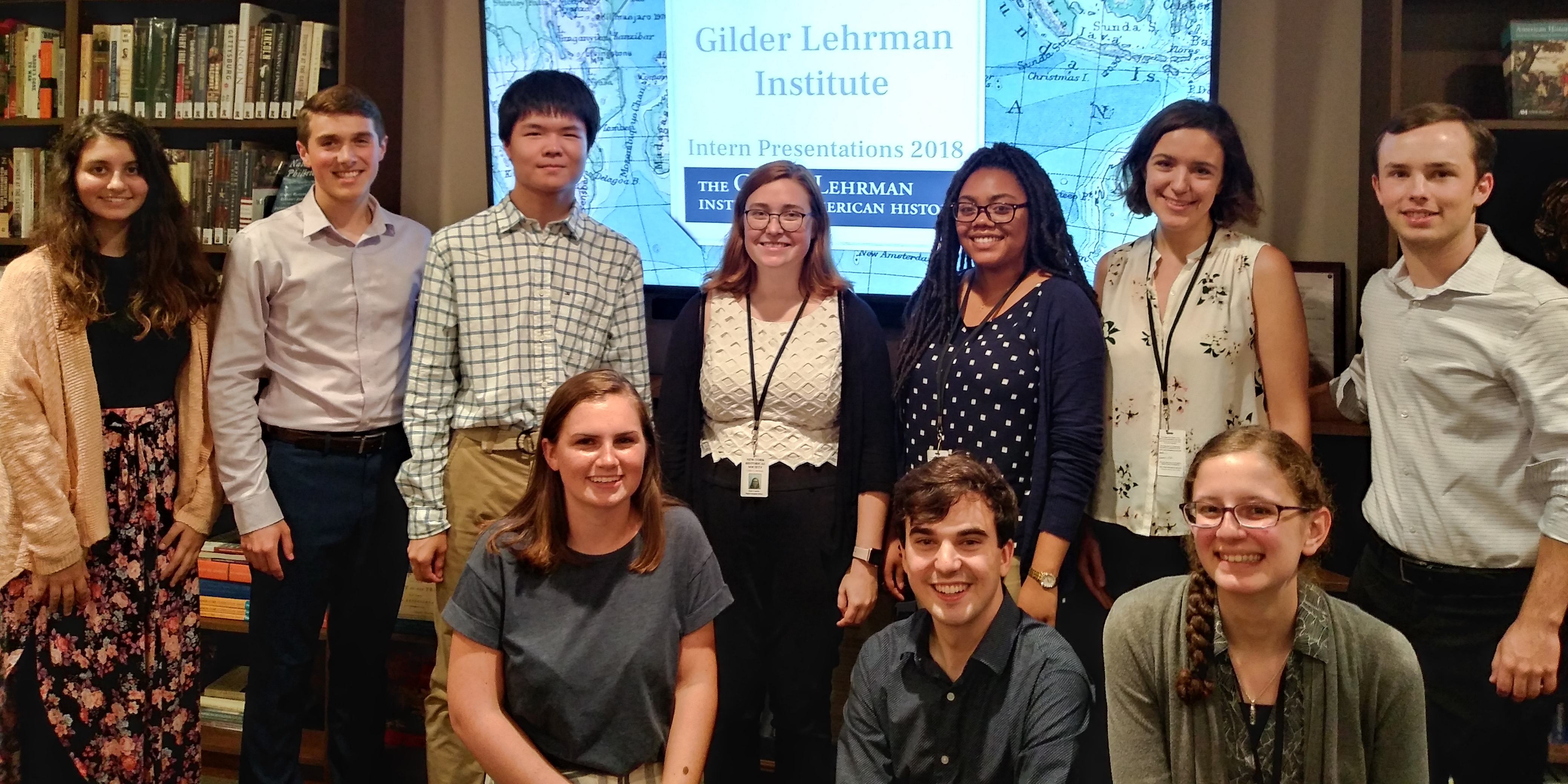 An internship at the Gilder Lehrman Institute is a meaningful way for any student—studying history or any of a variety of other subjects—to spend the summer. The Institute offers paid internships in all departments and a wide range of experiences, including archival research, non-profit development, education, and finance. Throughout the eight-week program, interns are integrated with a friendly and supportive staff and engaged in dynamic, hands-on work.
This year's intern team ranged from high school students to graduate students, with academic interests and majors including history, political science, media studies, and business. As part of the program, the Institute offered many opportunities for professional growth through workshops in such topics as drafting resumes and through discussions with full-time staff about potential careers.
In addition to working in their assigned departments, all the interns also spent one day a week at the Gilder Lehrman Collection cataloguing recently acquired documents from the Watergate era. They examined letters, petitions, and articles that had been sent to the office of Carlos J. Moorhead, a US representative from California. The documents highlight the wide range of opinions held by constituents in Moorhead's district, from unyielding support for President Nixon to calls for him to be impeached. The project exposed all interns to archival research, teaching them to use historical context and rhetorical analysis to gain insight into national sentiment during the Watergate scandal and draw parallels to the modern day.
Tristan, a research intern, catalogued one particularly memorable document:
To my mind, the most memorable document in the Watergate folio that Ryan (the accounting intern) and I catalogued was a cartoon from the Washington Post titled "Rose Mary's Baby," in which startled politicians cover their mouths in horror à la Mia Farrow in the film Rosemary's Baby. Just as the devil-child's eyes terrified Farrow's character, the politicians are horrified by the "face" of one of the Watergate tapes. The cartoon's humor lies in the fact that Nixon's administrative assistant, Rose Mary Woods, "accidentally" erased 18.5 minutes from one of these tapes.
I was curious about who these politicians depicted in the cartoon might be. Perhaps Representative Carlos J. Moorhead was one of them? After doing some research online, I found the following information from his 2011 obituary: "Mr. Moorhead was one of a handful of Republicans who backed President Richard Nixon during the Watergate scandal until evidence against the president became too overwhelming."
Though the interns had different responsibilities in their departments, the weekly Watergate research allowed this year's cohort to bond, laugh, and work together, gaining professional skills along the way that will extend into all of their career endeavors.