More than two million soldiers served in Europe with the American Expeditionary Forces between 1917 and 1920. Once deployed to Europe, soldiers wrote letters to their loved ones describing conditions on the field and ordinary day-to-day worries. Join us on May 6, 2021 from 7:00 to 8:00 p.m. ET (4:00 p.m. to 5:00 p.m. PT) as we dive into the experiences of World War I nurse Ella Jane Osborn and discuss how we can use her diary to learn about the war.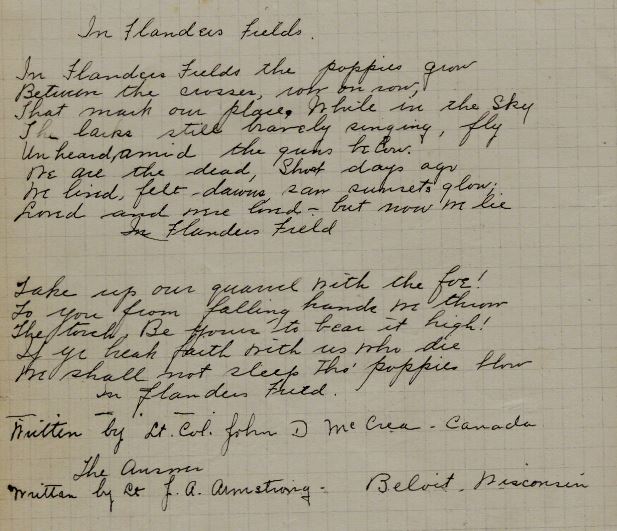 Everyone who registers will be sent a Zoom meeting link and instructions in the confirmation email.
PD certificates will be sent to all who attend the entirety of the program.
For more information, please contact us at collectionprograms@gilderlehrman.org.
Inside the Vault: Highlights from the Gilder Lehrman Collection is an online program that highlights unique primary sources from the Gilder Lehrman Collection. From iconic historical treasures, such as the Declaration of Independence, the Constitution, and the Emancipation Proclamation, to personal letters that reveal the contributions of ordinary American citizens, each session will investigate primary sources and discuss their background, impact, and potential use in the classroom.
This event is for teachers, students, families, and everyone with an interest in American history.
Upcoming Programs
May 20, 2021: World War II Soldiers: Robert Stone: Lieutenant Robert Stone served as a bombardier in the 431st Bomb Squadron (Heavy), 7th United States Army Air Force during World War II. Bob was a nineteen-year-old college student when the Japanese bombed Pearl Harbor on December 7, 1941. He left college to join the Army Air Corps and would fly 40 missions in the Pacific. His letters provide a detailed eyewitness account by one soldier in a way that cannot be captured in a textbook. Join us on May 20, 2021 from 7:00 to 8:00 p.m. ET (4:00 p.m. to 5:00 p.m. PT) as we examine Lieutenant Stone's letters to his family. 
June 3, 2021: The March on Washington: On August 28, 1963, 250,000 people gathered in front of the Lincoln Memorial for the March on Washington for Jobs and Freedom. The event was covered by approximately 3,000 members of the press. Join us on June 3, 2021, from 7:00 to 8:00 p.m. ET (4:00 p.m. to 5:00 p.m. PT) as we examine materials related to the organization of the march as well as the subsequent press coverage. Registration coming soon.
June 17, 2021: Fighting for the Rights of Black Lives in the Founding Era: Prince Hall and James Forten protested the treatment of Black Americans during the Founding Era. In 1788 in Boston, Hall wrote a petition demanding the Massachusetts government protect Black sailors from being kidnapped and sold into slavery. He also wanted the state to ban slave-trading ships from entering the harbor. In 1813 in Philadelphia, Forten wrote a pamphlet denouncing a proposed bill that curtailed the rights of Black people and prohibited the immigration of people of color into the state. Join us on June 17, 2021, from 7:00 to 8:00 p.m. ET (4:00 p.m. to 5:00 p.m. PT) as we examine the writings of these two men who fought for the rights of Black lives in the Founding Era. Registration coming soon.