Have you seen other students' performance pieces from the Hamilton Education Program and wondered, "How do I do that?" In this class, we will look at primary source documents on the Hamilton Education Program website and find their dramatic potential. We will focus on the Founding Era's untold stories and people who lived in the world of Hamilton.
Each week we will be joined by a guest from the musical Hamilton. Both cast and creative team members will provide insight into how they find their own story in the text. Not only will students learn the historiography of documents from the eighteenth and nineteenth centuries, they will also learn how to turn primary sources into compelling performance pieces.
Key Information
The course begins on Saturday, March 13, 2021.
Classes will occur once a week for eight weeks.
Class will not meet on March 27 or April 3.
Classes will begin at 2:00 p.m. ET/ 11:00 a.m PT.
Weekly classes are 45 minutes in length on Zoom. These sessions will incorporate a combination of lectures, activities conducted on the Zoom chat, polls, and a Q&A discussion.
This course has an estimated weekly commitment of 45 minutes of class time. Students are encouraged, though not required, to create performance pieces outside of class.
Intended Audience
This course is for middle and high school students (grades 6–12). Parents, teachers, and other adults are welcome to attend the course but are asked not to participate in polls or submit discussion questions so that we may prioritize student learning. Adults are encouraged to view the class recordings, which will be made available on this course page.
We encourage participants' teachers or families to sign up for Hamilton Education Program Online to access the documents and curriculum discussed.
LesSon schedule and registration
Students under 13 must be registered by a parent/guardian. Please follow instructions on the registration page. Each class is a stand-alone lesson and students are encouraged to sign up for multiple classes. Students who are unable to attend live sessions will be able to view recordings of classes. Videos will automatically be added to this course page.
Week 1

Saturday, March 13, 2:00 p.m.–2:45 p.m. ET

Special Guest: Cherry Torres (Ensemble, North American Tour) discussing Margarita "Peggy" Schuyler

Week 2

Saturday, March 20, 2:00 p.m.–2:45 p.m. ET

Special Guest: Antuan Raimone (Universal Swing, Broadway) discussing Belinda, a slave from Massachusetts

Week 3

Saturday, April 10, 2:00 p.m.–2:45 p.m. ET

Special Guest: Hannah Ryan (Resident Director, Broadway) discussing Abigail Adams

Week 4 

Saturday, April 17, 2:00 p.m.–2:45 p.m. ET

Special Guest: Nik Walker (Aaron Burr, North American Tour) discussing Aaron Burr

Week 5

Saturday, April 24, 2:00 p.m.–2:45 p.m. ET

Special Guest: Victoria Scovens (Eliza Hamilton, North American Tour)

Week 6

Saturday, May 1, 2:00 p.m.–2:45 p.m. ET

Euan Morton (King George, Broadway) discussing Phillis Wheatley

Week 7

Saturday, May 8, 2:00 p.m.–2:45 p.m. ET

Special Guest: Roberto Sinha (Music Director, North American Tour) discussing Benjamin Franklin

Week 8 

Saturday, May 15, 2:00 p.m.–2:45 p.m. ET

Special Guest: Marc delaCruz (Ensemble, Broadway) discussing John Quincy Adams
Meet Your Teacher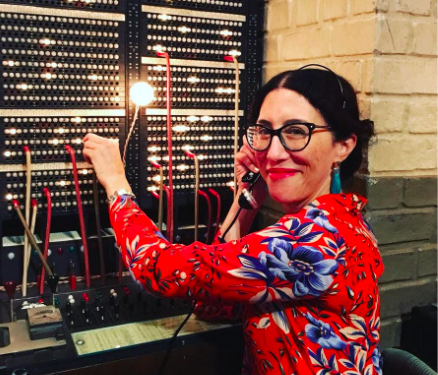 Gena Oppenheim is a theater and film studies teacher from New York City. A graduate of Barnard College and NYU Tisch School of the Arts, she just started her ninth year teaching at Saint Ann's School in Brooklyn. She is thrilled to continue her work as the Senior Education Fellow for the Hamilton Education Program at the Gilder Lehrman Institute.
Participation Certificate
Students who get 100% on the attendance quiz can get a certificate from the Gilder Lehrman Institute confirming their attendance in each History School session.
Please email hamilton@gilderlehrman.org with any questions about the course.