Summer 2023 Newsletter
Gilder Lehrman Institute Events & News
RECENT EVENTS
Twelfth Annual Gilder Lehrman Gala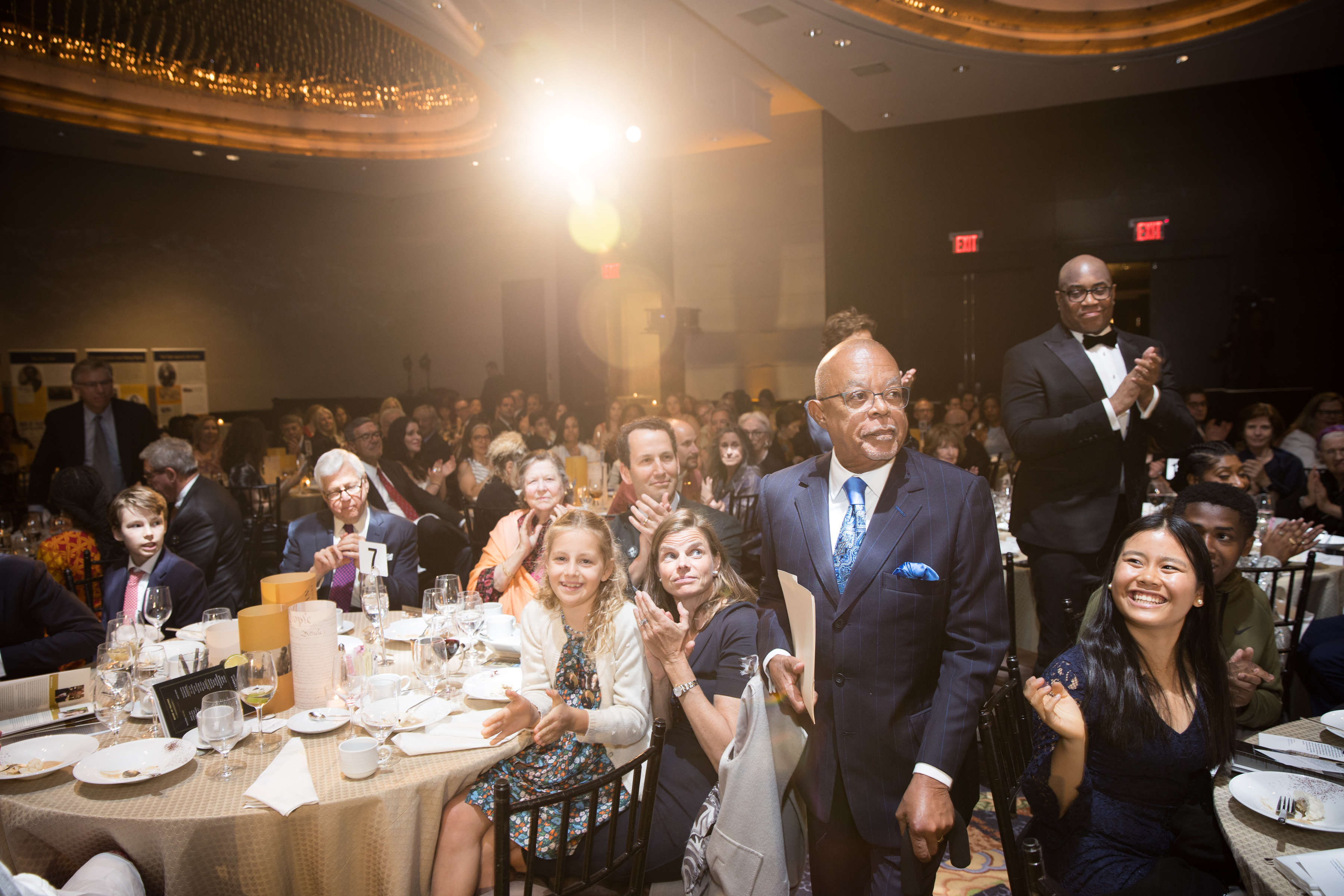 The Gilder Lehrman Institute held its twelfth annual Gala on Tuesday, May 23, 2023, in New York City. The Gala honored Debbie and Craig Stapleton, Valerie Rockefeller, and Henry Louis Gates, Jr. Business and civic leaders, renowned scholars, theatrical stars and writers, and other Institute supporters joined teachers, students, and Gilder Lehrman staff for a night of celebration.
Student performers chosen from the Hamilton Education Program entertained guests, and Vanessa Sears, a surprise guest from the current Broadway revival of New York, New York, performed the show's theme song. All honorees were introduced by members of the Gilder Lehrman Student Advisory Council.

In their remarks Debbie and Craig Stapleton focused on their dedication to the teaching of history as a means of preserving democracy. Craig served as US Ambassador to France and the Czech Republic.
Valerie Rockefeller spoke about her background in special education and how the Institute allowed her to use primary source documents in her classes before she became a full-time philanthropist engaged in humanitarian and environmental causes.
Henry Louis Gates, Jr., made clear that, despite his accolades and titles as a documentarian, television personality, and history scholar, he is first and foremost a teacher who believes in supporting other teachers as the Gilder Lehrman Institute does every day.
All of the honorees' remarks can be viewed on video here.
---
The Gilder Lehrman Lincoln Prize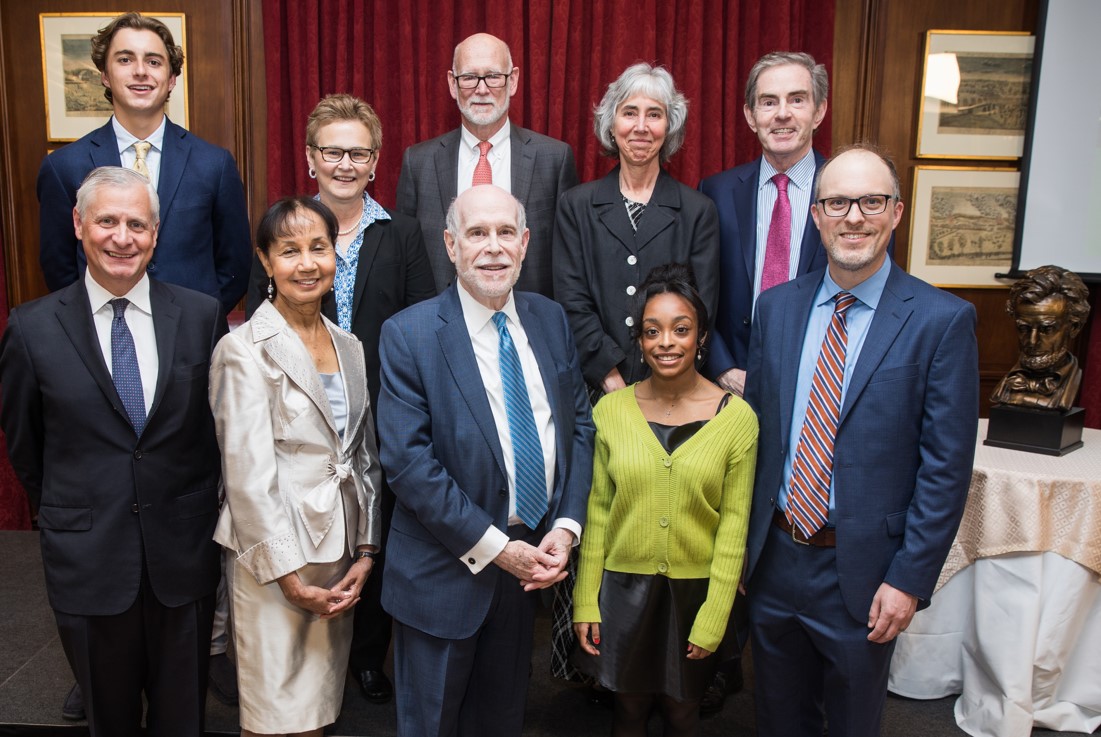 The 2023 Gilder Lehrman Lincoln Prize ceremony was held on April 11, 2023, in New York City.
The ceremony honored this year's laureates, Jon Meacham for his book And There Was Light: Abraham Lincoln and the American Struggle and Jonathan W. White for his book A House Built by Slaves: African American Visitors to the Lincoln White House. The laureates shared a $50,000 prize and each received a bronze replica of Augustus Saint-Gaudens's life-sized bust Lincoln the Man.
Remarks were given by James G. Basker, the president of the Gilder Lehrman Institute of American History; Thomas Lehrman on behalf of Institute co-founder Lewis E. Lehrman; and Gettysburg College trustee Larry Walker. Student Advisory Council members Samaria Noel and Spencer Segura introduced Jon Meacham and Jonathan W. White, who gave their own remarks and spoke with the attendees in a lively dialogue.
Learn more about this year's laureates here.
Watch a full video of the event here.
---
UPCOMING EVENTS
Inside the Vault: Twentieth-Century Voting Rights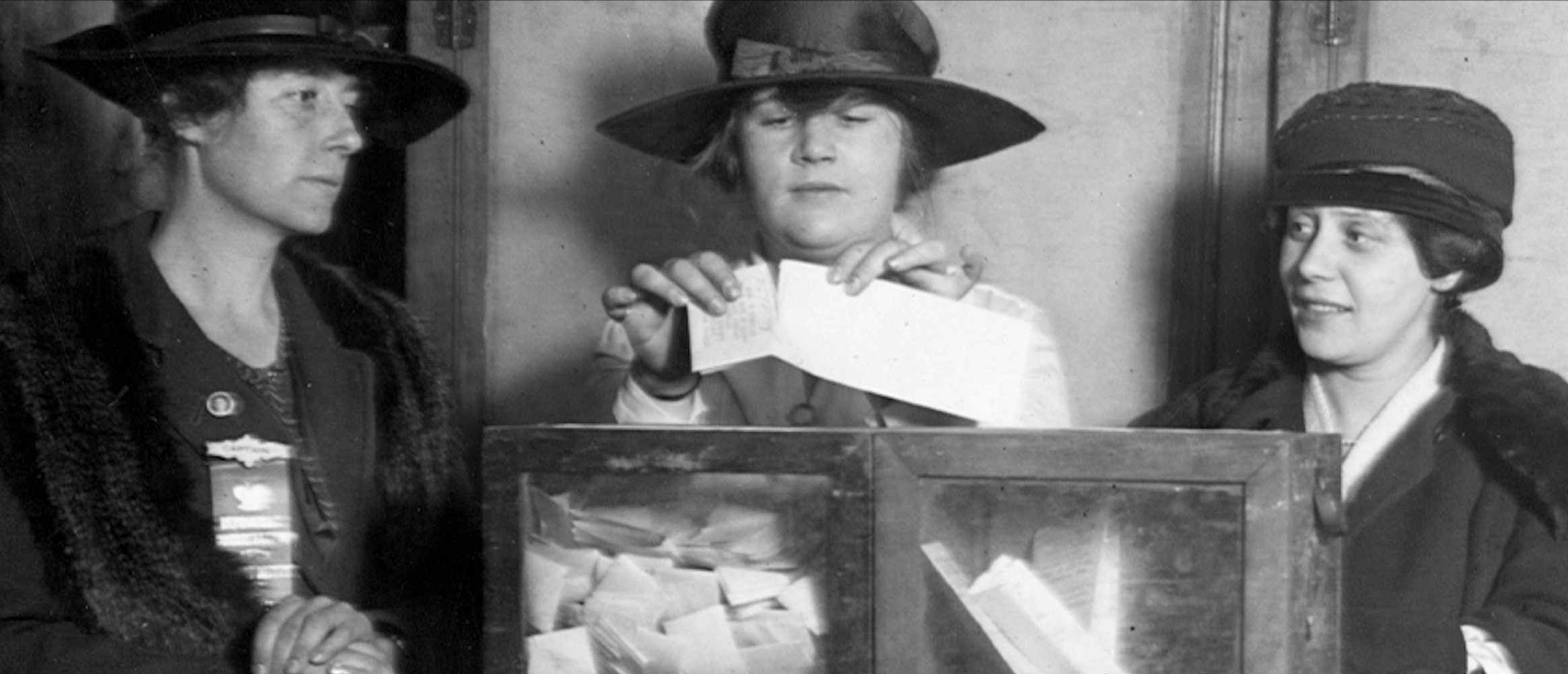 The twentieth century saw an expansion in the right to vote for many Americans. What changes took place? Who did they affect? Why did they happen?
Join us on August 3, 2023, from 7:00 p.m. to 8:00 p.m. ET, when our curators discuss primary source documents about twentieth-century voting rights with Dr. Barbara Perry, Gerald L. Baliles Professor and director of Presidential Studies at the University of Virginia's Miller Center. The program will examine voting rights as part of the greater Civil Rights Movement and highlight documents relating to the enfranchisement of Indigenous peoples and young Americans.
Submit your questions for Dr. Perry here.
Inside the Vault: Highlights from the Gilder Lehrman Collection is an online program focusing on unique primary sources from the Gilder Lehrman Collection. Each session investigates primary sources and discusses their background, impact, and potential use in the classroom.
Enjoy the Inside the Vault archive of past programs, most recently an exploration of the Whiskey Rebellion in the broader context of legitimizing federal power in the early United States. This exciting program was made possible by the Fund for the Endowment of the Diplomatic Reception Rooms, which also supported February's Benjamin Franklin Inside the Vault and an upcoming program in September commemorating the 240th anniversary of the Treaty of Paris.
Coming to ITV on September 7: The Treaty of Paris!
---
Book Breaks in July
Join us each week for lively conversations about new history books with eminent scholars on Book Breaks, held every Sunday at 2 p.m. ET (11 a.m. PT) online.
In July, our authors focus particularly on leadership in wartime from military, intellectual, political, and legal angles.
July 9: Chad Williams, The Wounded World: W. E. B. Du Bois and the First World War
Chad Williams uncovers a complicated portrait of Du Bois wrestling with moral self-doubt about the American patriotism he encouraged during World War I and the systemic racism within the military and the US that continued after the war.
Chad Williams is the Samuel J. and Augusta Spector Professor of History and African and African American Studies at Brandeis University.
July 16: Walter Stahr, Salmon P. Chase: Lincoln's Vital Rival
Secretary of the Treasury Salmon P. Chase, who began as Lincoln's presidential rival in 1860, made vital contributions to the Union war effort and influenced the President, particularly in recognizing Black rights.
Walter Stahr is a New York Times bestselling biographer and historian.
July 23: John Sedgwick, From the River to the Sea: The Untold Story of the Railroad War That Made the West
John Sedgwick introduces the "longest, most expensive, and most destructive railroad war in American history" that defined the modern West and resulted in the cities of Colorado Springs, Los Angeles, and a host of others.
John Sedgwick is the bestselling author of Blood Moon: An American Epic of War and Splendor in the Cherokee Nation and twelve other books.
July 30: Matthew F. Delmont, Half American: The Epic Story of African Americans Fighting World War II at Home and Abroad
Matthew F. Delmont shares the story of more than one million Black men and women who served in World War II, including Thurgood Marshall, the NAACP's chief lawyer; Benjamin O. Davis Jr., the leader of the Tuskegee Airmen; and Ella Baker, the civil rights activist who advocated on the home front for Black soldiers.
Matthew F. Delmont is the Sherman Fairchild Distinguished Professor of History at Dartmouth College.
Book Breaks and its archive are free for K–12 teachers and students in the Affiliate School Program, college students, and college faculty. The general public can purchase a one-year $25 subscription for full access to the program here.
The Gilder Lehrman Institute also works with corporations to bring Book Breaks to their employees as part of civic engagement or other company-driven initiatives. We are thrilled to be part of the Citizens Travelers initiative, and grateful to Travelers for their support of Book Breaks.
Visit the Book Breaks page to learn more.
---
NEWS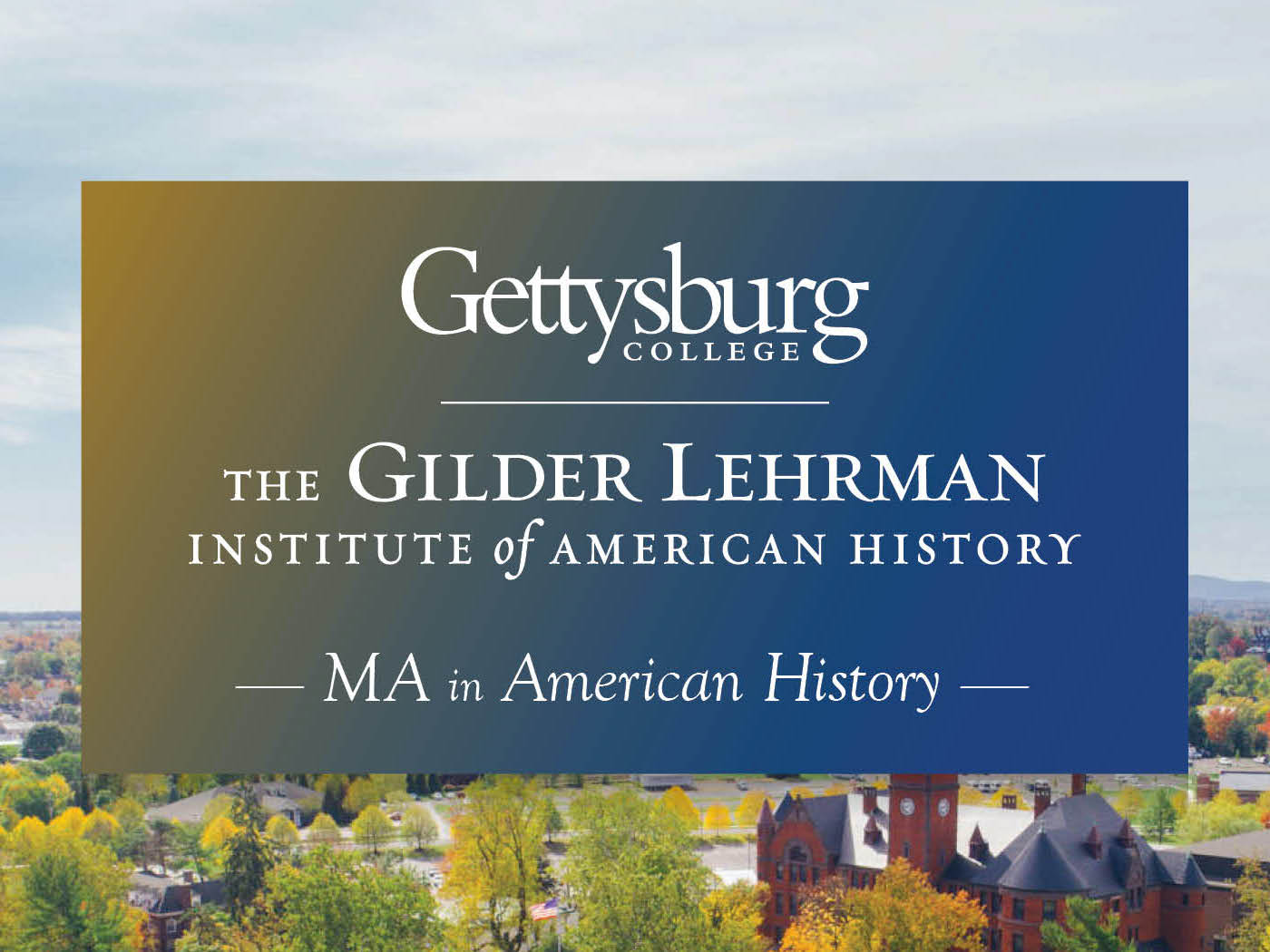 John Nau and Dev Chodry Scholarships Awarded for the American History MA Summer Term
The Gettysburg College–Gilder Lehrman MA in American History is an online, fully accredited, 30-credit degree program open to K–12 educators. Each course is designed and led by a distinguished professor from the Gilder Lehrman Institute's network of scholars.
Three scholarship opportunities in 2022–2023 have ensured that all educators who wish to enroll in the MA program are able to do so:
100 Abraham Lincoln Scholarships of $500
10 Dev Chodry Scholarships of $750 each for students taking more than one course during a single semester
10 John Nau Scholarships of $10,000 each for K–12 educators in Houston and San Antonio, Texas, covering tuition reimbursement, course textbooks, and professional development
The Summer 2023 Dev Chodry Scholarships recipients are
Nathan Daniels, Madison Central High School, Richmond, KY
Rebecca DeVries, Miami Lakes Educational Center and Technical College, Miami, FL
Lance Paradis, Schroon Lake Central School, Schroon Lake, NY
Jonathan David Prudek, Juniper Christian School, Goyang, South Korea
Rachell Stevenson, DeLand Middle School, DeLand, FL
The Summer 2023 John Nau Scholarship Award recipients are
Kathryn Brickley, Northside ISD, San Antonio
Miguel Mercado, Langham Creek High School, Houston
Shannon Schaefer, Lamar High School, Houston
Nadia Soukup-Raesch, Brandeis High School, San Antonio
Applications for the MA open are always open.
Fall 2023 courses will open for registration later this summer.
Learn more here.
---
"The Right to Vote: The Role of States and the US Constitution" Wins Annenberg Award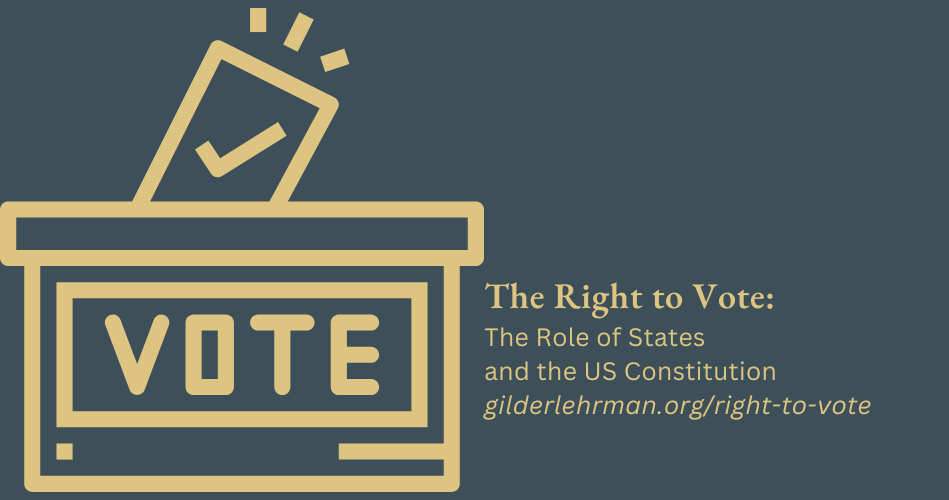 The Gilder Lehrman Institute won the 2022 Leonore Annenberg Institute for Civics Award for its project "The Right to Vote: The Role of States and the US Constitution."
To fulfill the grant, the Gilder Lehrman Institute has created several new civics-oriented resources for students, teachers, and the general public:
The Voting Rights Forum panel features scholars and policymakers discussing the history of states' roles in choosing who gets to vote and issues concerning voting and federalism:
John Avlon (CNN Senior Political Analyst)
Professor Akhil Reed Amar (Sterling Professor of Law and Political Science, Yale University, and co-host of the Amarica's Constitution podcast)
Professor Nicole Hemmer (Director of the Carolyn T. and Robert M. Rogers Center for the Study of the Presidency and Associate Professor of History, Vanderbilt University, and co-host of the Past Present and This Day in Esoteric Political History podcasts)
The Hon. Myrna Pérez (United States Circuit Court Judge for the Second Circuit)
Professor Bertrall Ross (Justice Thurgood Marshall Distinguished Professor of Law and Director, Karsh Center for Law and Democracy, University of Virginia)
Jeanette M. Senecal (Senior Director of Mission Impact, League of Women Voters)
Learn more and register for the live-stream event here.
---
EduHam Turns 4!

"From start to finish, EduHam Online has been one of the most intensely gratifying projects that I've worked on in my 37 years of teaching. The project provided an authentic, relevant, and engaging learning experience for my students."
—Ron Adkisson, North Oldham Middle School in Goshen, Kentucky
We are proud to wish a happy fourth year to the Hamilton Education Program Online (EduHam Online). Now 600,000 students and 12,000 teachers strong, EduHam Online is a staple of American history curricula across all 50 US states and 62 countries. It provides teachers with an ideal tool for igniting students' interest in America's founding era while offering up a one-of-a-kind opportunity for artistic expression by way of the acclaimed and beloved musical Hamilton.
EduHam Online has already demonstrated a strong track record of success. In a 2022 survey of teachers who participated in the program
99% said EduHam Online had a positive impact on their students' enthusiasm for American history.
99% said EduHam Online had a positive impact on students' ability to use primary sources.
97% said they would use EduHam Online again.
Learn more about the program here.
Enjoy a winning 2022–2023 EduHam Online video from students at Cesar Chavez High School in Laveen, Arizona, entitled "Mercy Otis Warren" here.
---
NEW AND ONGOING
New Self-Paced Course
History of Latina and Latino People in the US, led by Geraldo L. Cadava, Northwestern University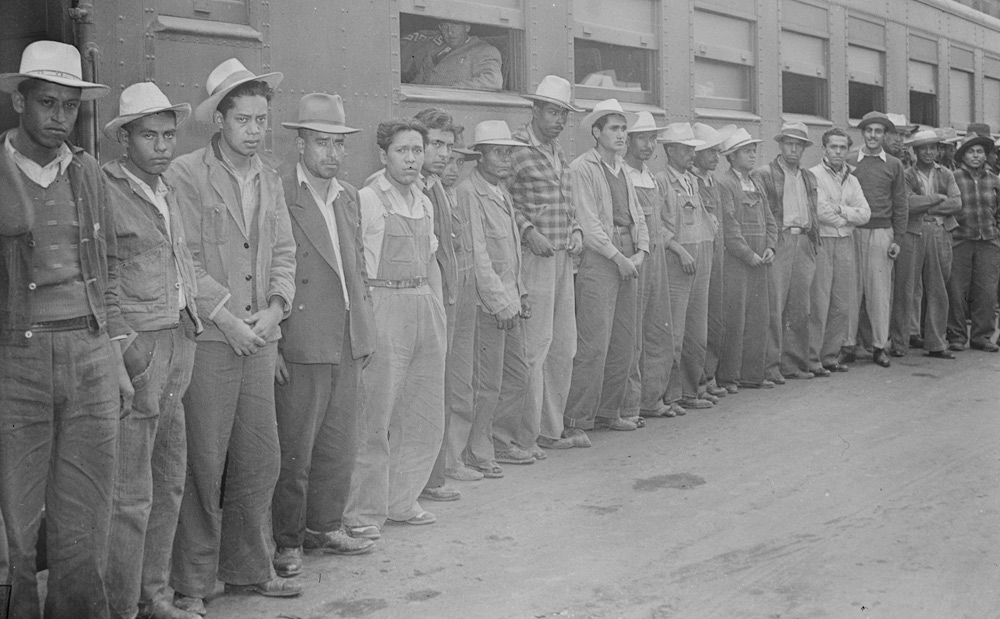 The Institute is excited to add this important new course to its roster of more than 50 Self-Paced Courses. Led by Geraldo L. Cadava, History of Latina and Latino People in the US will help students of all ages gain a deeper sense of the issues and histories that bring Latinas and Latinos together, and those that continue to divide them. In this course, Professor Cadava charts the history of Latinas and Latinos in the United States—and across the Americas—from the sixteenth century through the early twenty-first century, covering themes such as race, migration, labor, and empire.
In his scholarship, Geraldo L. Cadava focuses on Latinos in the United States and the US-Mexico borderlands. His publications include The Hispanic Republican: The Shaping of an American Political Identity, from Nixon to Trump (2020) and Standing on Common Ground: The Making of a Sunbelt Borderland (2013).
Learn more and take the course at your own pace here.
---
History Now

Delve further into Latin American history in the United States with History Now, the online journal of the Gilder Lehrman Institute, featuring essays by the nation's leading historians.
The following five original essays are featured in History Now 66 (Spring 2023): "Hispanic Heroes in American History":
"El enemigo de mi enemigo es mi amigo: Bernardo de Gálvez and the Battle That Saved the United States at Its Birth" by Larrie D. Ferreiro, Professor of History and Engineering, George Mason University, Georgetown University, and the Stevens Institute of Technology
"Arturo Alfonso Schomburg: Archivist, Institution Builder, and Advocate of Global Black History" by Vanessa K. Valdés, Associate Provost for Community Engagement and Professor of Spanish and Portuguese, City College of New York
"Voices of Democracy: Jovita Idár, the Idár Family, and the Struggle against Juan Crow" by Gabriela González, Associate Professor of History, University of Texas at San Antonio
"Antonia Pantoja, a Nuyorican Builder of Institutions," by Lourdes Torres, Professor of Latin American and Latino Studies, DePaul University
"Juan Felipe Herrera: Poet Laureate and Pioneer of Chicano Literature" by Francisco A. Lomelí, Professor Emeritus of Latin American Literature, University of California, Santa Barbara
Explore more with one of our many past issues, History Now 53 (Winter 2019): "The Hispanic Legacy in American History."
---
STUDENT OPPORTUNITIES
Student Advisory Council: Forging Ahead and on the Lookout for Students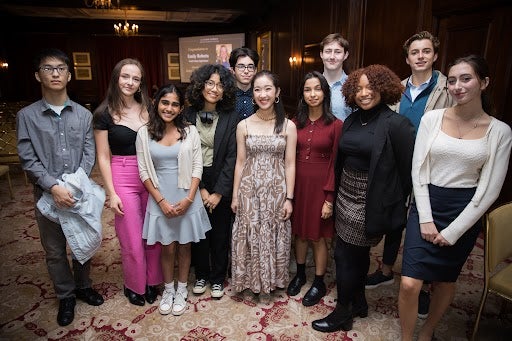 Do you know students in grades 8–12 with a passion for history and civic engagement? Send them our way!
The Gilder Lehrman Student Advisory Council is a diverse group of high-achieving middle and high school students who provide valuable feedback on the Institute's programs and materials, helping the Institute refine its outreach with the needs of young people in mind.
This year, more than 180 students internationally have benefitted from
Meetings dedicated to a close look at historical documents by Henry Gannett, Eliza Hamilton, Abraham Lincoln, Tom Olin, Bayard Rustin, and Zitkála-Šá
Guest speakers, including the Broadway cast of Hamilton, Jasmine Brown on her new book Twice as Hard: The Stories of Black Women Who Fought to Become Physicians, Dixe Schillaci on her experiences as a CIA agent and a current White House speech writer on foreign policy, and General Michelle Johnson on her career in the US Air Force
Invitations to events such as Annette Gordon-Reed's book talk about On Juneteenth and the Lincoln Prize honoring Jon Meacham and Jonathan W. White
Exclusive access to informational programs that highlight our scholarships
Student Advisory Council members also often serve as speakers at the Institute's four book prizes, Board of Trustees meetings, and the annual Gala, among other special events.
Council alumni have gone on to such colleges and universities as Brown University, Columbia University, Emerson College, George Washington University, Harvard University, New York University, and Wheaton College.
For more information, email studentadvisorycouncil@gilderlehrman.org. Students can visit gilderlehrman.org/SAC-Application to apply.
---
GIFT SHOP
New Items in 2023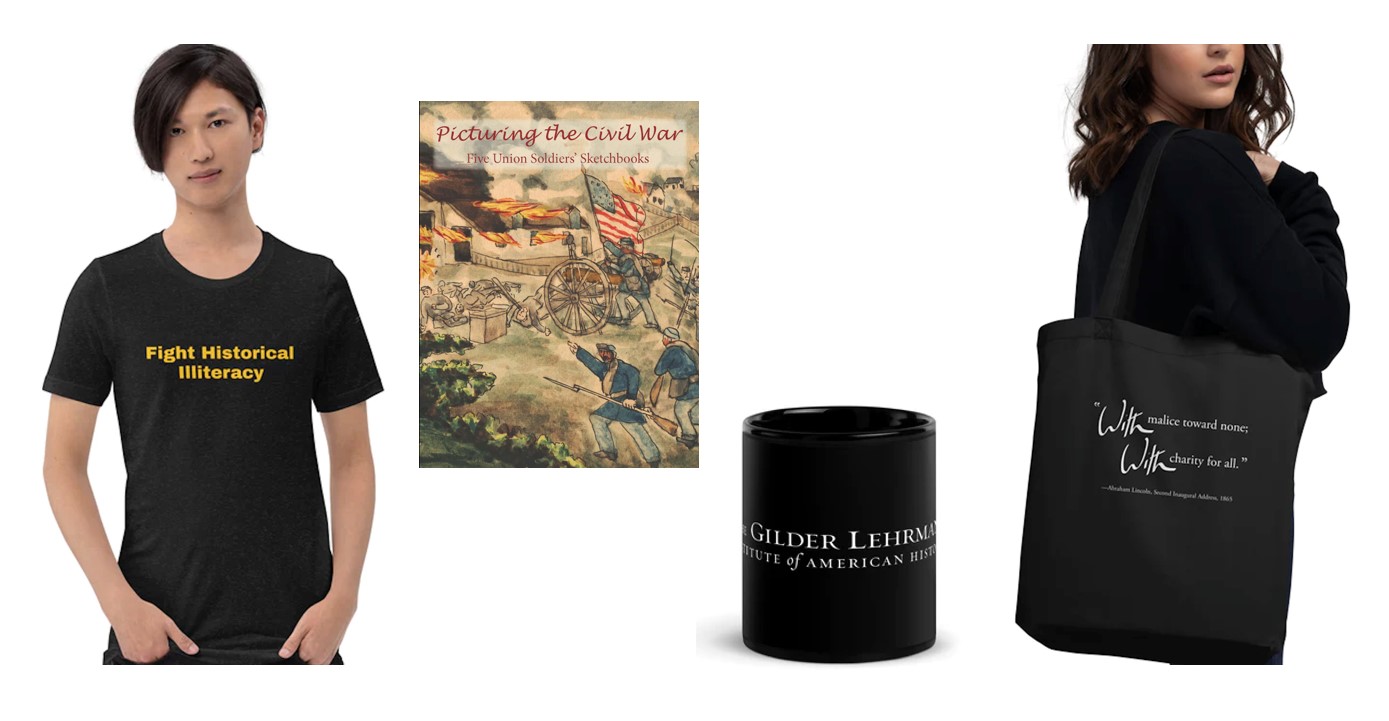 The Gilder Lehrman Gift Shop provides everything from posters to use in the classroom or display at home to all the accessories history lovers might need, including apparel.
A few of our new items for 2023 include
Surprise the history lover in your life or get yourself a historical treat today!