Banks, Nathaniel Prentiss (1816-1894) [Message from the President to Congress communicating Nathaniel Bank's General Order number 23]
High-resolution images are available to schools and libraries via subscription to American History, 1493-1943. Check to see if your school or library already has a subscription. Or click here for more information. You may also order a pdf of the image from us here.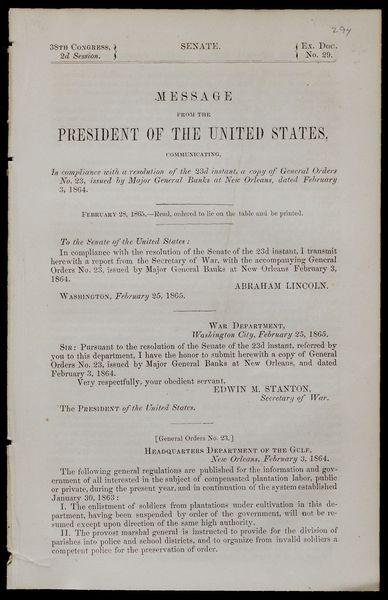 A high-resolution version of this object is available for registered users. LOG IN
Gilder Lehrman Collection #: GLC00267.294 Author/Creator: Banks, Nathaniel Prentiss (1816-1894) Place Written: Washington, D.C. Type: Pamphlet Date: 28 February 1865 Pagination: 4 p. ; 22.5 x 14.5 cm.
Summary of Content: Banks' General Orders No. 23 being forwarded to Congress, by President Lincoln, with a note from Edwin Stanton. "In compliance with the resolution by the Senate of the 23rd instant, I transmit herewith a report from the Secretary of War, with the accompanying General Orders No. 23, issued by Major General Banks at New Orleans February 3, 1864." The General Orders regards "compensated plantation labor" and details the beginnings of government regulation of the planter-laborer relationship. To preserve plantation labor force the order establishes wages for plantation work as well as the right of the worker to choose his employer but only under a one year commitment. Also organizes police force, schools, and explains that the need for these orders is to restore order to New Orleans.
People: Banks, Nathaniel Prentiss, 1816-1894
Lincoln, Abraham, 1809-1865
Stanton, Edwin McMasters, 1814-1869

Historical Era: Civil War and Reconstruction, 1861-1877
Subjects: Military HistoryCivil WarUnion ForcesUnion GeneralConfederate States of AmericaPresidentCongressLincoln's CabinetReconstructionAfrican American HistorySlaveryEmancipationFreemenEducationOrganized Labor
Sub Era: The American Civil War