Lincoln, Abraham (1809-1865) to David B. Campbell
High-resolution images are available to schools and libraries via subscription to American History, 1493-1943. Check to see if your school or library already has a subscription. Or click here for more information. You may also order a pdf of the image from us here.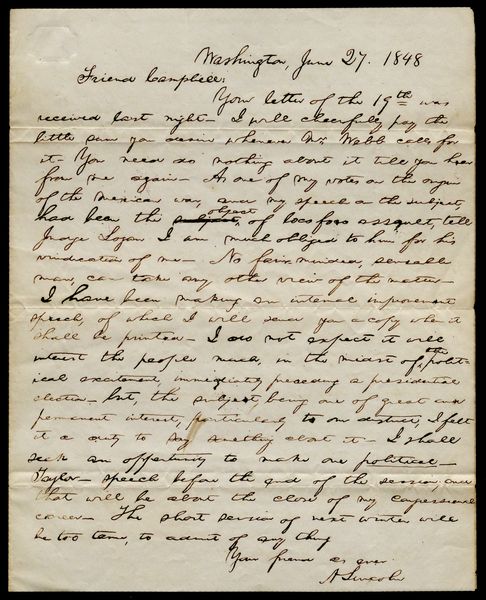 A high-resolution version of this object is available for registered users. LOG IN
Gilder Lehrman Collection #: GLC00965 Author/Creator: Lincoln, Abraham (1809-1865) Place Written: Washington, D.C. Type: Autograph letter signed Date: 27 June 1848 Pagination: 1 p. : docket ; 26 x 21 cm.
Replies to Illinois Attorney General Campbell and discusses his unpopular stand on the Mexican War. Mentions a speech on internal improvements and another in support of Zachary Taylor that would constitute the close of his Congressional career. Lincoln's speeches mentioned herein were delivered on 20 June (internal improvements) and 27 July 1848 (Zachary Taylor). Written on ruled stationery with docket by Lincoln.
Washington, June 27. 1848
Friend Campbell:
Your letter of the 19th was received last night. I will cheerfully pay the little sum you desire whenever Mr. Webb calls for it. You need do nothing about it till you hear from me again. As one of my votes on the origin of the Mexican war, and my speech on the subject, had been the object of loco foco assault, tell Judge Logan I am much obliged to him for his vindication of me. No fair-minded, sensable man, can take any other view of the matter.
I have been making an internal improvement speech, of which I will send you a copy when it shall be printed. I do not expect it will interest the people much, in the midst of the political excitement, immediately preceding a presidential election--but, the subject, being one of great and permanent interest, particularly to our district, I felt it a duty to say something about it. I shall seek an opportunity to make one political--Taylor--speech before the end of the session; since that will be about the close of my congressional career. The short session of next winter will be too terse, to admit of any thing.
Your friend as ever
A Lincoln