Lincoln, Abraham (1809-1865) [Commission of Orville Babcock as a First Lieutenant in the Corps of Engineers]
High-resolution images are available to schools and libraries via subscription to American History, 1493-1943. Check to see if your school or library already has a subscription. Or click here for more information. You may also order a pdf of the image from us here.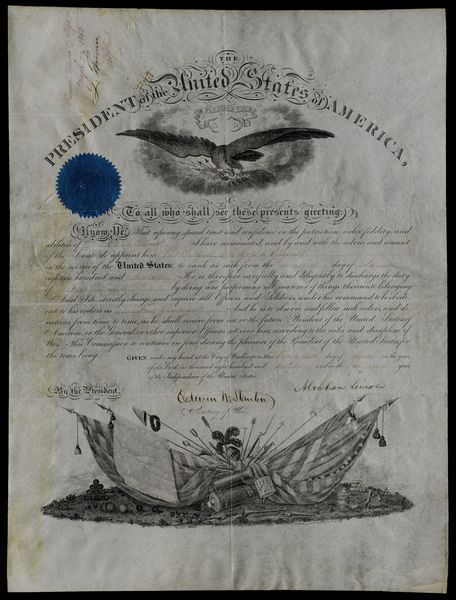 A high-resolution version of this object is available for registered users. LOG IN
Gilder Lehrman Collection #: GLC01128 Author/Creator: Lincoln, Abraham (1809-1865) Place Written: Washington, D.C. Type: Printed document signed Date: 26 March 1862 Pagination: 1 p. : vellum ; 49.4 x 37.3 cm.
Summary of Content: Partially printed form from an engraving signed by President Lincoln and countersigned by Secretary of War Edwin M. Stanton. Note signed by Adjutant G. Thomas on top left corner indicating the commission was recorded on 27 March 1862 in "Volume 17. Page 70." Includes a blue seal intact. Orville Babcock was later U.S. Grant's aide.
Full Transcript: To all who shall see these presents greeting:
Know Ye; That reposing special trust and confidence in the patriotism, valor, fidelity, and abilities of Orville E. Babcock I have nominated, ...and by and with the advice and consent of the Senate, do appoint him First Lieutenant in the Corps of Engineers, in the service of the United States: to rank as such from the Seventeenth day of November, eighteen hundred and Sixty one He is therefore carefully and diligently to discharge the duty of First Lieutenant by doing and performing all manner of things thereunto belonging.
And I do strictly charge, and require all Officers and Soldiers under his command, to be obedient to his orders as First Lieutenant And he is to observe and follow such orders and directions, from time to time, as he shall receive from me, or the future President of the United States of America, or the General, or other superior Officers set over him, according to the rules and discipline of War. This Commission to continue in force during the pleasure of the President of the United States, for the time being.
GIVEN under my hand, at the City of Washington, this Twenty Sixth
day of March in the year of our Lord, one thousand eight hundred
and Sixty two and in the Eighty sixth year of the Independence of
the United States.
By the President, Abraham Lincoln
Edwin M Stanton
Secretary of War.

[docket]
Recorded. Volume 17. Page 70.
March 27, 1862
L. Thomas
Adjt. Genl
See More
People: Lincoln, Abraham, 1809-1865
Stanton, Edwin McMasters, 1814-1869

Historical Era: Civil War and Reconstruction, 1861-1877
Subjects: PresidentUnion ForcesMilitary HistoryCivil War
Sub Era: The American Civil War