Fletcher, Thomas (fl. 1774) to Henry Knox
High-resolution images are available to schools and libraries via subscription to American History, 1493-1943. Check to see if your school or library already has a subscription. Or click here for more information. You may also order a pdf of the image from us here.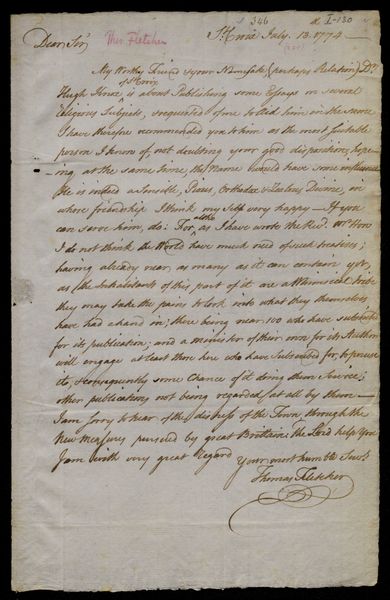 A high-resolution version of this object is available for registered users. LOG IN
Gilder Lehrman Collection #: GLC02437.00163 Author/Creator: Fletcher, Thomas (fl. 1774) Place Written: St. Croix, Virgin Islands Type: Autograph letter signed Date: 13 July 1774 Pagination: 1p. 32.3 cm. x 20.5 cm.
Summary of Content: Tells Knox that he referred a friend, Hugh Knox, to him for the purpose of obtaining subscriptions for his upcoming publication of religious essays. Although Fletcher feels that the world has enough of such treatises, he thinks it may be of use to local readers, one-hundred of which have already subscribed. Offers sympathy for "the new measures pursued by great Britain," in reference to the Boston Port Bill. Hugh Knox's letter to Henry Knox on the subject was written on 4 July 1774 (see GLC02437.00161).
Background Information: Hugh Knox was one of the benefactors who sent Alexander Hamilton from St. Croix to New York.
Full Transcript: [draft]
St: Croix July. 13. 1774 -
Dear Sir,
My Worth Friend & your Namesake, (perhaps Relation) Dr. Hugh Knox of St Croix is about Publishing some Essays on several religious subjects, & requested ...of me to Aid him in the same[.] I have therefore recommended you to him as the most suitable person I know of, not doubting your good disposition; hopeing [sic] at the same time, the name would have some influence[.] He is indeed a sensible, Pious, Orthodox & Zealous Divine, in whose friendship I think my self very happy - If you can serve him, do: For altho as I have wrote the Revd. Mr How I do not think the World have much need of such treatises; having already near as many as it can contain yet, as the Inhabitants of this post of it are a Whimsical tribe they may take the pains to look into what they themselves have had a hand in; there being near 100 who have subscribed for its publication; and a minister of their own for its Author will engage at least those here who have subscribed for, to peruse it, & consequently some Chance of it doing them service; other publications not being regarded at all by them - I am sorry to hear of the distress of the Town, through the new measures pursued by great Brittain: the Lord help you[.] I am with very great regard
Your most humble Servt.
Thomas Fletcher
See More
People: Fletcher, Thomas, fl. 1774
Knox, Henry, 1750-1806
Knox, Hugh, ca. 1727-1790

Historical Era: American Revolution, 1763-1783
Subjects: Boston Port BillMerchants and TradeCommercePrintingBook SellingReligionGlobal History and US Foreign PolicyGlobal History and US Foreign PolicyGovernment and CivicsBook Selling
Sub Era: Road to Revolution