Knox, Henry (1750-1806) to Lucy Knox
High-resolution images are available to schools and libraries via subscription to American History, 1493-1943. Check to see if your school or library already has a subscription. Or click here for more information. You may also order a pdf of the image from us here.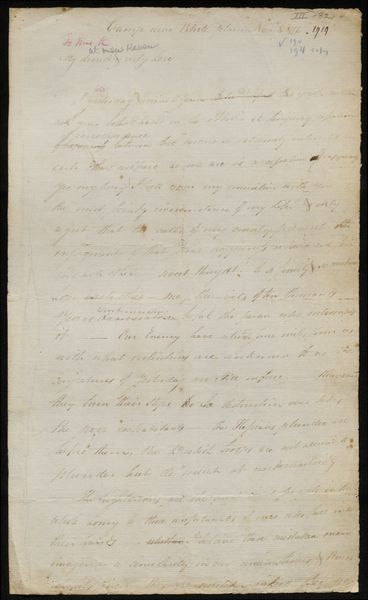 A high-resolution version of this object is available for registered users. LOG IN
Gilder Lehrman Collection #: GLC02437.00484 Author/Creator: Knox, Henry (1750-1806) Place Written: White Plains, New York Type: Autograph letter signed Date: 8 November 1776 Pagination: 2 p. ; 33.7 x 20 cm.
Comments on their problems corresponding and reaffirms his love for her. Indicates that the British have stopped pursuing them and their intentions are unknown. Denounces British and Hessian plundering. Describes the Scottish (Highlanders) as the most civil group in the enemy's army, perhaps because they see a commonality with the Americans. Affirms honor of the American efforts to be free. Lists the information about a brigade under General Alexander Leslie that was recently intercepted, including 152 dead.
[draft]
Camp near White plains Novr. 8 1776
My dearest & only Love
I yesterday received [struck: your belov'd epist] the epistle written with your belov'd hand on the 1st Novr - A temporary cessation [struck: of happiness] [inserted: of correspondence] between two persons so extremely interested in each others welfare as we are is a cessation of happiness Yes my Lucy I look upon my connection with you as the most kindly circumstance of my Life & only regret that the calls of my country prevent the enjoyment of that social happiness which we find in each other - sweet thought! to so firmly & so mutually Love each other - may the evils of ten thousand Years [inserted: Condemnation] befall the person who interrupts it - Our Enemy have retir'd some miles from us with what intentions are unknown to us, the conjectures of Yesterday are still in force, - Wherever they turn their Steps, [strikeout] destruction over takes the poor inhabitants - the Hessians plunder all before them, the British Troops are not allow'd to plunder but do much of underhandidly
The highlanders are the most civil people in the whole army to those unfortunates of ours who fall into their hands - [struck: whether] I beleive these mistaken men imagine a similarity in our circumstances & theirs of forty five - they are mistaken indeed they are [2] to what family they should be subject - to what tyrant they should pay tribute - we are contending for the possession of what hard [strikeout] industry has [struck: put us] bestow'd - contending to be Free, contending for Life & Liberty - [struck: &] Contending for Empire - May that almighty Governor of the universe who holdest the great equal scale of justice smile on our efforts & crown them with success - Lt Colo Leslie now General Leslie Commanded a Brigade which was in the Battle on Monday the 28th Oct - one of my people Yesterday pick'd up a Return made to Genl Howe only which stands thus - 1 Lt Colo Kill'd 2 Captains do 1 Lt. do 1 Ensign 22 [Lt?] Sergeant do 22 Rank & file ditto - 2 Capts Wounded - 3 Lts do 12 Sergeants do 109 Rank & file - total Kill'd & wounded 152 - This is in only one Brigade they had between four & five hundred in the whole - I wrote you Yesterday & the day before & the day before that - you enquire...