McDougall, Alexander (1732-1786) to Henry Knox
High-resolution images are available to schools and libraries via subscription to American History, 1493-1943. Check to see if your school or library already has a subscription. Or click here for more information. You may also order a pdf of the image from us here.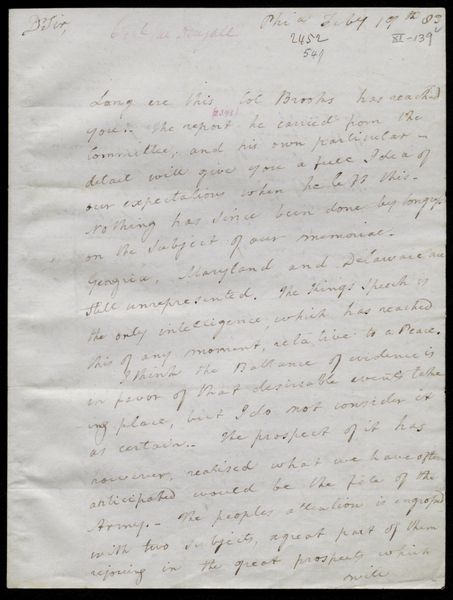 A high-resolution version of this object is available for registered users. LOG IN
Gilder Lehrman Collection #: GLC02437.01933 Author/Creator: McDougall, Alexander (1732-1786) Place Written: Philadelphia, Pennsylvania Type: Autograph letter signed Date: 19 February 1783 Pagination: 2 p. : address : docket ; 24.2 x 18.2 cm.
Summary of Content: Written by General McDougall to Major General Knox. Says that Colonel Brooks has no doubt reached him before this letter, but hopes to give an update to events in Congress since. Says "Nothing has since been done by Congress on the Subject of our memorial [on army pay and officer's pensions]." Reports that Georgia, Maryland, and Delaware are not represented at the moment. Says "The Kings Speech is the only intelligence, which has reached this of any moment, relative to a Peace." Thinks Congress is leaning in support of the army, but he cannot be certain. Says members of Congress focus on two things: the profits to be made by some with peace, and the losses to be sustained by others. Says "the wretched conditions of the Army is not thought of, but when some of its members remind them of it." Says his stay is becoming irksome, but will stay as long as there is a prospect of getting Congress's support. Wants to know the temper of the army after news of the peace arrives. "Free" stamped on address leaf with no signature.
Full Transcript: [draft]
Phia Feby 19th 83
Dr Sir,
Long ere this Col Brooks has reached you, the report he carried from the Committee, and his own particular detail will give you a ...full Idea of our expectations when he left this. Nothing has since been done by Congress on the subject of our memorial.
Georgia, Maryland and Delaware are still unrepresented. The Kings Speech is the only intelligence which has reached this of any moment, relative to a Peace.
I think the Ballance of evidence is in favor of that desirable events takeing [sic] place, but I do not consider it as certain. The prospect of it has however realized what we have often anticipated would be the fate of the Army. The peoples attention is engrossed with two subjects, a great part of them rejoicing in the great prospects which will [2] open for profits to them on a peace, while a smaller part of them are bewailing the losses they will sustain on that event, by the Fall of Goods, so that the wretched condition of the Army is not thought of but when some of its members remind them of it. My stay here is become irksome to me, for I have said all I can say, but it is as difficult to move some of those Gentlemen I have to deal with, as to create a Courser's motion in an old Continental Horse. I shall patiently wait for an answer as long as there shall be a prospect of obtaing one. In the mean time I wish to hear from you, and particularly what seems to be the temper of the Army on the prospect of a Peace.
I am Dr Sir, with great trust
Your affectionate Hble Servt
Alexr McDougall

Major General Knox

[address]
Major General Knox
Commanding at West Point

[docket]
from Genl cDougall [2] March
1783See More
People:
Historical Era: The New Nation, 1783-1815
Subjects: Newburgh ConspiracyRevolutionary WarRevolutionary War GeneralMilitary HistoryContinental ArmyContinental CongressCongressSoldier's PayFinancePensionsPetitionGlobal History and US Foreign PolicyGlobal History and US Foreign PolicyMorality and EthicsTreatyGovernment and Civics
Sub Era: