Knox, Henry (1750-1806) to Samuel Holden Parsons
High-resolution images are available to schools and libraries via subscription to American History, 1493-1943. Check to see if your school or library already has a subscription. Or click here for more information. You may also order a pdf of the image from us here.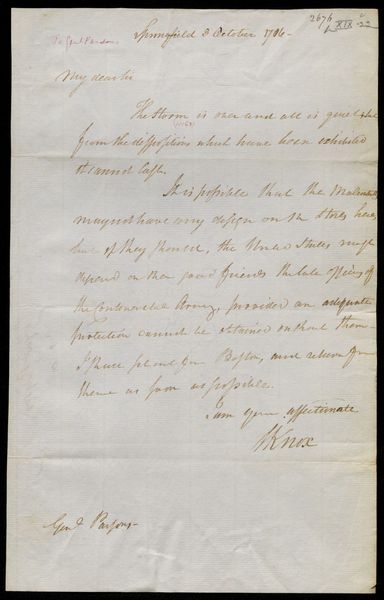 A high-resolution version of this object is available for registered users. LOG IN
Gilder Lehrman Collection #: GLC02437.03307 Author/Creator: Knox, Henry (1750-1806) Place Written: Springfield, Massachusetts Type: Autograph letter signed Date: 3 October 1786 Pagination: 1 p. : docket ; 31 x 19.5 cm.
Summary of Content: Writes a brief note to General Parsons regarding the recent end of Shays' Rebellion and also the likelihood that the "Malcontents" might want to raid the stores at Springfield. Hopes that he can rely on the "late officers of the Continental Army" for protection. (A copy of this letter is included in the correspondence between Parsons and Knox contained in GLC02437.03306.)
Full Transcript: [draft]
Springfield 3 October 1786 -
My dear Sir
The storm is over and all is quiet - but from the dispositions which have been exhibited it cannot last.
It is possible ...that the Malcontents may not have any design on the stores here, but if they should, the United States must depend on their good friends the late officers of the Continental Army, provided an adequate protection cannot be obtained without them - I shall set out for Boston, and return from thence as soon as possible.
I am your affectionate
HKnox
Genl Parsons -
[docket]
to Genl Parsons
3 October 1786See More
People: Parsons, Samuel Holden, 1737-1789
Knox, Henry, 1750-1806

Historical Era: The New Nation, 1783-1815
Subjects: Revolutionary War GeneralMilitary HistoryGovernment and CivicsMobs and RiotsRebellionShays' RebellionMilitary SuppliesContinental ArmyAmmunitionArtillery
Sub Era: Creating a New Government