Buchanan, James (1791-1868) to Henry A. Muhlenberg
High-resolution images are available to schools and libraries via subscription to American History, 1493-1943. Check to see if your school or library already has a subscription. Or click here for more information. You may also order a pdf of the image from us here.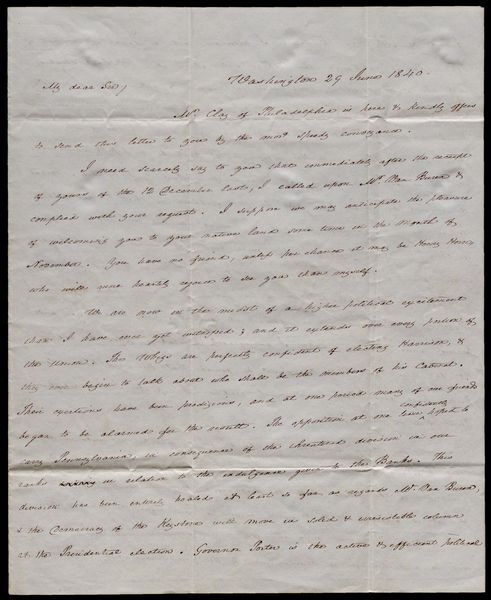 A high-resolution version of this object is available for registered users. LOG IN
Gilder Lehrman Collection #: GLC02919 Author/Creator: Buchanan, James (1791-1868) Place Written: Washington, D. C. Type: Autograph letter signed Date: 29 June 1840 Pagination: 3 p. : address ; 26 x 21 cm.
Summary of Content: Comments on the 1840 presidential campaign and states that they are "in the midst of a higher political excitement than I have ever yet witnessed ... " Believes that Pennsylvania will support Democrat Martin Van Buren though the Whigs have claimed the state for William Henry Harrison. Dwells at length upon the Whigs tactics to get the military leader, Harrison, elected. "They have built Log Cabins & drunk hard cider every where. This senseless clamor of Log Cabins & hard cider is an insult to the understandings of the people & is every where beginning to react with tremendous force against its authors." Mentions the Independent Treasury Bill and believes that it will be passed by the House soon. Comments on disputes with England over the north east boundary (Canada). Laments that the Seminole War still continues and states that, "It has been a source of immense expense & no glory; although our officers & men have behaved with the utmost bravery."
Background Information: Muhlenberg was serving as Minister to Austria at the time. The 1840 presidential election was the first to use modern methods of politicking such as image making and slogans. Harrison, though ...of wealthy origins, was portrayed by the Whigs as the "log cabin, hard cider candidate" and Van Buren as the well-to-do aristocrat. Harrison won by a landslide. See More
Full Transcript: We are now in the midst of a higher political excitement than I have ever yet witnessed; and it extends over every portion of the Union. The Whigs are perfectly ...confident of electing Harrison, & they even begin to talk about who shall be the members of his Cabinet. Their exertions have been prodigious, and at one period many of our friends began to be alarmed for the result. The opposition at one time confidently hoped to carry Pennsylvania, in consequence of the threatened division in our ranks in relation to the indulgence given to the Bank. This division has been entirely healthy, at least so far as regards M[artin] Van Buren, & the Democracy of the Keystone will move in solid & irresistible column at the Presidential election.... I cannot see how it is possible to defeat Mr. Van Buren. We calculate with much confidence that he will receive every vote south of the Potomack & Ohio, with the exception of Kentucky & possibly Louisiana. We have at least an equal chance for New York & Ohio. Instead of avowing any great principles for the regulation of their conduct, the Whigs endeavored to raise a hurrah all over the Country in favor of their military chieftain. They have built Log Cabins & drunk hard cider every where. This senseless clamor of Log Cabins & hard cider is an insult to the understandings of the people & is everywhere beginning to react with tremendous force against its authors. The hard cider will become sour vinegar, unless I am greatly mistaken, before the end of the dog days. Still it cannot be denied that the hard times & low prices have done their cause much good. I repeat, I entertain little fear of the result.See More
People: Buchanan, James, 1791-1868
Muhlenberg, Henry Augustus Philip, 1782-1844
Van Buren, Martin, 1782-1862
Buchanan, James, 1791-1868
Harrison

Historical Era: National Expansion and Reform, 1815-1860
Subjects: PresidentsElectionPoliticsGovernment and CivicsDemocratic PartyWhigsDiet and nutritionAlcoholCongressBankingFinanceEconomicsLawGlobal History and US Foreign PolicyGlobal History and US Foreign PolicyCanadaBoundary or Property DisputeAmerican Indian HistorySeminole WarBraveryMilitary History
Sub Era: Age of Jackson