Lincoln, Abraham (1809-1865) Speech of Hon. Abraham Lincoln, delivered in Springfield, Saturday evening, July 17, 1858.
High-resolution images are available to schools and libraries via subscription to American History, 1493-1943. Check to see if your school or library already has a subscription. Or click here for more information. You may also request a pdf of the image from us here.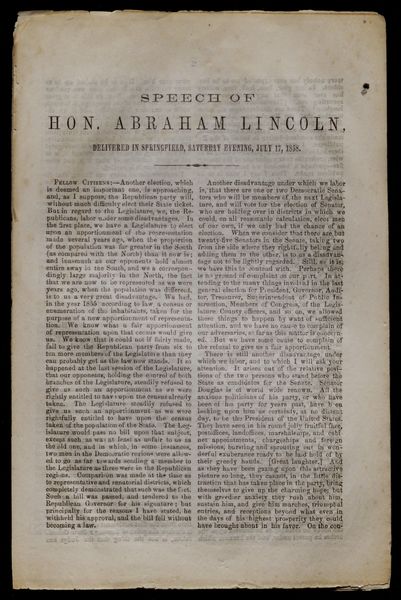 Gilder Lehrman Collection #: GLC02955 Author/Creator: Lincoln, Abraham (1809-1865) Place Written: Springfield, Illinois Type: Pamphlet Date: 17 July 1858 Pagination: 8 p. 24.2 x 16.7 cm.
A high-resolution version of this object is available for registered users. LOG IN or SUBSCRIBE
Summary of Content: Discusses the disadvantages faced by the Republican Party in the upcoming election. Traces the development of his attitudes toward slavery and equality, expressing his conviction that the southern slave power was engaged in a conspiracy to nationalize slavery and strip whites as well as blacks of their civil rights. States that the Kansas-Nebraska bill was the beginning of this. Urges that slavery be placed on the course of "ultimate extinction." Attacks Stephen Douglas and defends himself by stating that he supports the principles of equality put forth in the Declaration of Independence. This speech preceded his debates with Douglas.
Full Transcript: Although I have ever been opposed to slavery, so far I rested in the hope and belief that it was in the course of ultimate extinction. For that reason, it ...had been a minor question with me. I might have been mistaken; but the whole public mind, that is the mind of the great majority, had rested in that belief up to the repeal of the Missouri Compromise [in 1854, as part of the Kansas-Nebraska Act]. But upon that event, I became convinced that either I had been resting in a delusion, or the institution was being placed on a new basis--a basis for making it perpetual, national and universal. Subsequent events have greatly confirmed me in that belief. I believe that [Kansas-Nebraska] bill to be the beginning of a conspiracy for that purpose.... So believing, I thought the public mind will never rest till the power of Congress to restrict the spread of it [slavery] shall again be acknowledged and exercised on the one hand, or on the other, all resistance be entirely crushed out....
Mr. [Preston] Brooks, in one of his speeches, when they were presenting him canes, silver plate, gold pitchers and the like, for assaulting Senator [Charles] Sumner [of Massachusetts], distinctly affirmed his opinion that when this Constitution was formed, it was the belief of no man that slavery would last to the present day.
He said, what I think, that the framers of our Constitution placed the institution of slavery where the public mind rested in the hope that it was in course of ultimate extinction. But he went on to say that the men of the present age, by their experience, have become wiser than the framers of the Constitution; and the invention of the cotton gin had made the perpetuity of slavery a necessity in this country....
My declarations upon this subject of Negro slavery may be misrepresented, but can not be misunderstood, I have said that I do not understand the Declaration to mean that all men are created equal in all respects. They are not our equal in color; but I suppose that it does mean that all men are equal in some respects; they are equal in their right to "life, liberty, and the pursuit of happiness." Certainly the Negro is not our equal in color--perhaps not in many other respects; still, in the right to put into his mouth the bread that his own hands have earned, he is the equal of every other man, white or black. In pointing out that more has been given you, you can not be justified in taking away the little which has been given him. All I ask for the Negro is that if you do not like him, let him alone. If God gave him but little, that little let him enjoy.
When our Government was established we had the institution of slavery among us. We were in a certain sense compelled to tolerate its existence. It was a sort of necessity. We had gone through our struggle and secured our own independence. The framers of the Constitution found the institution of slavery amongst their other institutions at the time. They found that by an effort to eradicate it, they might lose much of what they had already gained. They were obliged to bow to the necessity. They gave power to Congress to abolish the slave trade at the end of twenty years. They also prohibited it in the Territories where it did not exist. They did what they could and yielded to the necessity for the rest....
One more point.... I expressed my belief in the existence of a conspiracy to perpetuate and nationalize slavery.... I showed the part Judge Douglas had played in the string of facts, constituting to my mind the proof of that conspiracy. I showed the parts played by others.
I charged that the people had been deceived into carrying the last Presidential election, by the impression that the people of the Territories might exclude slavery if they chose, when it was known in advance by the conspirators, that the Court was to decide that neither Congress nor the people could so exclude slavery.... I charge him with having been a party to that conspiracy and to the deception for the sole purpose of nationalizing slavery.
Mr. Lincoln sat down amidst loud and continued cheering.See More
People: Lincoln, Abraham, 1809-1865

Historical Era: National Expansion and Reform, 1815-1860
Subjects: SlaveryReconstructionPresidentsAfrican American HistoryPoliticsElectionRepublican PartyCivil RightsBleeding KansasAbolitionFreedom and IndependenceDeclaration of Independence
Sub Era: Slavery & Anti-slavery