Sherman, William Tecumseh (1820-1891) to Ulysses S. Grant & E.M. Stanton
High-resolution images are available to schools and libraries via subscription to American History, 1493-1943. Check to see if your school or library already has a subscription. Or click here for more information. You may also order a pdf of the image from us here.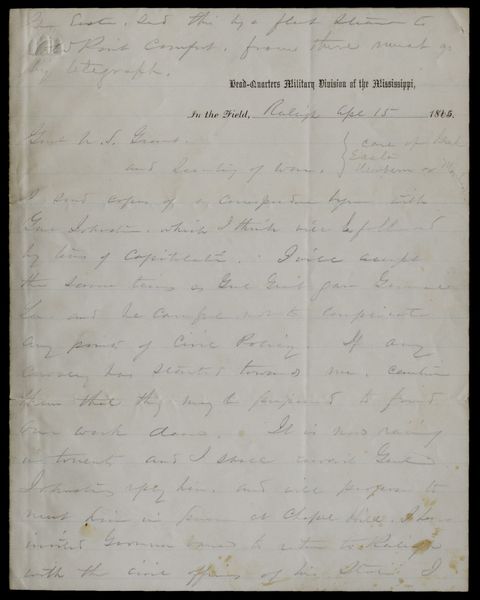 A high-resolution version of this object is available for registered users. LOG IN
Gilder Lehrman Collection #: GLC04545.01 Author/Creator: Sherman, William Tecumseh (1820-1891) Place Written: Raleigh, North Carolina Type: Autograph letter signed Date: 15 April 1865 Pagination: 5 p. ; 25 x 19.5 cm.
Writes to General Grant and Secretary of War Stanton to report on his correspondence with General Johnston to arrange terms of surrender at Durham Station, North Carolina. He writes that he will accept the same terms that Grant gave Lee at Appomattox, "and be careful not to complicate any points of civil authority." Sherman also reports meeting with ex-North Carolina Governor William A. Graham, John Moore, William W. Holden, and a Mr. Badger, who all "agree that the war is over." Copies of two pieces of correspondence with Johnston are attached. The first letter is from Johnston and dated 14 April 1865. Johnston, motivated by Lee's surrender at Appomattox, requested a cease-fire in order to allow for the arrangement of terms of surrender. The second, also dated 14 April 1865, is Sherman's response to Johnston. Sherman indicated he would accept the same terms as Grant gave Lee at Appomattox. He also communicated his eagerness to end hostilities and indicated that he was empowered to suspend fighting and order General George Stoneman to halt his march through central and western North Carolina. Both copies are written in the hand of Sherman's Assistant Adjutant-General L.M. Dayton.
enl Easton send this by a fleet stallion to [illegible] Camps, from there must go by telegraph.
Head-Quarters Military Division of the Mississippi,
In the Field, Raleigh Apl 15 1865
Genl U.S. Grant
and Secretary of War, } care of Genl Easton Newbern or Moss
I send copies of a correspondence begun with Genl Johnston, which I think will be followed by terms of Capitulation. I will accept the same terms as Genl Grant gave General Lee, and be careful not to complicate any point of Civil Policy. If any Cavalry has started toward me, certain then that they may be prepared to find our work done. It is now raining in torrents and I shall await Genl Johnstons reply here. and will propose to meet him in person at Chapel Hill. I have invited Governor Vance to return to Raleigh with the civil officers of his State. I [2] have sent Ex Governor Graham, Mr Badger Moore, Holden and others all of whom agree that the war is over and that the States of the South must resume their allegiance subject to the Constitution and Laws of Congress, and that the Military Powers of the South must submit to the National Amry. This great fact now admitted [,] all the details are easy of arrangement.
W.T. Sherman
Maj Genl