McCurtain, Green (fl. 1903-1908) [Official Choctaw and Chickasaw Nations patent to freedman Morris Clark]
High-resolution images are available to schools and libraries via subscription to American History, 1493-1943. Check to see if your school or library already has a subscription. Or click here for more information. You may also request a pdf of the image from us here.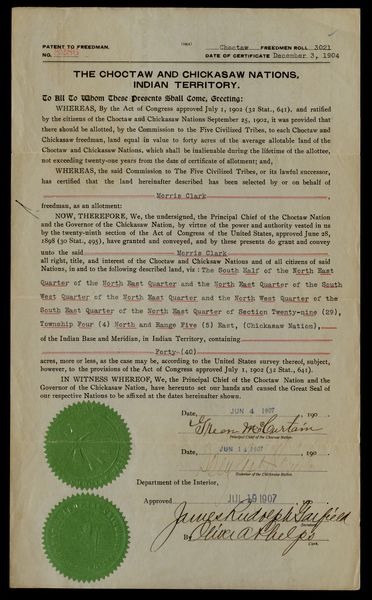 Summary of Content: Serves as an official document issued 3 December 1904 providing for the allotment of land to freedmen within the Choctaw and Chickasaw Nations. This particular document allots 40 acres of land to Morris Clark. Partially printed; information pertaining to acreage and specific land allotment is typed in blue ink. Signed by McCurtain as Principle Chief of the Choctaw Nation on 4 June 1907. Signed by Douglas Hancock Johnston as Governor of the Chickasaw Nation 14 June 1907. Signed by Oliver A. Phelps, clerk for the Department of the Interior on behalf of James Rudolph Garfield, Secretary of the Interior. Signed on docket by J. G. Wright, Commissioner to Chickasaw and Choctaw Nations ("The Five Civilized Tribes") and William T. Martin, a clerk, 23 July 1907.
Background Information: According to this document, an Act of Congress approved and ratified by the Choctaw and Chickasaw nations in 1902 provides for the allotment of a particular amount of land to "each ...Choctaw and Chickasaw freedman."See More
People: Johnston, Douglas Hancock, fl. 1898-1939
Martin, William T., fl. 1907
McCurtain, Green, fl. 1903-1908
Phelps, Oliver A., fl. 1907
Wright, J. G., fl. 1907
Clark, Morris, fl. 1907
Garfield, James Rudolph, 1865-1950

Historical Era: Progressive Era to New Era, 1900-1929
Subjects: Land GrantLand TransactionAmerican Indian HistoryAfrican American HistoryFreemen
Sub Era: The Politics of Reform