Baldwin, Roger S. (Roger Sherman) (1793-1863) to Theodore Sedgwick
High-resolution images are available to schools and libraries via subscription to American History, 1493-1943. Check to see if your school or library already has a subscription. Or click here for more information. You may also order a pdf of the image from us here.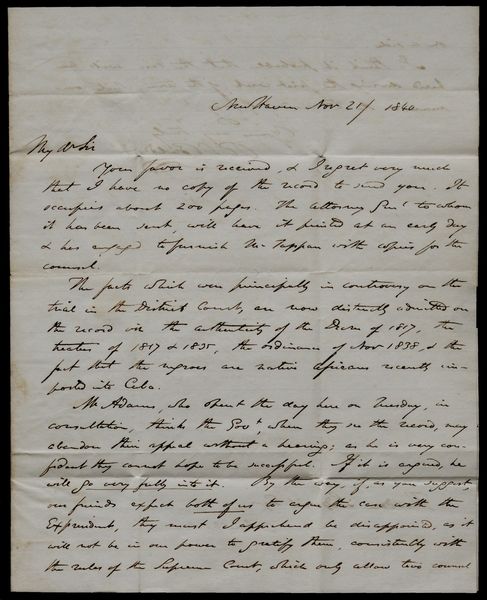 A high-resolution version of this object is available for registered users. LOG IN
Gilder Lehrman Collection #: GLC07099 Author/Creator: Baldwin, Roger S. (Roger Sherman) (1793-1863) Place Written: New Haven, Connecticut Type: Autograph letter signed Date: 21 November 1840 Pagination: 2 p. : address : docket ; 25 x 19.9 cm.
Summary of Content: Discusses a two hundred page report (possibly of the Amistad case). Mentions Lewis Tappan, an abolitionist who supported the Amistad Africans' freedom. Discusses the authenticity of treaties admitted as evidence in the Amistad case at District Court. Refers to the Amistad Africans, whose recent importation to Cuba, reflected the violation of international and Spanish law. States that John Quincy Adams, who assisted with the Africans' defense, "Thinks the govt, when they see the record, may abandon their appeal without a hearing; as he is very confident they cannot hope to be successful. If it is argued, he will go very fully into it..." Relates his opinion that the case will be heard (before the Supreme Court) during the first week of the term.
Background Information: Roger Baldwin, Seth Staples, and Theodore Sedgwick comprised the Amistad Africans' defense team.
Full Transcript: [draft]
New Haven Nov 21 1840
My dr. Sir
Your favor is received, & I regret very much that I have no copy of the record to send you. It occupies about 200 pages. ...The attorney Genl to whom it has been sent, will have it finished at an early day & has engaged to provide Mr. Tappan with copies for the [counsel].
The facts which were principally in controversy on the trial in the District Court, are now distinctly admitted on the record viz the authenticity of the Decree of 1817, the treaties of 1817 & 1835, the ordinance of Nov. 1838, & the fact that the negroes are native Africans recently imported into Cuba.
Mr. Adams, who spent the day here on Tuesday, in consultation, thinks the Govt., when they see the record, may abandon their appeal without a hearing; as he is very confident they cannot hope to be successful. If it is argued, he will go very fully into it. By the way, if, as you suggest, our friends expect both of us to argue the case with the Ex president, they must I apprehend be disappointed, as it will not be in our power to gratify them, consistently with the rules of the Supreme Court, which only allow two counsel [2] on a side.
I think it probable that the case will be heard during the first week of the term which continues on the 2nd Monday of Jany.
Yours very truly
R.S. Baldwin
Theodore Sedgwick Esqr.
New York.
[Docket]

See More
People: Baldwin, Roger Sherman, 1793-1863
Sedgwick, Theodore, 1811-1859
Tappan, Lewis, 1788-1873
Adams, John Quincy, 1767-1848

Historical Era: National Expansion and Reform, 1815-1860
Subjects: AmistadSlaveryAfrican American HistoryMutinySlave TradeSlave RebellionLawGlobal History and CivicsForeign AffairsTreatyAfricaCaribbeanLatin and South AmericaPresidentGovernment and CivicsSuperstitionJudiciary
Sub Era: