Bradford, John (d. 1726) to Charles Calvert
High-resolution images are available to schools and libraries via subscription to American History, 1493-1943. Check to see if your school or library already has a subscription. Or click here for more information. You may also order a pdf of the image from us here.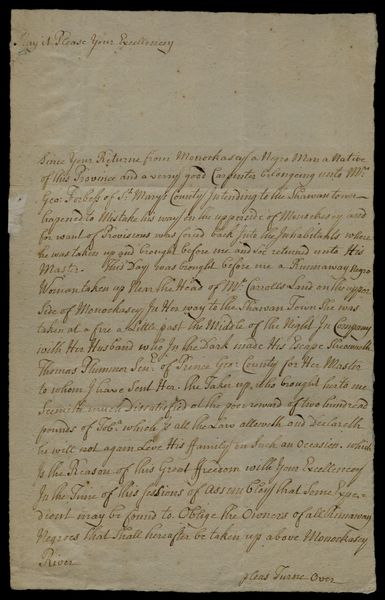 A high-resolution version of this object is available for registered users. LOG IN
Gilder Lehrman Collection #: GLC07368 Author/Creator: Bradford, John (d. 1726) Place Written: Maryland Type: Autograph letter signed Date: 16 October 1725 Pagination: 2 p. ; 30.6 x 19.3 cm
Discusses two runaway slaves that were brought before him and returned to their masters. In part, "This day was brought before me a Runnaway Negro Woman taken up Near the Head of Mr: [Charles] Carrolls Land on the upper Side of Monockasey In Her way to the Shawan Town she was taken at a fire a Little past the Middle of the Night In Company with Her Husband who In the Dark made his Escape..." Writes that the man [possibly a Native American] who brought one of the slaves in was not happy with his reward of 200 pounds of tobacco, and stated he would not leave his family again to bring in a runaway. Asks the governor to have slaveholders increase the award to 600 pounds of tobacco for runaways taken above the Monockasey River. Feels that with this increase, no runaway slaves would reach the Shawan town, a Native American village of the Shawan or Shawnee Indians. "...I am persuaded if the reward was made six hundred pounds of Tobacco not one Negro hereafter would reach the Shawan Town." Appeals to the governor by saying, "...your Excellency hath Shown a greater Concerne than any Governour heretofore In Your Longe and Troublesome Journey unto the Mountains to Treat with the Indians." Dated under old Julian calendar, 8br stood for October.
Calvert was a British noble and Proprietary Governor of the Province of Maryland. John Bradford (d. 1726) was one of the leading men of Prince George's County and came into possession of his estate "Butterwick" in 1715. He eventually rose to the rank of colonel in the militia. Charles Calvert, 5th Baron Baltimore, (1699-1751) was the Proprietary Governor of the Province of Maryland from 1715-1751.
May it Please Your Excellencey
Since Your Returne from Monockasay a Negro Man a Native of this Province and a verry good Carpenter belongeing unto Mr: Geo: Forbess of St: Mary's County Intending to Shawan town - hapened to Mistake his way on the upperside of Monockasey and for want of Provisions was forced back Into the Inhabitants where he was taken up and brought before me and soe returned unto His Master. This Day was brought before me a Runnaway Negro Woman taken up Near the Head of Mr: Carrolls Land on the upper Side of Monockasey In Her way to the Shawan Town she was taken at a fire a Little past the Middle of the Night In Company with Her Husband who In the Dark made His Escape She owneth Thomas Plummer Senr: of Prince Geo: County for Her Master to whom I have sent Her. The taker up. who brought her to me seemeth much Dissatisfied at the poor reward of two hundread pounds of Toba: which Is all the Law alloweth and Declareth he will not again Leve His family on such an occasion. which Is the Reason of this Great Freedom with your Excellency In the Time of this sessions of Assembley that some Expedient may be found to Oblige the Owners of all Runaway Negroes that shall hereafter be taken up above Monockasey River
pleas Turne over
[2] To pay a Larger Summe than Two hundred pounds of Toba: I am persuaded if the reward was made Six hundread pounds of Tobaccoe not one Negro hereafter would reach The Shawan Town. I Intreat Pardon for this freedom which Is wholy Intended for the Good of His Lordships Tennants for whom Your Excellencey hath Shown a greater Concerne than any Governour heretofore In your Longe and Troublesome Journey unto the Mountains to Treat with the Indians In their Behalfe I am
May it Please your Excellencey
8br: the 16th: 1725
Yor: most Faithfull
and most Obedient Humble Servant
Jno: Bradford