Sharp, Granville (1735-1813 ) to Anthony Benezet
High-resolution images are available to schools and libraries via subscription to American History, 1493-1943. Check to see if your school or library already has a subscription. Or click here for more information. You may also order a pdf of the image from us here.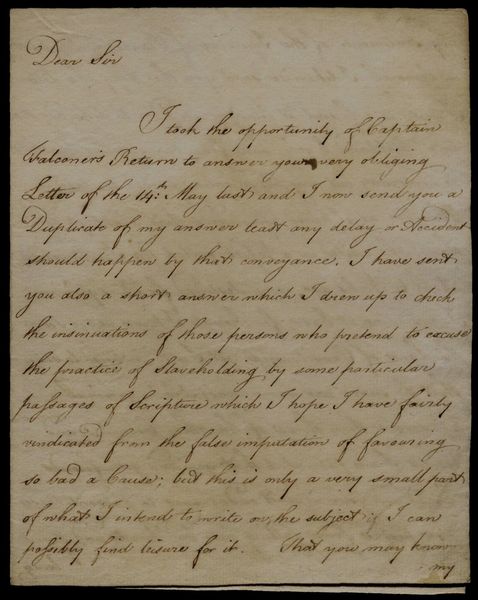 A high-resolution version of this object is available for registered users. LOG IN
Gilder Lehrman Collection #: GLC07483.03 Author/Creator: Sharp, Granville (1735-1813 ) Place Written: s.l. Type: Autograph letter signed Date: 23 September 1772 Pagination: 4 p. ; 20.1 x 15.9 cm.
Written by the British abolition leader Sharp to the American Quaker abolition leader Benezet. References Benezet's letter of 14 May 1772. Sends him (not included here) a short answer he "drew up to check the insinuations of those persons who pretend to excuse the practice of Slaveholding by some particular passages of Scripture." Says this is only a small part of what he hopes to write if he can find the leisure. Also sends a copy of a letter he wrote to a friend in Glasgow (not included here) trying to dissuade "the late Highland Emigrants" from going to America, but he was too late. He hears they are going to Pennsylvania, Benezet's home state, and trusts they will not be enslaved. Says if they are enslaved it "would be a public Loss to the province; because it is certainly most advantageous for each Colony to increase the Number of free White Labourers." Hopes they won't be servants in the plantation sense, but on the same footing as cottagers and day laborers in England. Says he would have written sooner, but he knew the Highlanders were already on their way.
Dear Sir
I took the opportunity of Captain Falconer's Return to answer your very obliging Letter of the 14th: May last and I now send you a Duplicate of my answer least any delay or Accident should happen by that conveyance. I have sent you also a short answer which I drew up to check the insinuations of those persons who pretend to excuse the practice of Slaveholding by some particular passages of Scripture which I hope I have fairly vindicated from the false imputation of favouring so bad a Cause; but this is only a very small part of what I intend to write on the subject if I can possibly find leisure for it. That you may know [2] my sentiments of the Injustice of Plantation Legislators in General, I likewise send you the Copy of a Letter I wrote to a friend at Glasgow in order to dissuade the late Highland Emigrants from transporting themselves to America; but my Application proved too late - However as I heard afterwards that about 70 of them (who sailed in a Vessel called the St: Andrews) about 6 Weeks ago were destined for Pensylvania [sic] I was more at Ease, for though I have never seen the Laws of Pensilvania [sic] yet I am inclined to believe that the same are more equitable in general and less severe than those of the other Colonies, and besides I am persuaded that you and your friends would use your utmost endeavours to prevent these poor people from falling into bad hands and from [3] being enslaved, which would be a publick Loss to the province; because it is certainly most advantageous for each Colony to increase the Number of free White Labourers (not as Servants in the Plantation sense of the that Station but) upon the same footing as our Cottagers and Day Labourers in England, or else it might be very beneficial if these poor people were dispersed in very small Farms adequate to the abilities of such as would undertake them for about 50 of them I find paid their Passage.
I had intended, indeed, to request your interference in behalf of these poor Labourers and I should certainly have wrote sooner on that Head had I not considered that the same motives which inclined me to desire your assistance would certainly have [4] prompted you to tender all the good Offices of Advice and assistance (if necessary) that I could reasonably desire for them to these poor Strangers long before you could possibly receive my Application as they had sailed above a Month before I heard of their destination
I am with great Esteem
Dear Sir
Your obliged friend & humble Servant
Granville Sharp
23d: Septr: 1772
Mr: Benezet