Get to Know the 2017 History Teachers of the Year: Aaron Weiss, Illinois
Posted by Anna Khomina on Thursday, 09/28/2017
This year, the Gilder Lehrman Institute recognized 52 State History Teachers of the Year for their tireless and innovative efforts to make history come alive for their students.
But who are they, really? We asked these talented teachers to answer a few questions about themselves and to reflect on the challenges and joys of teaching. We will feature a state winner every Tuesday and Thursday, so keep checking back to learn more about these outstanding educators!
This week, meet Aaron Weiss:
---

Aaron Weiss, Walter Payton College Prep
2017 Illinois History Teacher of the Year
Do you have a favorite/funny memory from teaching?
I made the mistake of telling a class of 10th graders that I hate/am-afraid-of marshmallow Peeps. They spent the next two years hiding them around my classroom to see if I'd notice. Before they graduated, they hung and hid about two hundred drawings of Peeps around the room before I got to school. They're juniors in college now and I'm still finding them. It makes me smile when I open a book and a hand-drawn Peep falls out.
Do you have a favorite historical topic or era?
I like anything in history when I can discover how topics, people, or themes intersect or connect. One of the things I love about studying and teaching history is that every time I think I really understand a topic, I realize it's even bigger and more complex than I knew.
Do your students have a favorite historical topic or era?
I'm always a little surprised at the overwhelming enthusiasm during our post-WWII/Cold War unit. I think it's because it can be delightfully weird (duck-and-cover, HUAC drama, espionage, growth of suburbs) but it's also a time when they can see our modern America coming into focus (America in the world, new and enduring methods of racial discrimination, new gender roles and definitions, as well as new strategies for confronting inequities and moving America closer to its ideals). They (and I) also like discovering how so many different themes and stories from the era (WWII demobilization, housing, anti-communism at home, family life, civil rights, politics, and student movements) were linked and influenced one another.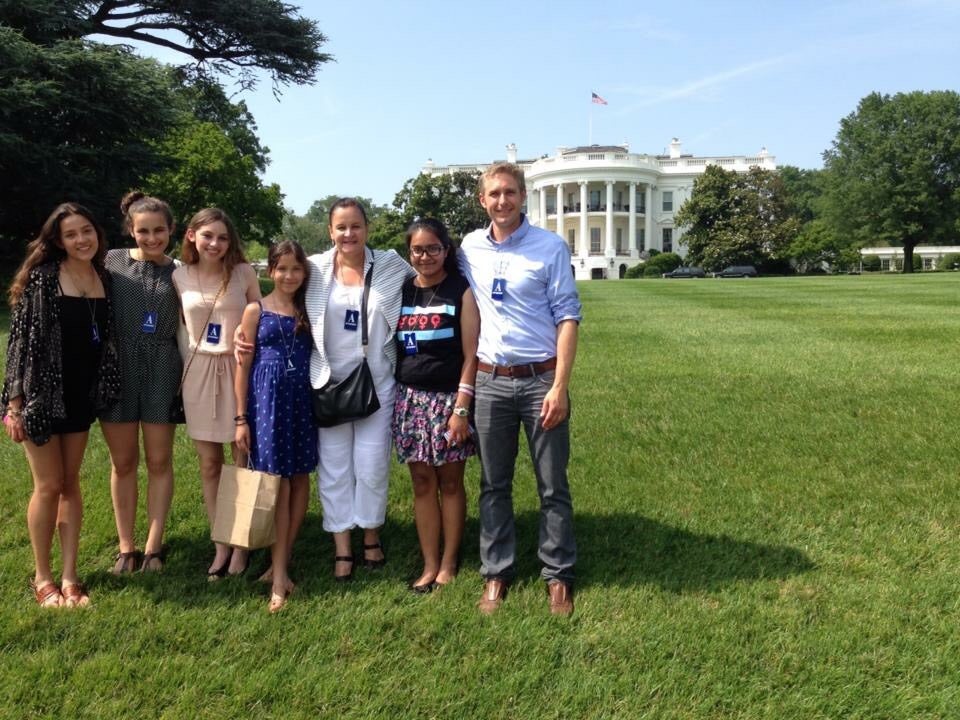 What is the last great history book you read?
The book that has stayed with me most in the past year is Marilynne Robinson's novel Gilead. Although it's a novel, it captures entire eras of American history through recollections and stories of ordinary people. While it isn't strictly a history book, it has greatly helped me frame and ponder American history with its themes of fathers and sons, anger and forgiveness, misunderstanding and figuring-it-out, inclusion and exclusion, and change and continuity, and how we perceive, judge, and forgive each other and ourselves. And best of all, it is set in Iowa, so it feels very familiar and reminds me of where I grew up. I have a Marilynne Robinson quotation hanging in my classroom: "I think the basis of democracy is a willingness to assume well about other people. You have to assume that basically people want to do the right thing."
Who is your favorite historian?
Robert Johnston was my advisor in grad school at the University of Illinois at Chicago. He's been an incredibly inspiring mentor as someone who infuses his historical work with modern connections and a belief that history must serve a modern purpose and can help us build a strong, inclusive democracy. Additionally, he cares deeply about teaching and sets an example of patient steering in the classroom. Working with Robert helped me crystallize many of my own beliefs and goals about the craft of teaching history.
What advice would you give to young people, in high school or college, who may be considering a career in education but are unsure?
There's no such thing as a born teacher. Building a successful career in this job (like most rewarding jobs) takes intentional practice, self-reflection, and an expectation of continual growth. I've been teaching fifteen years, and there are a lot of things I feel like I'm just starting to figure out, and other things I haven't even scratched the surface of. I say all of this as encouragement to new and prospective teachers, because it is okay to not have it all figured out right away (or after a decade-plus). But if this is something you care about, dive in and go for it. I can't imagine a more interesting or rewarding life.