A primary source by Harper's Weekly
View this item in the Collection.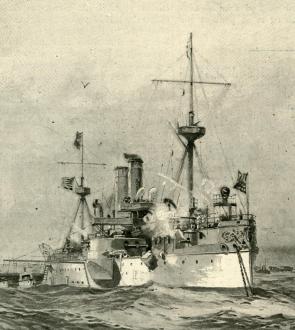 On February 15, 1898, the battleship Maine exploded in Havana's harbor in Cuba, killing nearly two-thirds of her crew. The tragedy occurred after years of escalating tensions between the United States and Spain and the yellow press and public opinion were quick to blame Spain. While the sinking of the Maine was not a direct cause of the Spanish-American War, it did accelerate the breakdown in diplomatic relations between the US and Spain. "Remember the Maine, to Hell with Spain!" became a rallying cry.
The Harper's Weekly article featured here represents a more balanced view of the event, noting:
the fate of the Maine will continue an unsolved mystery for historians to wrangle over. Meanwhile all that we shall positively know is that the explosion occurred forward, and hence that the seamen rather than the officers were the sufferers; that not more than 26 of the men remained uninjured; 57 being wounded and 246 killed, and that two of the 24 officers are certainly lost. If the disaster were the result of design and not of accident, it is considered probable that the blow would have been dealt the ship on the very spot where the explosion occurred—not because it would be more desirable to destroy the men than the officers, but because the magazine is always a preferable point of attack.
The cause of the Maine's sinking remains the subject of speculation. Suggestions have included an undetected fire in one of her coal bunkers, a naval mine, and sabotage to drive the US into a war with Spain.
A pdf of the article is available here.
Questions for Discussion
You are seeing this page because you are not currently logged into our website. If you would like to access this page and you are not logged in, please login or register for a gilderlehrman.org account, and then visit the link that brought you to this notice. Thanks!
Metadata
Make Gilder Lehrman your Home for History
---
Already have an account?
Please click here to login and access this page.
How to subscribe
Click here to get a free subscription if you are a K-12 educator or student, and here for more information on the Affiliate School Program, which provides even more benefits.
Otherwise, click here for information on a paid subscription for those who are not K-12 educators or students.
Make Gilder Lehrman your Home for History
---
Become an Affiliate School to have free access to the Gilder Lehrman site and all its features.
Click here to start your Affiliate School application today! You will have free access while your application is being processed.
Individual K-12 educators and students can also get a free subscription to the site by making a site account with a school-affiliated email address. Click here to do so now!
Make Gilder Lehrman your Home for History
---
Why Gilder Lehrman?
Your subscription grants you access to archives of rare historical documents, lectures by top historians, and a wealth of original historical material, while also helping to support history education in schools nationwide. Click here to see the kinds of historical resources to which you'll have access and here to read more about the Institute's educational programs.
Individual subscription: $25
Click here to sign up for an individual subscription to the Gilder Lehrman site.
Make Gilder Lehrman your Home for History
---
Upgrade your Account
We're sorry, but it looks as though you do not have access to the full Gilder Lehrman site.
All K-12 educators receive free subscriptions to the Gilder Lehrman site, and our Affiliate School members gain even more benefits!