Adella Hunt Logan: Suffragist and Educator
by Adele Logan Alexander
Adele Logan Alexander is a writer and historian who lives in New York City. She taught for many years at George Washington University and is the author of several books on women's and African American history, including Princess of the Hither Isles: A Black Suffragist's Story from the Jim Crow South (2019).
---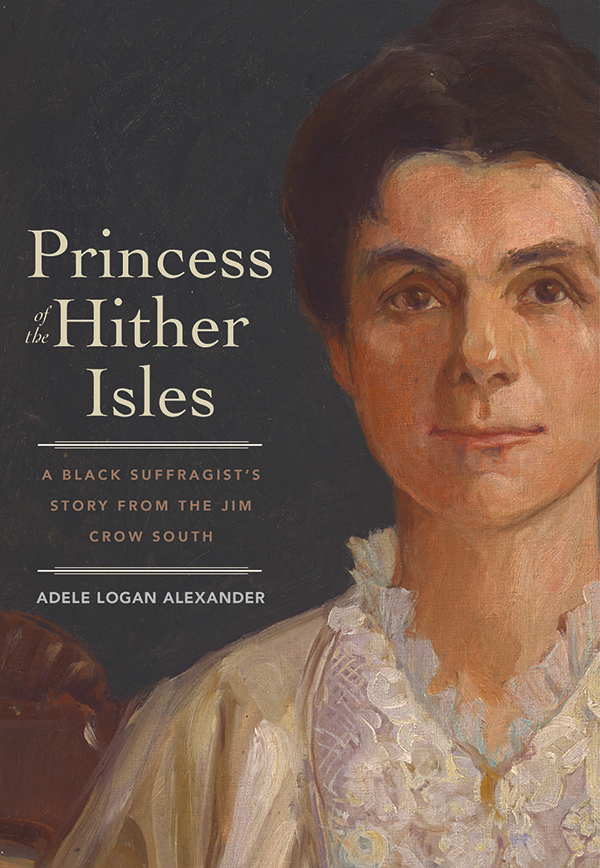 My new book, Princess of the Hither Isles, traces the life of my paternal grandmother, Adella Hunt Logan, who's intrigued me for as long as I can remember. During my childhood, she felt like a major presence in my life. Not only was I named for her, but a compelling 1918 oil portrait of her, by the African American painter William Edouard Scott, hung in the home of an aunt, then that of my parents, then (and still) my own.
I later learned that Adella had been born into a rare southern free family of color during the Civil War and died several decades before I was born. I knew she'd had many children, lived in Tuskegee, Alabama, had been a dedicated teacher, and emphatically believed that learning is empowerment. Only as an adult, however, did I also learn that she'd been a soldier in the struggle for woman suffrage. She worked to acquire the vote for women, which was her way of trying to give them a voice and empower them.
Adella was a person of mixed racial ancestry. She looked white, but considered herself (in the common parlance of the times) a Negro. Under southern law, that racial designation identified, demeaned, and limited the opportunities of all such persons.
As the openly acknowledged child of a wealthy white Georgian, Adella's mother had acquired some education herself, and, along with her husband-who also was white-induced a white cousin, who was a schoolteacher, to tutor her daughter. Several years after an 1869 Ku Klux Klan attack had shut down Sparta, Georgia's first school for African Americans, which six-year-old Adella had attended, the town's determined black residents negotiated the opening of another school for their children.
Adella's own gifts and hard work, recommendations from white politicians and family members, and support from her Atlanta University-educated teacher, helped her win a full scholarship to that same school, which had been founded by the American Missionary Association in 1865 for African American students. She excelled in her studies there but bristled that she could only pursue the two-year "normal" (or teaching) degree, and not the four-year "gentlemen's course."
Several years after graduating in 1881, she moved on to teach in rural Alabama, where Booker T. Washington had recently opened the Tuskegee Institute. She also met, and in 1888 married Washington's second-in-command, Warren Logan, and soon bore the first of her nine children. She had to limit her teaching schedule for a while, but concurrently began educating herself about political rights that were categorically denied to women. That denial somewhat paralleled the post-Reconstruction assaults of white southern lawmakers on the voting rights of newly enfranchised black men. Nonetheless, because Tuskegee Institute soon brought attention, money, and influential visitors to their town, the state's white male officeholders allowed a few of the institute's "colored" male teachers, Adella's husband included, to vote.
In the mid-1890s, Adella joined the new National Association of Colored Women (the NACW), a conglomerate of women's clubs dedicated to social and political reform, and also, through the influence and support of a white friend, the National American Woman Suffrage Association (the NAWSA), which, under Susan B. Anthony's leadership, was the country's leading organization dedicated to women's enfranchisement. Adella became that organization's first African American lifetime member, and the only one from the ultraconservative state of Alabama.
In 1895, Adella traveled to Atlanta, Georgia, to attend the NAWSA's first gathering outside Washington, DC, and soon thereafter informed Anthony that she was fully committed to the suffrage movement in the hopes that one day her daughter would be able to vote in the South.
But to attend such meetings, Adella had to perform a difficult charade: she had to pass as a white woman, which, over time, took a significant toll on her emotional health.
Most white suffragists, while struggling in a noble cause, were hardly the paragons of liberalism we've been led to believe. In Anthony's view, Reconstruction's Fifteenth Amendment had placed a new class of voters, black men who were purportedly ignorant, over white women who were reputedly educated.
Despite Adella Hunt Logan's family responsibilities, she still wanted to pursue her political activism. In 1899, a friend wrote to Anthony recommending Adella as an "informed and dedicated suffragist" to speak at the NAWSA's upcoming Washington, DC, convention, which would commemorate Susan B. Anthony's eightieth birthday. Anthony, however, vetoed that request, concerned that the movement's new southern recruits would withdraw their support. In a letter of October 5, 1897, to the suffragist Isabel Howland, Anthony wrote, "To bring right from the south a woman who would almost be an ex-slave, would vex them . . . You see I do not in the slightest shrink from having a colored woman on the platform, but I do very much shrink from having an incompetent one, so unless you really know that Miss Logan is one who would astonish the natives, just let her wait until she is more cultured and can do the colored race the greatest possible credit." Anthony, in fact, was considerably less well educated than Adella, who by that time had not only earned a full bachelor's degree but was also working on a master's. Aware of Anthony's disdain, Adella ultimately did not attend the convention.
Adella did, however, maintain her commitment to the cause, and continued reading the NAWSA's weekly newspaper, the Woman's Journal. In January 1901 she concealed her identity by adopting the byline "L. H. A.," and published an article in the Woman's Journal about her attendance at a convention of the Southern Association of Colored Women, where she had delivered a powerful and persuasive paper on women's suffrage.
Adella also attended "all-white" NAWSA conventions in the South, notably the one in New Orleans in January 1904. By that time, most observers agree, the suffrage movement had become even more racist than in the past. At the New Orleans gathering, one of the movement's leaders, Carrie Chapman Catt, declared that women's enfranchisement alone would maintain white supremacy over African Americans.
With help from some influential friends, Adella persuaded Catt, Anthony, and a group of their white associates to attend a gathering of the New Orleans NACW chapter, where that group's president, Sylvanie Williams, provocatively declared to the visitors, "Some flowers are fragile and delicate . . . some are carefully guarded and cherished, others are roughly treated and trodden under foot. These last are the colored women." Despite simmering hostilities between black and white women who nonetheless believed in a common cause, Adella brought Anthony and a contingent of other NAWSA members to visit "Mr. Washington's school" in Tuskegee. Pursuant to that trip, Anthony gave the institute a "small gift" which was designated to initiate a program that would teach "colored girls" to make brooms. Anthony's donation, encouraged by Booker T.'s wife, clearly reflected her belief in the most appropriate occupational role for black women.
To the dismay of Booker T. Washington, an accommodationist who tried not to rock the boat so that white Alabamians wouldn't accuse him of challenging the racial and political status quo, Adella organized debates and suffrage demonstrations at Tuskegee Institute. In 1900, her students marched en masse, and held aloft "Vote McKinley and Roosevelt" placards. After years of equivocation, Booker T. Washington signed a petition organized by prominent educational leaders who opposed woman suffrage.
Adella, however, continued to articulate her views on women's empowerment. She regularly read the Colored American, a popular journal dedicated to her people's news, fiction, and political commentary. Her neighbor, the country's most influential African American, Booker T. Washington, shaped that publication's perspectives and its content.
The American Constitution's primary aim, Adella argued in the Colored American in September 1905, "is but partially realized so long as woman has no vote. . . . In the ordinary affairs of life women are regarded as persons. Why not treat them as such in questions of government?" Outraged by the claim that "women do not need the ballot, as they are represented by their husbands," Adella asks, "How about those women who have no husbands? What of those whose views and lives are so different from their husbands'?" Such women, she prophetically concluded, were destined "to cry, to swear or to suicide."
The conflicting bonds of affection and hostility between Adella and Booker T. Washington remained in place, and in June 1912, after unsuccessfully scheming to attain the presidency of the National Association of Colored Women for more than a decade, Booker T.'s overbearing wife finally was elected to that position. Margaret Washington's first action as president was to remove Adella from the chairmanship of the NACW's suffrage division, which Adella had founded and led since its inception more than a decade before.
After returning from that meeting having endured Mrs. Washington's figurative slap in the face, at the convention of the National Medical Association (the organization of African American medical practitioners who were banned from membership in the larger, all-white American Medical Association), Adella coordinated a major woman suffrage march at Tuskegee Institute. Hundreds of students, faculty, and visitors marched and held aloft banners that proclaimed, "Votes for Women," while they sang the new lyrics that Adella had written to the tune of "Comin' thro' the Rye":
If a body pays the taxes, surely you'll agree,
That a body earns the franchise, whether he or she.
That same summer, over her husband's objections, Adella accepted the invitation of Booker T. Washington's gadfly and perceived archenemy, the firebrand intellectual Dr. W. E. B. Du Bois, to write an article titled "Colored Women as Voters" for the October 1912 issue of The Crisis, the widely read journal of the new National Association for the Advancement of Colored People. "More and more colored women," she wrote, were participating in political and civic actions. Such women, she continued, believed that their public efforts would have greater impact if they had the right to vote.
By that time, Adella had six children (three others died in early childhood) to care for, and the Logans had little money for "frivolous" activities, so she couldn't attend the huge pro-suffrage march and demonstration in the nation's capital in the spring of 1913, which was scheduled to coincide with the inauguration of President Woodrow Wilson. She nonetheless vigorously urged friends and colleagues to do so.
By early 1915 it became apparent that Adella was depressed and was behaving irrationally. She was distraught that Dr. Du Bois hadn't asked her to contribute an essay to the second issue of The Crisis devoted to women and the vote. The Alabama legislature concurrently refused even to allow the question of woman suffrage to appear on the ballot that coming autumn, and one state newspaper characterized the movement as "the most dangerous blow aimed at the peace and happiness of the people of Alabama and white supremacy since the Civil War." Her husband sent her off to receive treatment-brutal, but sometimes effective electric shock therapy. While she was away, her adversary but dear friend Booker T. Washington died. She then returned home to face rumors that her husband had been unfaithful during her absence.
Two months later, Adella fell or jumped from a fifth-floor classroom building window at Tuskegee Institute. It was never determined beyond doubt whether her death was a tragic accident or suicide.
Adella Hunt Logan didn't live to celebrate the passage and ratification of the Nineteenth Amendment, or to see her daughter vote, as she'd expressed hope to Susan B. Anthony twenty years before.
My father, Arthur, was Adella's last-born child. My aunts all passionately participated in the democratic process. Ruth Logan Roberts, the oldest Logan sister, was an activist who held acclaimed political salons in her elegant Harlem home. And vote she always did! Adella's daughter Myra and my father both became physicians who tended to their community's health needs, and another daughter, Louise, was a teacher like her mother.
I wish I'd known my grandmother, for whom I was named, but her portrait still hangs on my foyer wall where she continues to inspire me. I like to think that by sharing her story, I've done credit to her memory.
SELECTED BIBLIOGRAPHY
Anthony, Susan B., and Elizabeth Cady Stanton. The Selected Papers of Elizabeth Cady Stanton and Susan B. Anthony, ed. Ann D. Gordon. 6 vols. New Brunswick: Rutgers University Press, 1997–2013.
Barry, Kathleen. Susan B. Anthony: A Biography of a Singular Feminist. New York: New York University Press, 1988.
Harlan, Louis R. Booker T. Washington: The Wizard of Tuskegee, 1901–1915. New York: Oxford University Press, 1983.
Levering Lewis, David. W. E. B. Du Bois: Biography of a Race, 1868–1919. New York: Henry Holt and Co., 1993.
Logan, Adella Hunt. "Woman Suffrage," The Colored American Magazine 9, no. 3 (September 1905), repr. New York: Negro Universities Press, 1969, pp. 487–489.
Logan, Adella Hunt. "Colored Women as Voters." The Crisis 4, no. 5 (September 1912): 242–243.
Thomas. Mary Martha. The New Woman in Alabama: Social Reform and Suffrage, 1890–1920. Tuscaloosa: University of Alabama Press, 1992.
Washington, Booker T. The Papers of Booker T. Washington, ed. Louis R. Harlan, Raymond W. Smock, et al. 14 vols. Urbana: University of Illinois Press, 1972–1989.