"Dear Girl, how much I love you": The Revolutionary War Letters of Henry and Lucy Knox
by Phillip Hamilton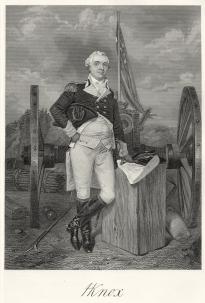 Letters between soldiers and spouses are often powerful and moving documents. Given the intensity, danger, and uncertainty of armed conflict as well as the significant changes wrought by most wars, such correspondence reveals what individuals did, felt, and experienced like few historical records can. This is the case with the letters written by Henry and Lucy Knox during the Revolutionary War. Henry Knox is well known to historians. A Boston bookseller, he joined American forces following Lexington and Concord. After transporting fifty-nine captured British cannon from Fort Ticonderoga to Washington's men outside Boston in the winter of 1775–1776, the twenty-five-year-old Knox gained command of the Continental Army's artillery and, by war's end, had risen to the rank of major-general. Less well-known is that Knox had married Lucy Flucker in 1774. Only seventeen years old at the time, Lucy belonged to a wealthy Tory family and her father, Thomas Flucker, was Massachusetts Bay's Royal Secretary, the third-highest-ranking crown official in the colony. When hostilities commenced, Lucy fled Boston with her husband, leaving behind her entire family, none of whom she would ever see again. Henry initially settled Lucy in Worcester, forty miles west of the city, and then rode back to volunteer with the gathering colonial army. Thus apart, the pair began writing to each other.
The Knoxes experienced many separations over the course of the Revolutionary War during which they penned over one hundred fifty letters to each other, all of which are in the Gilder Lehrman Collection. This correspondence touches on numerous themes common to many, if not most, couples separated by war. During the Revolution, Lucy and Henry repeatedly expressed their deep love for each other. They shared their daily activities as well as news of family and friends. The Knoxes also wrote to reassure each other of their health and well being. These letters not only brought comfort and solace, but also helped the couple to preserve their marriage in a time of great turmoil. Furthermore, the Knoxes discussed the Revolution's key military campaigns as well as their own struggles on the home front. In sum, their letters provide important insights into both the American Revolution and the experience of war in general.
Lucy and Henry met in the latter's bookstore in 1772 and the two were instantly attracted to each other. Henry found himself enchanted by Lucy's beauty and vibrant personality. Lucy loved Henry's kindhearted, gregarious temperament, and fondness for reading and conversation. The couple soon started meeting at coffee shops, exchanging books and eventually love letters. In June 1774, they married in Henry's lodgings above his bookshop. Although Lucy's parents disapproved, the couple was supremely happy as they expected a life of uninterrupted bliss ahead of them. At the time the newlyweds married, however, the American colonies and Great Britain were heading toward war. Politically circumspect, Knox had friends among both the Sons of Liberty and the British officers in Boston. By Lexington and Concord, though, he had become a firm supporter of the patriot cause. Thus he soon made his way out of the city with Lucy dutifully at his side.
After settling his wife out of harm's way, Knox began his service in the ranks. He quickly impressed many with his engineering skills (gained largely through books he had read on military science). His first surviving wartime letter to Lucy, dated July 6, 1775, describes his initial encounter with George Washington. On an inspection tour near Roxbury, the new commander in chief examined some fortifications Knox had constructed, after which the General expressed "the greatest pleasure & surprise" at their quality and utility. Later that year, Washington ordered Knox to retrieve the British cannon from Ticonderoga. Henry described in several long letters to Lucy his epic winter trek through snow and mountains, a feat which earned him a colonel's commission.
Beyond relating his military exploits, Knox filled his letters with expressions of love and affection. Lucy was, he wrote in August 1775, "the animating object of My Life" and "I am always talking inwardly to her."[1] During the Ticonderoga mission, he explained that he wanted to fly through the air to be with her, but, poking fun at his rotund physique, joked that he would "look like a tennis ball" in flight.[2] Lucy wrote similar letters. In early 1776, she noted that her husband's "image is deeply imprinted on my heart." She even teased about putting her sentiments on paper for, if her letters should miscarry, "the language of a tender wife might appear ridiculous."[3]
As the Revolution escalated in size and cost, playful expressions of love turned somber. The day after the Continental Army's terrible defeat on Long Island in late August 1776, Knox wrote that he only had time to inform Lucy of his safety. He then exclaimed, "Dear Girl, how much I love you."[4] As their separations lengthened, the Knoxes also began to argue over Henry's military service. When the campaign of 1776 stretched into 1777, for instance, Lucy pleaded with her husband to leave the army to care for her and their new-born child.[5] In January, she cried that "I underwent almost every distress for the sake of being yours," including the loss of "a father and a mother, sisters and Brother." Yet Henry remained in the ranks and far away from her. Thus, she concluded, "you forsake me."[6] Knox answered such pleas by reassuring Lucy "my heart is yours altogether." But, in "a Contest of Virtue with vice," he could not leave the army. "My Country demands my poor pittance . . . to rescue her from Barbarity, Tyranny, & every misery consequent on an unlimited, uncheck'd power."[7]
Henry stayed in the military until the war's end, but the strain over his service continued. The Revolution, moreover, forced the couple to mature beyond their years. Henry, for example, lost his youthful ebullience as his responsibilities grew and the war dragged on. Lucy too grew more serious, especially as challenges on the home front in New England escalated. She endured not only the loss of her parents, but also the pressures of parenthood, the dangers of a smallpox inoculation, and rising inflation and food shortages. Henry's demands for needed supplies only added to her burdens. "My Harry writes to me as if I lived in a land of plenty," she wrote in 1777 after a long list arrived from Henry's headquarters. Several weeks later, she recorded for him the items she had painstakingly purchased from Boston's grocers and retailers, including wine, port, sugar, tea, coffee, pepper, sweetmeats, a silk coat, stockings, and handkerchiefs. Before sending the goods to the army, Lucy told her husband, "You had better make me your future agent. I'll assure you, I am quite the woman of business." Lucy's activities on behalf of her husband changed the dynamics of their marriage. No longer content with a traditional male-dominated household, she told Henry, "I hope you will not consider yourself commander in chief of your own house" after the war. Unlike in the military, "there is such a thing as equal command" in marriage.[8]
In 1778 the Continental Army settled into a war of maneuver with the British that lasted until the Yorktown campaign. Throughout this period, Henry and Lucy often lived together in army encampments in New Jersey and New York. As a result, their correspondence dwindles to a handful of letters drafted when Knox traveled with the army or inspected fortifications. Nevertheless, those letters they did write reflect a growing hunger for peace. In June 1779, Henry exclaimed, "I pant after domestic happiness and most heartily wish the time arriv'd when we shall turn our swords into ploughs[hares] and pruning hooks."[9] Lucy too longed for the war's end so that no more "days of absence" would fill their lives.[10] The birth of additional children only increased such desires.[11]
After Yorktown, the couple endured only one more separation before the war formally ended. In March 1782, Knox traveled to Elizabethtown, New Jersey, to negotiate with the British for an exchange of prisoners. During this one-month sojourn, the couple wrote their last wartime missives. These letters reflect the many changes that had occurred in the Knoxes' lives over the previous seven years. Lucy noted with immense pleasure the well being of their children, "our little Treasures," all born during the war. She wrote with equal satisfaction that Congress had ratified her husband's promotion to major-general, thus completing the former bookseller's march up the ladder of military rank. However, the couple's mutual love and devotion, so apparent from their first letters, remained unchanged. In Henry's eyes, Lucy continued to be "my Charmer" as well as the object of his most "ardent affection"; Henry was still Lucy's "dearest friend" and "My all in life."[12]
The Knoxes' lives continued to be eventful following the return of peace. During the 1790s, for example, Henry served as Washington's first Secretary of War and engaged in large-scale land speculation in Maine. In spite of these many responsibilities, Henry and Lucy always avoided being separated from each another whenever possible. Moreover, the Knoxes never forgot how the War for Independence had completely reshaped both their nation and their own family. They and later generations carefully preserved their Revolutionary War letters, which remain today remarkable windows into the multiple transformations the conflict brought to all aspects of eighteenth-century life.
---
---
Phillip Hamilton, Professor of History at Christopher Newport University, is the author of The Making and Unmaking of a Revolutionary Family: The Tuckers of Virginia, 1752–1830 (University of Virginia Press, 2003; paperback edition 2008) and Serving the Old Dominion: A History of Christopher Newport University (Mercer University Press, 2011). He is currently writing a joint biography of Henry and Lucy Knox as well as editing a volume of their wartime correspondence.