Women and the United States Supreme Court
by Julie Silverbrook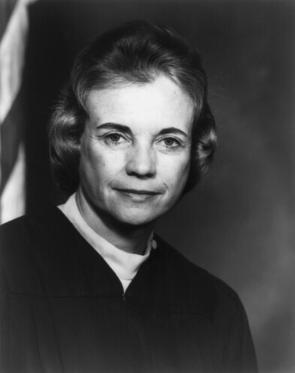 If you ask most people about the history of women and the United States Supreme Court, they are likely to point to the historic nomination of Sandra Day O'Connor as the first female justice, in 1981. That is a watershed moment in our nation's history. But in order to fully understand the relationship of women to the United States Supreme Court, we must reach back much further. This story begins, as all stories about American history inevitably do, during the colonial period.
Margaret Brent: A Colonial Woman in the Courts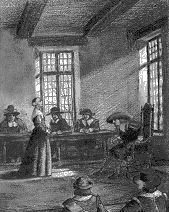 While it is true that women were generally prohibited from practicing law in the early years of the nation, there were some notable exceptions.[1] Margaret Brent is one such exception. Brent and her family were distantly related to the Calverts, the Catholic ruling family of Maryland. She migrated to Maryland in 1638 with her sisters, and she traveled as the head of her own household, which was unusual for a woman at the time. Brent later acquired from her brother 1,000 acres of land. Because she never married, she retained certain legal rights that women, under coverture laws in operation at this time, typically lost once married. As a single woman, Brent could represent herself in court, and she appeared before courts several times to file suits against her debtors.[2] While not herself a lawyer, she was one of the first women to appear in court to defend her own legal and financial rights.[3] In addition to representing herself within the courts, Brent became the first woman on record to demand the right to vote in an English colony, appearing before the Maryland Assembly in 1647.[4]
Lucy Terry Prince: A Former Slave Argues before a Member of the US Supreme Court
Lucy Terry was stolen from Africa as an infant and sold into slavery in Massachusetts. She later married Abijah Prince, a free black man who purchased her freedom. After their marriage, the Princes moved to Vermont, where they owned land and property. They were frequently put in a position to defend their land rights against others. Lucy, who was well known for her oratorical skills, was often the one speaking on behalf of the family, including before the Council of Guilford, Vermont, where the family lived.[5] In 1796, Prince became the first black woman in America to argue before a Supreme Court justice and influence law. The case arose from a land dispute, and Lucy argued against two leading lawyers. Chief Justice Samuel Chase, who presided over the Vermont court, said Prince "made a better argument than he had ever heard from a lawyer in Vermont."[6]
Myra Bradwell Fights for Admission to the State Bar
As legal study and legal practice became more standardized, women found themselves denied admission to both law schools and state bar associations. After the Illinois Supreme Court denied Myra Bradwell admission to the Illinois Bar in 1872 (despite Bradwell's passing of the state bar exam), she filed a petition with the US Supreme Court appealing the decision. She argued that the Illinois Supreme Court's decision violated the "privileges or immunities clause" of the Fourteenth Amendment.
In its opinion in Bradwell v. the State of Illinois, the Supreme Court held that Illinois' refusal to grant a woman a license to practice law did not violate any provision of the United States Constitution, and further held that the right to practice law in state court is not a privilege or immunity of citizenship within the meaning of the first section of the Fourteenth Amendment.[7]
In an opinion concurring in the Court's judgment, Justice Bradley went further and said, "The civil law, as well as nature herself, has always recognized a wide difference in the respective spheres and destinies of man and woman. Man is, or should be, woman's protector and defender. The natural and proper timidity and delicacy which belongs to the female sex evidently unfits it for many of the occupations of civil life."[8]
Belva Lockwood: Supreme Court Trailblazer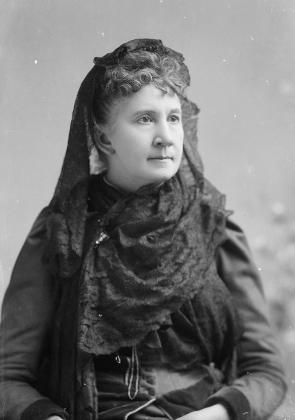 In 1876, a woman would return to the Supreme Court. This time, she did so with the aim of gaining admission to the US Supreme Court Bar. That woman was Belva Lockwood. Her pathway to the Supreme Court Bar was full of obstacles, all of which she overcame with tenacity.
Lockwood applied to the Columbian Law School in Washington DC, in 1870. The school's trustees denied her admission, citing their belief that she would prove a distraction to the male students. She was later accepted to the new National University Law School (now part of The George Washington University). She completed her legal studies in 1873, but the school was unwilling to grant her a diploma on the basis of her gender. Without a diploma, Lockwood was unable to gain admittance to the bar.[9]
In September 1873, Lockwood wrote a letter to President Ulysses S. Grant, who also served as president of National University, appealing to him to intervene on her behalf. She explained that she had passed all of her courses and deserved to be awarded a diploma. A week after sending the letter, Lockwood received her diploma. She was forty-three.[10]
With her admission to the District of Columbia Bar, Lockwood became one of the first female lawyers in the United States. In 1876, she sought to gain admission to the US Supreme Court Bar. After applying, she received a note from Chief Justice Morrison R. Waite stating, "By the uniform practice of the Court from its organization to the present time, and by the fair construction of its rules, none but men are permitted to practice before it as attorneys and counselors."[11]
Never one to accept the status quo, Lockwood drafted a bill that would require women to have the same access as male lawyers to the Supreme Court Bar. After she vigorously lobbied Congress for several years, in 1879 Congress passed and President Rutherford B. Hayes signed a law requiring that all qualified women lawyers be admitted to practice before the US Supreme Court.[12]
Lockwood became the first woman member of the US Supreme Court Bar, and would become the first woman to argue before the Court in the case of Kaiser v. Stickney.
Building on the monumental research of Marlene Trestman on behalf of the Supreme Court Historical Society, my researchers have identified a total of 726 women who have argued 1,433 times before the US Supreme Court since Belva Lockwood became the first in 1880.[13]
Women on the United States Supreme Court
Only four of the 112 justices ever to serve on the highest court in the land have been women. Three of those women—Ruth Bader Ginsburg, Sonia Sotomayor, and Elena Kagan—sit on the Supreme Court today. Sandra Day O'Connor, the first woman to serve as a US Supreme Court Justice, retired in 2006.[14]
Justices Ginsburg and O'Connor, both of whom were born in the 1930s and came of age in the 1950s, had to overcome overt gender discrimination and the competing demands of work and family on their way to the Court. The pathway to the Court for the two younger women justices, Sonia Sotomayor and Elena Kagan, was an easier one thanks to the efforts of the more senior women justices.
Sandra Day O'Connor
During the 1980 presidential campaign, Republican candidate Ronald Reagan promised to appoint the first woman to the US Supreme Court. After his election, on August 19, 1981, President Reagan fulfilled that promise when he nominated Sandra Day O'Connor to the US Supreme Court seat vacated by Justice Potter Stewart. On September 21, 1981, the Senate voted 99 to 0 to confirm Sandra Day O'Connor as the first woman on the Court.
Sandra Day was born on March 26, 1930. She graduated from high school at age sixteen and entered Stanford University, where she earned a degree in economics. From there, she went to Stanford Law School, and graduated third in her class in 1952. Despite her academic credentials, O'Connor was repeatedly turned down for jobs by law firms that would not hire women. The one job she was offered was a position as a legal secretary—she turned it down. She was later able to secure a position as a deputy county attorney in San Mateo, California. O'Connor recalled how that job "influenced the balance of [her] life because it demonstrated how much [she] enjoyed public service."
O'Connor followed her husband John abroad to Frankfurt, Germany, while he was stationed there as an Army Judge Advocate General (JAG) officer. She worked during this time as a civilian lawyer in the Quartermaster Corps. After returning to the United States, the couple settled in Arizona.
After the birth of her first child, O'Connor opened her own firm. During these years, O'Connor balanced the demands of motherhood with a robust volunteer schedule, becoming actively involved in Republican politics in Arizona. She worked as a county precinct officer for the party from 1960 to 1965, and as district chair from 1962 to 1965.
In 1969, when Isabel A. Burgess resigned from the Arizona State Senate, O'Connor was appointed as her replacement. She later won reelection and served in the state senate for two successive terms. In 1972, she was elected majority leader of the Arizona senate, becoming the first woman to hold such office anywhere in the United States.
In 1974, O'Connor was elected to a state judgeship on the Maricopa County Superior Court. She served on that court for the next five years. In 1979, she was appointed to the Arizona Court of Appeals. Twenty-one months later, she was appointed to the US Supreme Court.
During her twenty-five years on the Court, she played a crucial role in decisions on abortion, affirmative action, the death penalty, and other issues. O'Connor's status as the first woman on the Supreme Court made her famous, and she was widely regarded as one of the most powerful women in the country. She also received a lot of attention as the Court's "swing vote," a place now occupied by Justice Anthony Kennedy.
After her retirement, O'Connor turned her time and attention to civics education. She is undoubtedly the nation's highest profile champion of civics education. In 2009, she founded iCivics in an effort to restore civics education in our nation's schools. iCivics has gone on to become one of the leading organizations in the effort to educate young people about our nation's system of government.[15]
Ruth Bader Ginsburg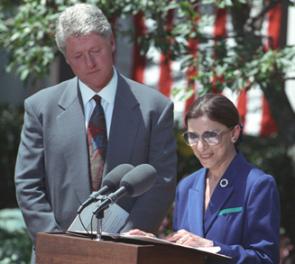 Ruth Bader Ginsburg, the second woman to serve on the US Supreme Court, was born in Brooklyn, New York, in 1933. Like Sandra Day O'Connor, she excelled in high school, winning scholarships that would pay her way through college. She attended Cornell University, where she graduated first among the women in her class. While at Cornell, she met Martin Ginsburg, whom she would marry following her graduation. She entered Harvard Law School a year behind her husband, after the couple was stationed in Oklahoma during Martin's army service. When Ginsburg started at Harvard, her daughter Jane was still a baby, so she and Martin shared child care and household duties.
Ginsburg excelled in her classes and won a spot on the law review. During her second year at Harvard, Martin Ginsburg was diagnosed with cancer and had to undergo massive surgery and radical radiation treatments. Ruth attended her husband's classes as well as her own, and copied notes for him. Martin recovered and was able to complete his course work and graduate on time.
When Martin accepted a job at a New York City law firm, Ruth transferred to Columbia Law School in an effort to keep her family together. She graduated from Columbia, tying for first in her law school class. Like Justice O'Connor, she received no job offers from area law firms, despite her superior academic credentials. As she observed, her status as "a woman, a Jew, and a mother to boot" was "a bit much" for prospective employers in those days. Ginsburg was finally able to obtain a clerkship from New York district judge Edmund L. Palmieri.
In 1963, Ginsburg became the second woman to join the law faculty of Rutgers University in New Jersey. In the early 1960s, she became concerned about the social conditions that denied women opportunities open to their male counterparts. While teaching at Rutgers, Ginsburg assisted the American Civil Liberties Union (ACLU) of New Jersey in arguing sex-discrimination cases. Her students at Rutgers asked her to teach a course on gender-based discrimination, and she was surprised to discover at the time how little had been written on the subject.
Throughout history, the US Supreme Court had upheld several laws treating women differently from men—for example, by preventing women from working as bartenders or lawyers under the rationale that women were in need of special protection from life's hardships. Ginsburg believed that this sex stereotyping was unconstitutional and limited women's opportunities. In her view, the Fourteenth Amendment's equal protection clause prohibited gender-based discrimination.
Joining forces with the ACLU's national office, Ginsburg was the principal author of the ACLU's brief in Reed v. Reed (1971). In Reed the Supreme Court struck down a state law that preferred men over women as administrators of decedents' estates. Because the Court did not explicitly adopt a heightened standard of review in this case, Ginsburg and the ACLU knew they had to continue litigating in order to guarantee similar results in other cases.
The ACLU established a Women's Rights Project in 1972, and named Ginsburg its director. Over the next eight years, she sought to persuade a majority of Supreme Court justices that sex-based legal distinctions ought to be subject to heightened judicial scrutiny. To do this, she went about demonstrating that gender-based stereotypes harmed not only women, but also men. Many of the plaintiffs in Ginsburg's cases were men.
Between 1972 and 1978, Ginsburg argued six cases before the Court involving sex-role stereotyping and won five. In Craig v. Boren (1976), the Court finally accepted Ginsburg's view (expressed in an amicus brief) that gender-based legal distinctions deserved heightened scrutiny.
In 1972, Ginsburg became the first female tenured law professor on the faculty of Columbia Law School. From there, she was appointed by President Jimmy Carter to the US Court of Appeals for the District of Columbia Circuit in Washington DC. In the spring of 1993, when Justice Byron White resigned from the Supreme Court, President Bill Clinton became the first Democratic president in twenty-six years to make a Supreme Court appointment. He selected Ruth Bader Ginsburg, whom he called "the Thurgood Marshall of gender equality law." The Senate voted 97-3 to confirm Ginsburg's nomination, and she took the oath of office on August 10, 1993.
Ginsburg's long-held conviction that gender discrimination deserves serious scrutiny under the Fourteenth Amendment found reaffirmation in United States v. Virginia (1996), in which the Court held that Virginia's refusal to admit women to the Virginia Military Institute (VMI) was unconstitutional.
Another major gender discrimination case offered Ginsburg the opportunity to express her concern for the real-world effects of judicial decisions. In Ledbetter v. Goodyear Tire and Rubber Company (2007), the Court barred Lily Ledbetter from suing her employer under Title VII of the Civil Rights Act of 1964, the nation's principal anti-discrimination in employment law, because she had not filed a complaint within 180 days of each and every unfavorable pay-setting decision. In a rare move highlighting her strong disagreement with the decision, Ginsburg read a summary of her vigorous dissent from the bench. She concluded by inviting Congress to take action to correct what she viewed as the Court's error. Within two years, Congress did just that. On January 29, 2009, President Barack Obama signed into law the Lilly Ledbetter Fair Pay Act, which allows an employee to file a complaint under Title VII within 180 days of receiving any discriminatory paycheck.[16]
Sonia Sotomayor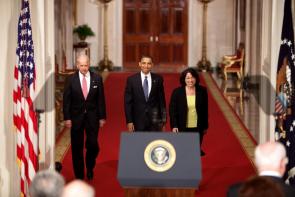 Sonia Sotomayor, the third woman to serve on the US Supreme Court, was born in the Bronx, New York, on June 25, 1954. She lived in the Bronxdale Housing project along with her mother and brother.
Sotomayor excelled at school, and decided at age ten, after watching Perry Mason on TV, that she wanted a career in law. Sotomayor was admitted to the academically rigorous Cardinal Spellman High School, a parochial school in the northeast Bronx, where she graduated as valedictorian in 1972. She was accepted to Princeton University on a full scholarship and graduated summa cum laude. Sotomayor then won a scholarship to Yale Law School, where she served as an editor of the Yale Law Journal and managing editor of Studies in World Public Order.
After graduation, Sotomayor worked as an assistant district attorney in New York County, where she spent five years prosecuting criminal cases. She then went on to private practice, becoming partner at the boutique firm of Pavia and Harcourt. During this time, she was also actively involved in a number of pro bono activities, serving on the Board of the State of New York Mortgage Agency, the New York City Campaign Finance Board, and the Board of Directors of the Puerto Rican Legal Defense and Education Fund.
In 1992, at the suggestion of Senator Daniel Patrick Moynihan of New York, President George H. W. Bush appointed Sotomayor as a district judge for the Southern District of New York. Still in her thirties, she became the youngest member of that trial court. Sotomayor gained national attention and praise when she issued an injunction against Major League Baseball owners in 1995, effectively ending a baseball strike that had caused the World Series to be canceled.
In 1998, President Bill Clinton appointed Judge Sotomayor to the US Court of Appeals for the Second Circuit. She became the first Hispanic woman to serve on that court. In her eleven years as an appeal court judge, she earned a reputation for asking tough questions from the bench. During her time on the Second Circuit, Sotomayor also taught trial and appellate advocacy at New York University School of Law and lectured at Columbia Law School.
On May 26, 2009, President Barack Obama nominated Sotomayor to the Supreme Court to replace David Souter. On August 6, the Senate confirmed Sotomayor's nomination by a vote of 68-31. The vote was mostly among party lines, with no Democrats opposing her and nine Republicans supporting her. She was sworn in two days later, becoming the third woman appointed to the Court, and the first justice to identify as Hispanic.
Once on the Court, Sotomayor quickly showed that she likes to question counsel vigorously from the bench. She has proved to be a consistent member of the Court's liberal wing. She is also unafraid to write solo dissents and concurrences.[17]
Outside the Court, Sotomayor has made frequent appearances in non-traditional settings for a Supreme Court justice, including talk shows, baseball games, and even Sesame Street. She also has become known in many circles as the "People's Justice," for her efforts to actively engage with everyday Americans.[18] She has also followed in Justice O'Connor's footsteps by joining the board of O'Connor's iCivics project.
Elena Kagan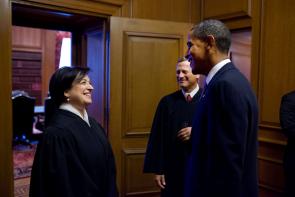 Elena Kagan, the fourth woman appointed to the Supreme Court, was born on April 28, 1960, and grew up on the Upper West Side of Manhattan in a middle-class Jewish family. Kagan attended Princeton University, majoring in history and graduating summa cum laude in 1981. She served as editorial chair of the Daily Princetonian in her senior year. Princeton awarded Kagan a two-year Daniel M. Sachs fellowship to study at Oxford University, where she earned her MPhil at Worcester College in 1983. She then enrolled at Harvard Law School, where she was supervising editor of the Harvard Law Review and graduated magna cum laude in 1986.
She clerked for Abner J. Mikva on the US Court of Appeals for the District of Columbia Circuit, and Justice Thurgood Marshall on the US Supreme Court. After working for two years at the Washington DC law firm of Williams & Connolly, Kagan decided to pursue a career in academia. In 1991 she began teaching at the University of Chicago Law School, where she was granted tenure in 1995. Soon after, she was called back to Washington by her former boss, Judge Mikva, who served as President Bill Clinton's White House Counsel and asked her to join his staff. After two years, she decided to remain at the White House as deputy director of domestic policy.
In 1999, President Clinton nominated Kagan to the Court of Appeals for the DC Circuit. Clinton's term was drawing to a close, and the Republican-controlled Senate Judiciary Committee ultimately let her nomination lapse. Eventually, John G. Roberts Jr., the future chief justice, was appointed to the seat. Kagan, instead, joined the faculty at Harvard Law School. Four years later, in 2003, she was named dean of the law school, the first woman to hold that position.
On January 26, 2009, President Barack Obama chose Kagan to be the first female solicitor general. Her appointment was confirmed by the Senate on March 19. As the federal government's top appellate lawyer, she was responsible for all of the government's litigation before the US Supreme Court.[19]
On May 10, 2010, Obama nominated Kagan, then age fifty, to the Supreme Court to replace John Paul Stevens. On August 5, 2010, the Senate confirmed Kagan on a vote of 63-37. Kagan has established herself as a forceful presence on the bench, and is known for her opinions, which are often written in a conversational style.
More Women in the Court in the Future?
From Margaret Brent to Elena Kagan there is a rich history of women fighting to represent their own interests before courts, gaining admission to state bars and the US Supreme Court bar, and now serving on the US Supreme Court. Justice Ruth Bader Ginsburg was once asked when there will be enough women on the US Supreme Court. She replied, "when there are nine."[20] Only time will tell if women will ever represent more than half the Court. While the nation awaits that moment, there is plenty of time to study the history of women and the Supreme Court.
---