Reporting on the Spanish Influenza, 1918
A Spotlight on a Primary Source by The York Dispatch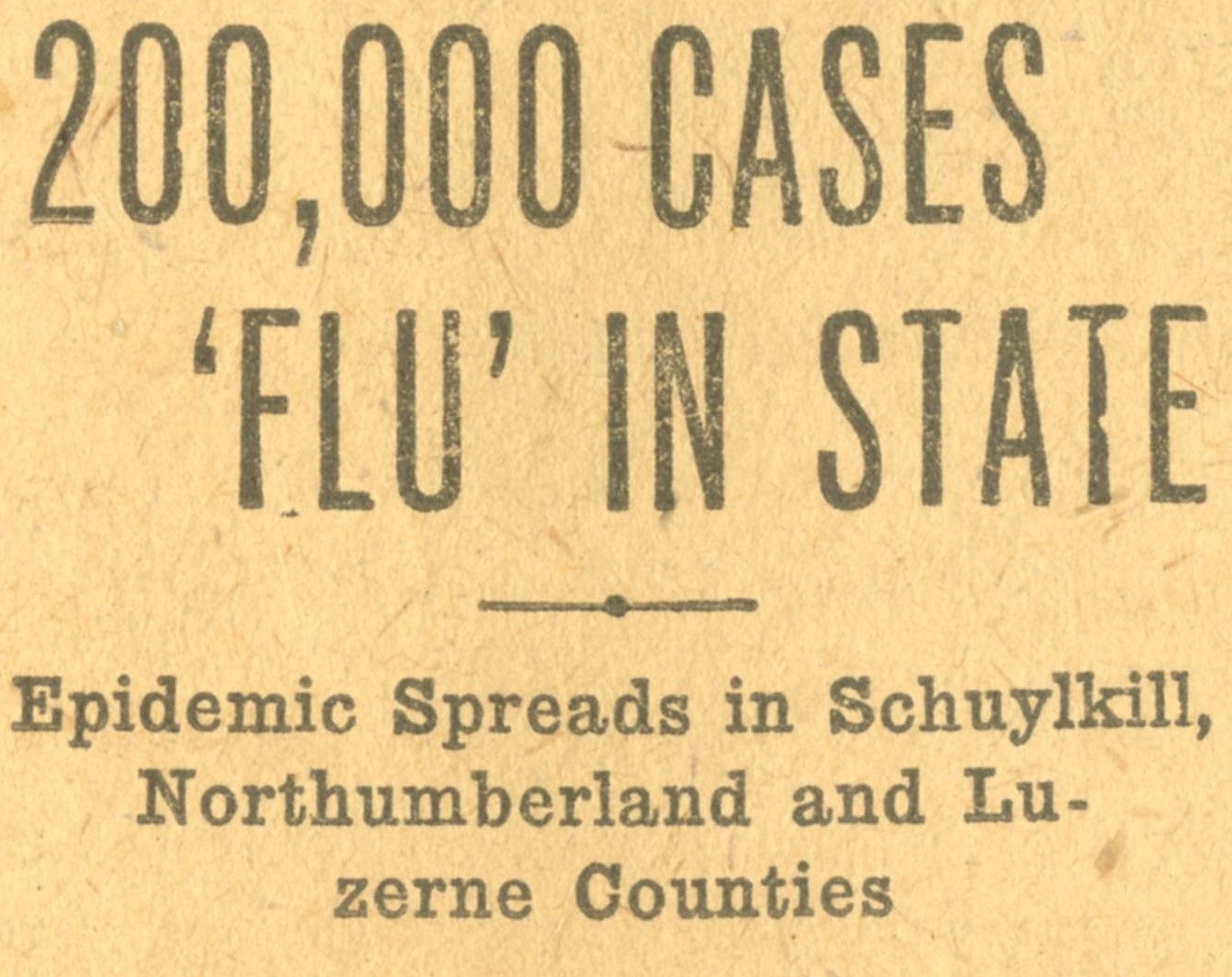 These newspaper articles illustrate the impact on American society of Spanish Influenza (H1N1), which first appeared in the United States in March 1918.[1] There were periodic, minor outbreaks for six months, but in September a highly fatal second wave of influenza broke out across the country and lasted through January 1919. Within days of being exposed, patients became gravely ill and many died. Influenza is usually only dangerous for the very young and the elderly. During this outbreak the disease was deadly for people aged twenty to forty as well. According to the Centers for Disease Control, 195,000 Americans died in October 1918 alone. In less than two years, an estimated 25 million people in the United States (25% of the total population of 103 million people) became ill and 675,000 died.[2]
In Pennsylvania, 60,000 people died, more than in any other state. Pittsburgh, Scranton, and Philadelphia were the most affected cities in the US. With no vaccines, the only way to combat the virus was to establish quarantines, encourage the use of disinfectants, promote good personal hygiene, and limit public gatherings. In the days before the internet, television, and even radio, notice of these precautions was shared primarily through newspapers. The articles below from the York Dispatch, published between October 4 and October 8, 1918, show the impact of the Spanish Influenza in York, Pennsylvania, as officials took steps to halt the spread of the virus. The articles also reported on the devastating effects the epidemic was having on their community.
---
[2] By comparison, 45 million people (14% of the US population of 327 million) were stricken with the flu in 2017–2018 resulting in 61,000 deaths. "2017–2018 Estimated Influenza Illnesses, Medical Visits, Hospitalizations, and Deaths and Estimated Influenza Illnesses, Medical Visits, Hospitalizations, and Deaths Averted by Vaccination in the United States [Preliminary]," Centers for Disease Control and Prevention, https://www.cdc.gov/flu/about/burden-averted/2017-2018.htm
---
Excerpts
WAR ON INFLUENZA (York Dispatch, October 4, 1918)
Acting State Commissioner of Health B. F. Royer has ordered every place of amusement and every saloon in the state closed as a measure of warfare against the further spread of influenza. This edict goes into effect at once. The scourge is spreading at an alarming rate. Not in the history of previous epidemics has it been necessary to take drastic action.
The rapid spread over the greater part of the country of the serious epidemic has mysterious features. It is the kind of thing that usually is looked for in winter. The nearly simultaneous appearance in many army and navy camps has started speculation as to the possibility of the introduction of germs by our enemies, a suggestion that the secret service is no doubt considering.
There are times when entrance to the army camps should be more strictly guarded, and the closest scrutiny should be given to the movements of all persons giving suspicion of disloyalty and malice.
Outdoor air and sunlight help avert this or any other disease. In tightly closed workshops, stores, and railroad trains, it is no wonder that people become so enfeebled by bad air and that the germs become so contagious. It is a common sight to see hundreds of persons attending a meeting in a room where you can see no sign of any ventilation except the opening of a door when someone goes out.
If anyone feeling the oppressiveness of the atmosphere attempts to open a window the black looks he gets from his neighbors lead him to desist.
Employers in localities where grip prevails find the disease is a big handicap to their production. If this thing goes much farther, it will hold up war work. People who have charge of workshops will do well to see that they are well supplied with fresh air. Work people wear warm clothes so they can stand a few drafts. The girls with the mosquito netting waists should substitute something more appropriate to fall weather. A little effort to keep ourselves in good physical condition will save many serious and some fatal illnesses, and help keep the industrial machinery of the country running.
---
400 DEATHS IN PHILA. IN LAST 48 HOURS, York Dispatch, October 7, 1918
By Associated Press.
Philadelphia, Oct. 7.—Influenza continued to spread rapidly throughout Philadelphia and its environs today. During the 48 hours ending at noon, 5,561 new cases were reported to the board of health. In the same period there were more than 400 deaths from Influenza and pneumonia. It is estimated by city authorities that there have been 175,000 cases since the epidemic began. A serious feature of the epidemic is the lack of nurses. Those in regular and emergency hospitals are overworked. Instances are reported of nurses who have worked for 36 hours continuously with scarcely an hour's rest. Across the Delaware river, in Southern New Jersey, the situation is reported to be grave. Dr. Davis president of the Camden board of health, estimates that there are 5,000 individual cases in that city. He declares the epidemic has not yet reached its height. Emergency hospitals are being established and the leading women of the city have gone into them and are doing even the menial work in addition to nursing the sick. Frank J. Connell, his wife and their 10-year-old daughter all died today in the Connell home within a period of five hours.
In Gloucester, near Camden, 400 new cases developed since yesterday. Medical assistance has arrived there from Washington.