Black Lives in the Founding Era News, Week 4: Phillis Wheatley, American Poet
Posted by Gilder Lehrman Staff on Wednesday, 04/07/2021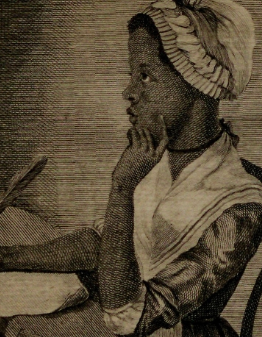 The Gilder Lehrman Institute's "Black Lives in the Founding Era" initiative restores to view the lives and works of a wide array of African Americans in the period 1760 to 1800, drawing on our archive of historical documents and our network of scholars and master teachers.
Highlighted in this weekly Black Lives in the Founding Era News post are programs, resources, and other matter related to this initiative.
Black Lives in the Founding Era News, Week 4
Phillis Wheatley, the first English-speaking person of African descent to publish a book, was captured and sold into slavery as a child, and then purchased by John Wheatley of Boston. Her genius impressed the Wheatleys, who arranged for her to be privately tutored in several subjects, including history, theology, and Latin. She began to publish serious poems as a teenager, and by 1776, George Washington described her as a poet "to whom Nature has been so liberal and beneficent in her dispensations."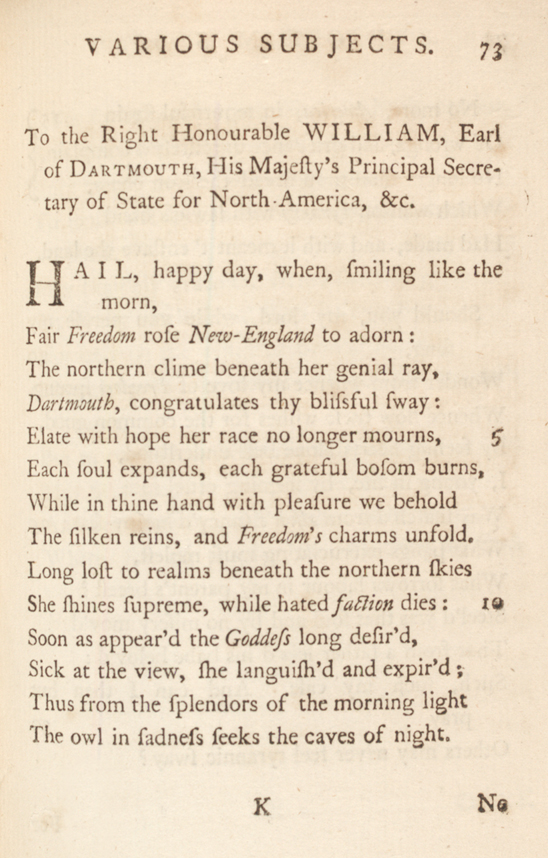 Spotlight on Phillis Wheatley's poem on tyranny and slavery, 1772
Learn about Wheatley's poem comparing the colonies' relationship with England to an enslaved person's relationship with a slave holder, "To the Right Honourable William, Earl of Dartmouth," in this Spotlight on a Primary Source, which offers essential background, analysis, and full access to the text of Wheatley's poem.
History Now Essay: A Poem Links Unlikely Allies in 1775: Phillis Wheatley and George Washington
Read about Phillis Wheatley's and George Washington's unlikely alliance in this History Now essay by James G. Basker, Gilder Lehrman Institute president and Barnard College professor, who will be the lead scholar for the Summer 2021 Teacher Seminar "Black Lives in the Founding Era."
Gilder Lehrman History School Classes on Phillis Wheatley
Enjoy this recent History School class entirely devoted to Phillis Wheatley's life and poetry, taught by CherylAnne Amendola, 2017 New Jersey History Teacher of the Year. Join Jason Butler for his History School class on Phillis Wheatley on Tuesday, April 20.
Learn more about the Black Lives in the Founding Era initiative here.