The Gilder Lehrman Institute Presents Alysha Butler with the 2019 National History Teacher of the Year Award
Posted by Gilder Lehrman Staff on Tuesday, 10/08/2019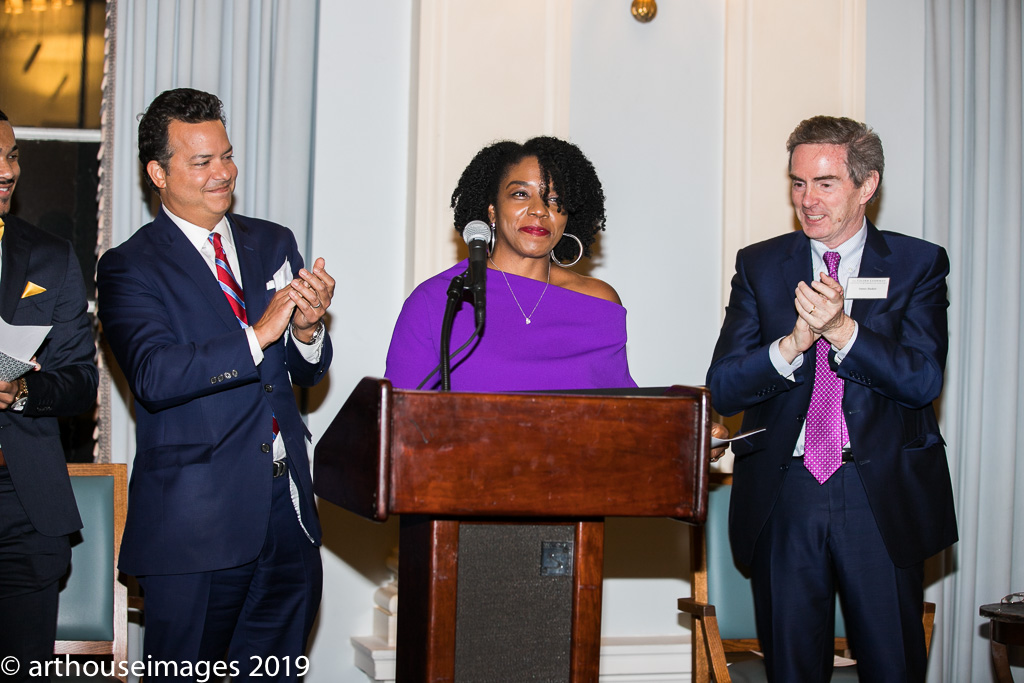 On October 2, 2019, in the Grand Ballroom at the Yale Club in New York City, Alysha Butler of McKinley Technology High School in Washington DC was presented with the 2019 National History Teacher of the Year Award.
At the event, Gilder Lehrman staff, Affiliate School teachers, trustees, and other friends of the Institute celebrated the recipient and the teaching of history in the United States.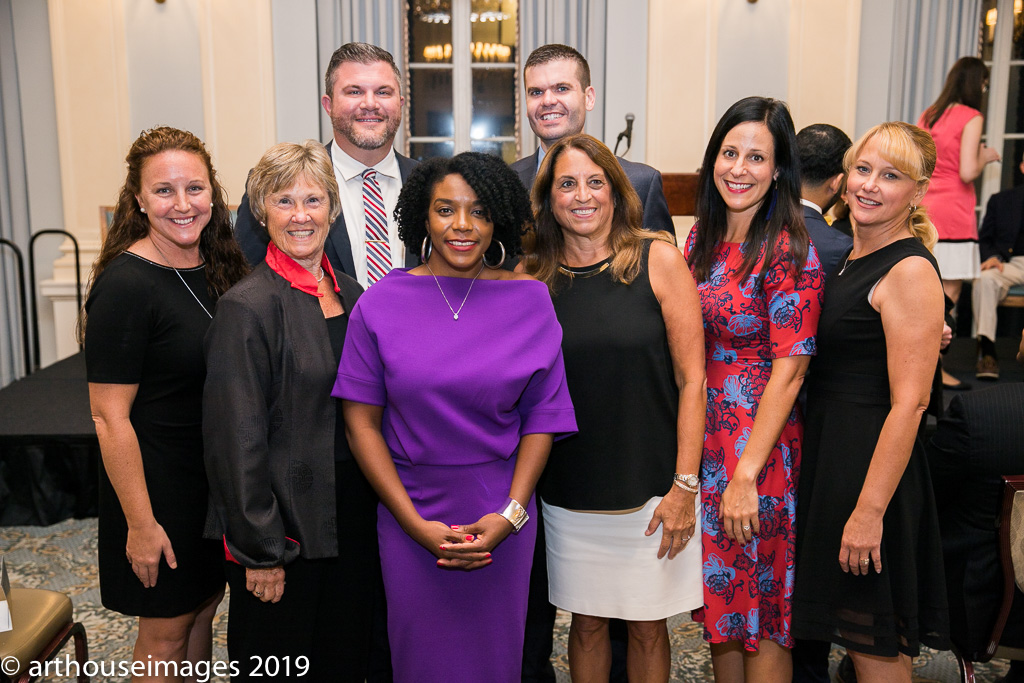 Eight past winners of the award were in attendance: Kathleen Kean (2004), Rosanne Lichatin (2005), Tim Bailey (2009 winner and current director of education at the Gilder Lehrman Institute), Michele Anderson (2014), Mary Huffman (2015), Kevin Cline (2016), Sara Ziemnik (2017), and Joseph Welch (2018). 2019 State History Teachers of the Year Karen Cook (Connecticut) and Lindsay Bowman (Pennsylvania) also attended the event.
The program began with Gilder Lehrman Student Advisory Council member Nashia Akuamoah-Boatemaa's introduction of Gilder Lehrman President Jim Basker. Akuamoah-Boatemaa, a student at Christo Rey New York High School, paid tribute to her history-teacher mother and her current history teacher. Jim Basker, in turn, introduced one of the founders of the Gilder Lehrman Institute, Lewis E. Lehrman.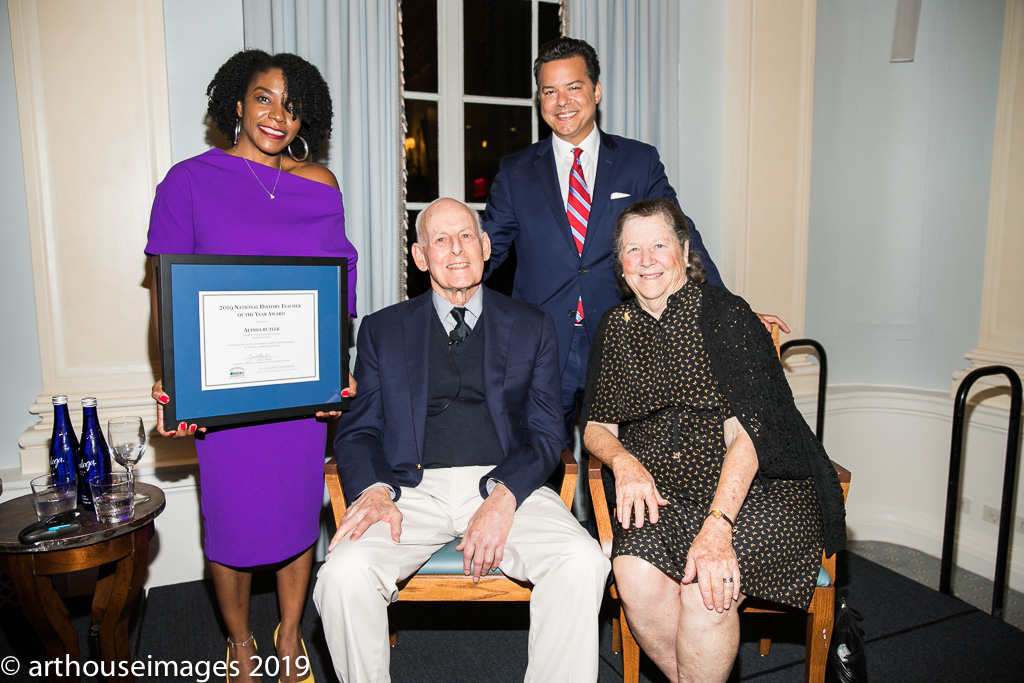 Lehrman, who has been a businessman, philanthropist, history scholar, and gubernatorial candidate, noted that his history career started sixty-one years ago when he took a position as an assistant history instructor at Yale University. After he moved into a business career, he continued looking for history teaching opportunities, including a yearlong appointment at Gettysburg College. It was his passion for history that led to his forming, with Richard Gilder, the Gilder Lehrman Collection, which broadened into the Gilder Lehrman Institute twenty-five years ago. Lehrman addressed Alysha Butler to say, "Yours, Alysha, is a sacred calling" and that it was his honor to be among so many dedicated teachers.
Jim Basker returned to the podium to talk about the seventy-three schools currently piloting the Insititute's new Hamilton Education Program Online and of the continued success of the Pace–Gilder Lehrman MA in American History Program.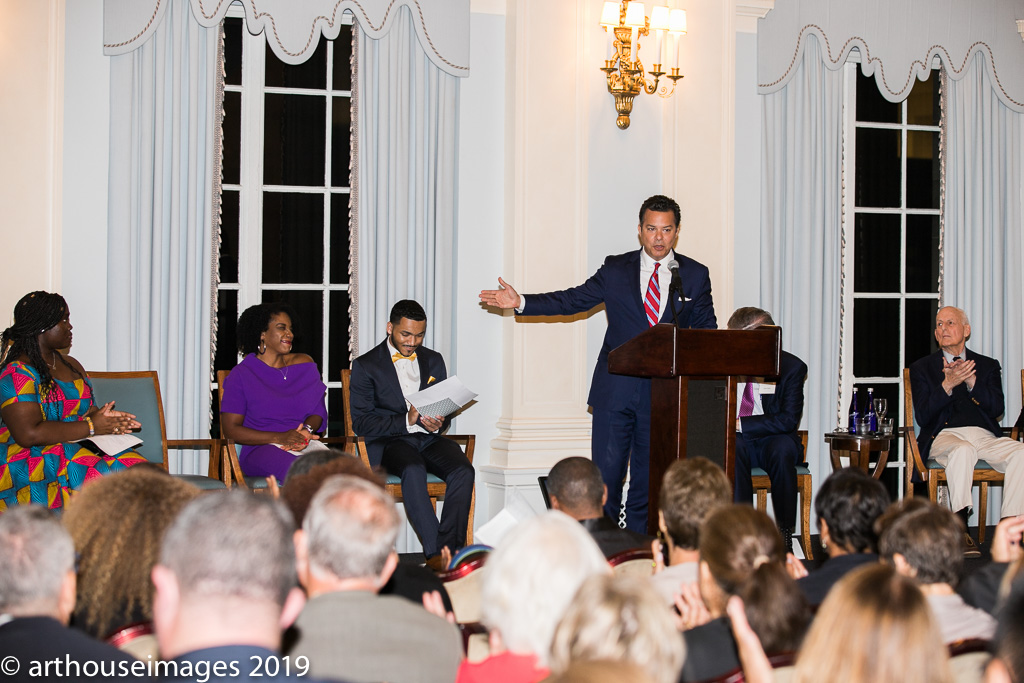 John Avlon, senior political analyst for CNN, presented Alysha Butler with the National History Teacher of the Year Award. He spoke about the vital importance of understanding history as a means of living in the present and saluted the many history teachers in the room for their work. Preceding his remarks, the audience watched a brief film about Alysha Butler produced by HISTORY®. In the video, Alysha's fellow teachers, school administrators, and students speak about her dedication to making history relevant through inclusive and hands-on study.
Alysha Butler gave an engrossing speech that brought the assembled crowd to spontaneous bursts of applause throughout. Highlighting her personal introduction to history through her family and how that inspired her to be a history teacher, Ms. Butler delved into the challenges the current generation of high school students faces in connecting their communities to the study of history. In explaining her approach to teaching a more inclusive history, she said, "We should continue to teach the story of America's exceptionalism but, in my opinion, what makes America exceptional is the fact that from the beginning people who look nothing like the Founding Fathers have pushed it to be even more exceptional. For it isn't just the Founding Fathers who had a hand in designing this country. It was also people that looked like me who held the country accountable and pushed to make it more representative of the ideas expressed in the Declaration of Independence and the Constitution."
In closing her speech, she spoke of one of her great-grandfathers, a brick layer in Miami who carved his initials into the bricks he set down: "He wanted to make sure that someone somewhere long after he was gone would stumble upon those bricks and know his name and know that Miami, moreover, this country was made better and stronger because of people like him."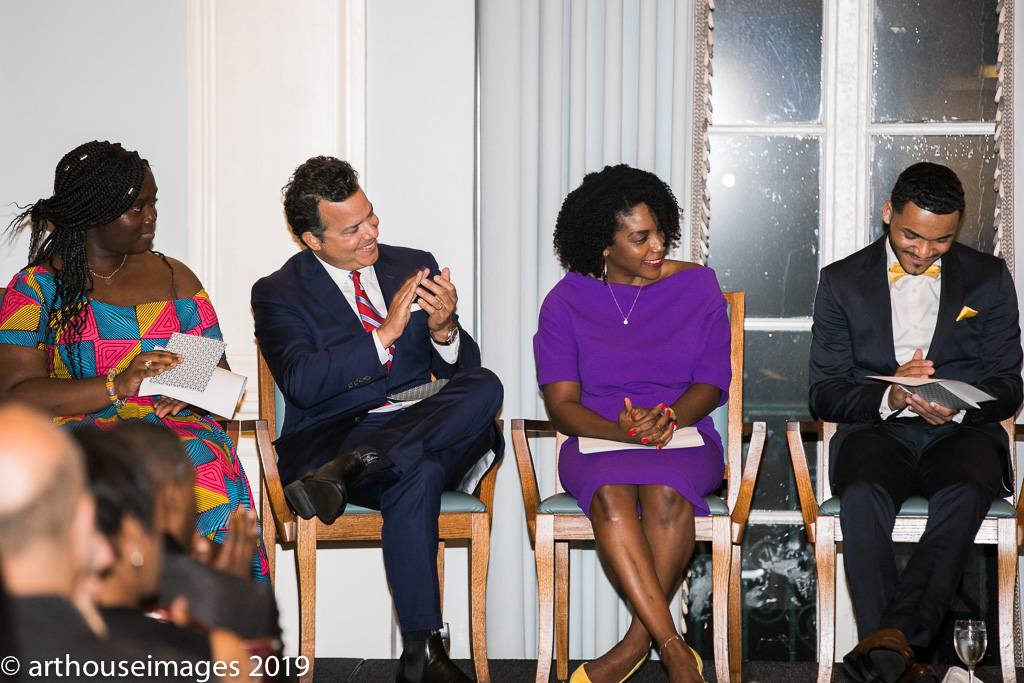 She promised to "continue to bring the message of inclusion and provide examples of how to give voices to the unheard in our lessons so that we are teaching and learning one collective, complete, inclusive history."
Jose Otero, a student at Gilder Lehrman Affiliate School All Hallows High School and a Gilder Lehrman Student Advisory Council member, closed the evening with his thanks to all and a special acknowledgment of how meaningful Alysha Butler's words were to him personally.
Support for the 2019 National History Teacher of the Year Award has been provided by HISTORY®.