How Did We Get Here? On Demand: "Race Relations and African American Experiences"
Posted by Gilder Lehrman Staff on Monday, 08/23/2021
How Did We Get Here? is a professional development series offered by the Gilder Lehrman Institute that provides teachers with ready-made, classroom-friendly resources on topics in American history that are front-and-center in current events, such as the Great Migration, US foreign policy from before World War I to now, and the experiences of American Indians, Asian Americans, Latino and Latina Americans, and the LGBTQ community.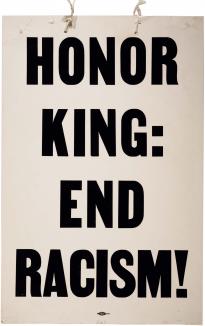 Now available on-demand, How Did We Get Here? offers "Race Relations and African American Experiences," lectures on the era of Jim Crow and on the Long Civil Rights Movement by Professor Hasan Kwame Jeffries. Topics include Black resistance to Jim Crow laws, historical memory of Jim Crow and White violence, and the continuum of Black protest (including Black nationalism, separatism, and nonviolence).
COURSE CONTENT
Two lectures by Professor Hasan Kwame Jeffries
Two pedagogy sessions with Master Teachers 2009 History Teacher of the Year Tim Bailey and 2020 Illinois History Teacher of the Year Corey Winchester
A certificate of completion for four hours of professional development
Learn more and take the course here.