Introducing Soldier Spotlight: A Confederate Soldier Speaks
Posted by Sandra Trenholm on Monday, 10/19/2015
The Gilder Lehrman Collection contains more than 15,000 letters written by servicemen from the American Revolution through World War II. These personal letters, largely unpublished, capture the experience of the common soldier and his family and friends in detail, and convey the human experience of war in a way that cannot be captured in a textbook.
Private Christian Marion Epperly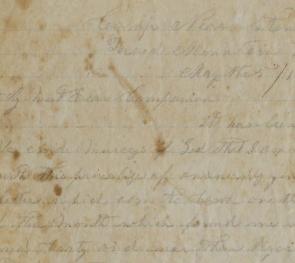 This archive includes 128 letters from Christian Epperly to his wife, Mary, and eight letters from Mary to Christian between January 1862 and March 1865.
Private Christian Marion Epperly from Floyd County, Virginia, was a Confederate soldier in the American Civil War. He served in three regiments over the course of the war: the 130th Regiment Virginia Militia, Henry Stuart's Horse Artillery, and the 54th Virginia Volunteer Regiment. He saw action in both the eastern and western theaters of the Civil War, although his regiments did not fight in any major engagements until the Atlanta Campaign of 1864.
Christian wrote frequently about desertion, religion, and military punishment. Mary's letters provide an interesting glimpse of the home front in the Blue Ridge Mountains. Neither of the Epperlys were ardent supporters of the Confederacy, and not a single letter in the archive mentions slavery.
Christian's letters pose a challenge for a modern reader. The spelling is very unusual, and you must read the letters out loud to realize that the words are spelled phonetically. His words paint vivid descriptions of events, his faith, and his dreams, and draw you in to the life of a Civil War soldier.
Christian Epperly describes the execution of deserters, May 8, 1864
Dear Mary I havent much nwoes to write to you at this time only the sad and awful Execution which taken plase in our Brigade yesterday which was too cruel for mortal man to behold. Ther was 14 Northcarlineins shot to Death yesterday with muskettery 10 belonging to the 58 North Carolina and 4 to the 60 Regt at thear cries and Groans how sad They did sound. They was Tide to stokes by thear Coffins and Then Cruelley murderd by The order of a few wicked men and had don nothing I dont sopose but left The army and went home to see Thair Fameleys and Friends if they don any thing else I never heard any Thing about It  I hope thear soules is today rejoising in in a better world than this  I have often times seen wicked Things don but this was the cruels thing ever I sean ma God forbid that I should witnes a nother such a deed Committed by man.