July Book Breaks and History Books for the Beach
Posted by Gilder Lehrman Staff on Wednesday, 07/07/2021
Since the summer of 2020, Gilder Lehrman Book Breaks has featured the most exciting history scholars in America discussing their books live with host William Roka followed by a Q&A with home audiences.
Upcoming books featured in July cover surprising aspects and brutal realities of familiar historical struggles of people through oppression and exclusion in the United States.
On July 11, Jane Hong discusses her book Opening the Gates to Asia: A Transpacific History of How America Repealed Asian Exclusion, in which Hong unearths the transpacific movement that successfully ended restrictions on Asian immigration. Drawing on research in the United States, India, and the Philippines, Opening the Gates to Asia charts a movement more than twenty years in the making.
Sunday, July 11 from 2:00 to 3:00 p.m. ET (11: 00 a.m. to 12:00 p.m. PT) Register here.
On July 18, Anna Malaika Tubbs discusses her book The Three Mothers: How the Mothers of Martin Luther King, Jr., Malcolm X, and James Baldwin Shaped a Nation with guest host Keisha Rembert. Berdis Baldwin, Alberta King, and Louise Little are finally explored as historical figures born into the beginning of the twentieth century and a deadly landscape of racial prejudice, Jim Crow, exploitation, unpoliced violence, and open police vitriol, each instilling resilience, resistance, and greatness in their sons. They would become mothers not just to three world-famous men but to the civil rights movement itself.
Sunday, July 18 from 2:00 to 3:00 p.m. ET (11: 00 a.m. to 12:00 p.m. PT). Register here.
On July 25, Jessica Marie Johnson discusses her book Wicked Flesh: Black Women, Intimacy, and Freedom in the Atlantic World. Centering New Orleans as the quintessential site for investigating black women's practices of freedom in the Atlantic world, Johnson argues that African women and women of African descent endowed free status with meaning through active, aggressive, and sometimes unsuccessful intimate and kinship practices. Their stories, in both their successes and their failures, outline a practice of freedom that laid the groundwork for the emancipation struggles of the nineteenth century and reshaped the New World.
Sunday, July 25 from 2:00 to 3:00 p.m. ET (11: 00 a.m. to 12:00 p.m. PT). Register here.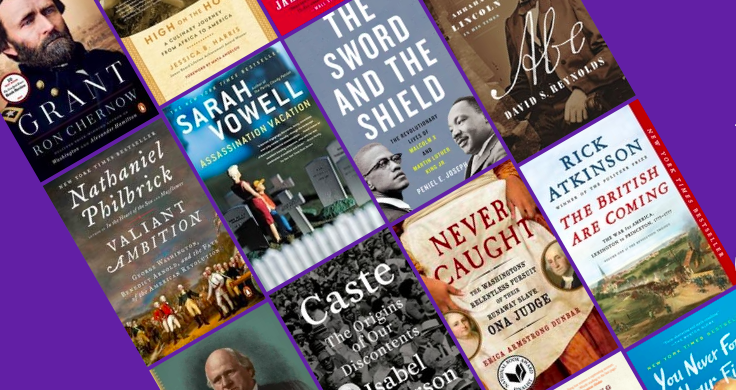 BEACH-FRIENDLY AMERICAN HISTORY READING
Looking for a vacation read? Visit our Book Shop to explore our 2021 summer reading list and view titles by our Book Breaks guests, book prize winners, and more.