Kevin Cline on GLI History School's "US Constitution: Looking Backward from 2021 to 1787"
Posted by Gilder Lehrman Staff on Wednesday, 03/10/2021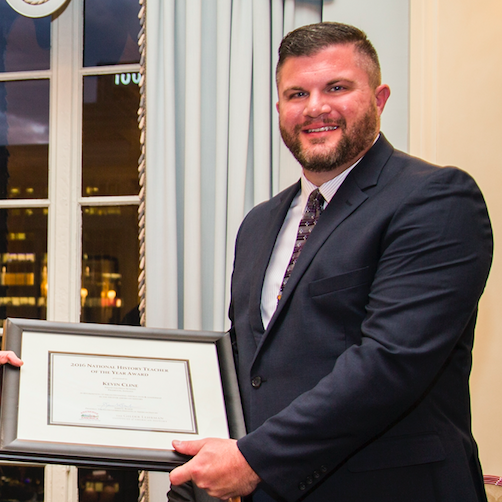 Kevin Cline, who taught the Summer 2020 History School course "The United States, 1492–1865," returns to History School this spring with "The US Constitution: Looking Backward from 2021 to 1787." This course focuses on key aspects of the Constitution, the government it establishes, the freedoms it gives, and the questions it poses. Key topics will include free speech, freedom of and from religion, voting, and cruel and unusual punishment, and how these rights, freedoms, and responsibilities have evolved since the Constitution was drafted.
The course begins on Wednesday, March 10, 2021. See the course schedule and find out more here.
Kevin Cline teaches US history and government at Frankton High School in Frankton, Indiana. In 2016 he was named the National History Teacher of the Year by the Gilder Lehrman Institute. He serves as a Master Teacher for the Gilder Lehrman Institute and does work for the National Center for History Education and the National History Club. He explained to GLI staff why he is teaching this course and what to expect from it.
How did you come to teach "The US Constitution: Looking Backward from 2021 to 1787"?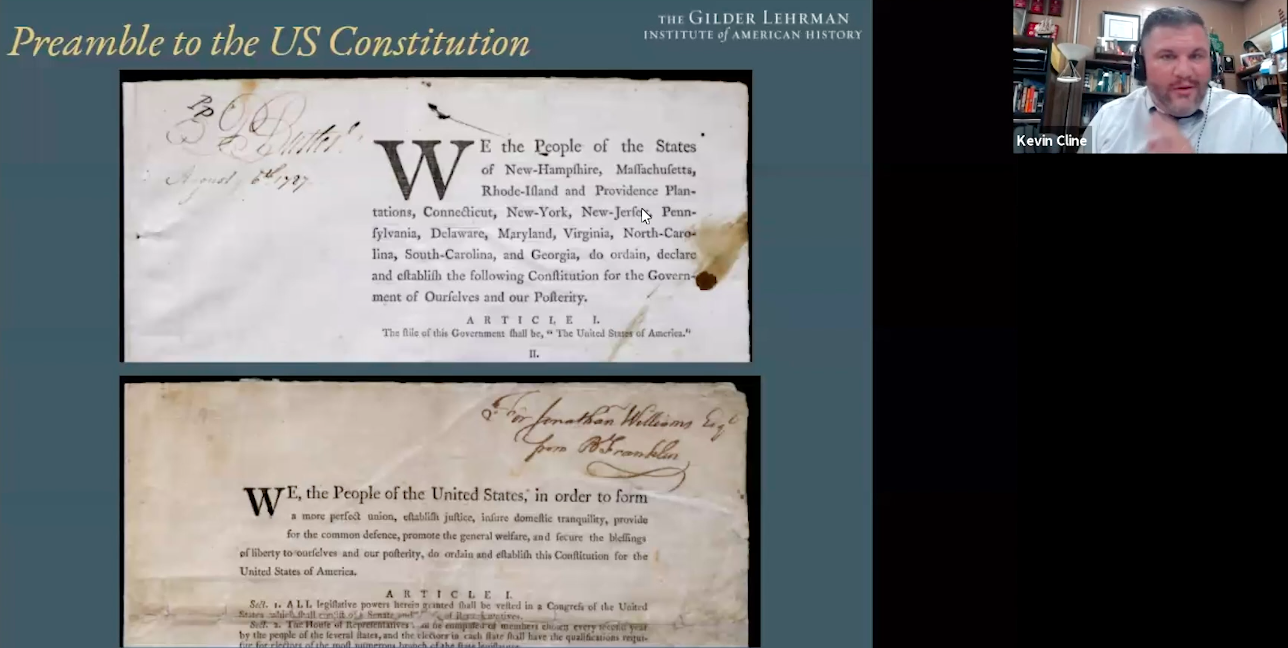 Originally I was going to teach an SAT2 prep class and then the College Board announced it would not offer content tests. The Gilder Lehrman Institute still wanted me to teach a course. My first thought was that I would love to see something connected or tied to the Constitution. I love the Founding Era. I'm a total nerd for it. I carry a copy of the Constitution with me wherever I go. I thought it would be a fun class to teach. (See Kevin Cline as a guest teacher on Inside the Vault for Constitution Day!)
Why is the Consitution so important?
We've had a remarkable number of "Constitutional experts" and people citing the Constitution for their arguments without necessarily knowing it. It is the founding document of the country as it is now. The Declaration of Independence is a really nice piece of writing. The Constitution is the government. It's the longest-standing single constitution still followed in the world.
How is the class structured?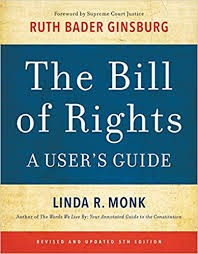 My vision was that we could do eight sessions, which just scratches the surface in regards to the document. For each session we focus on a different part. The Preamble is first. Then Article IV—governing relationships among the states—why it's important that we have something that governs that relationship. This is where the original fugitive slave clause is. Linda Monk, who has quite literally written the book on the Constitution, will join us for that class.
And then amendments—freedom of religion and speech in the First Amendment. We'll look at the Eighth Amendment—what does it mean by "cruel and unusual" pertaining to the death penalty? We'll look at court cases, and how they've been decided based on these amendments.
We'll wrap it up with discussion of the post-Civil War amendments. The Thirteenth Amendment has the "except for a form of punishment" clause that is still echoing. The Fourteenth Amendment may be the most impactful part of the entire document. It is the foundation of most civil rights cases—from Brown v. Board of Education to LGBTQ decisions. We're taking this thing written starting in 1787 and looking at it for its significance then as well as through the lens of today.
You mentioned guest professor Linda Monk. Who else will joining you for this class?
Professor Christopher Burkett. He's the Associate Professor of Political Science and acting Chair of the Department of History and Political Science at Ashland University. I go back to him with questions all the time. He and I actually played a game of Capture the Constitution in Madison's front yard. My students love him and they want him to come back. We're going to look at Madison's writings on freedom of religion together.
The US Constitution: Looking Backward from 2021 to 1787 begins on Wednesday, March 10 at 7:00 p.m. ET/4:00 p.m. PT. This one-hour class runs once a week for eight weeks. (No class on April 7.) To learn more and to register, click here.
For information on other Gilder Lehrman History School classes, click here.