"The Progressive Era" Traveling Exhibition at New Dorp High School
Posted by Mary Kate Kwasnik on Monday, 05/09/2016
Thinking of hosting a Gilder Lehrman traveling exhibition at your school? Get some tips for incorporating one of our exhibitions into your curriculum from New Dorp High School in Staten Island, New York! New Dorp High School has booked two Gilder Lehrman traveling exhibitions since 2015, and each year has seamlessly worked each exhibition into the curriculum. For both Emancipation and Its Legacies in 2015, and The Progressive Era in 2016, New Dorp developed an interdisciplinary essay contest for their 11th grade students.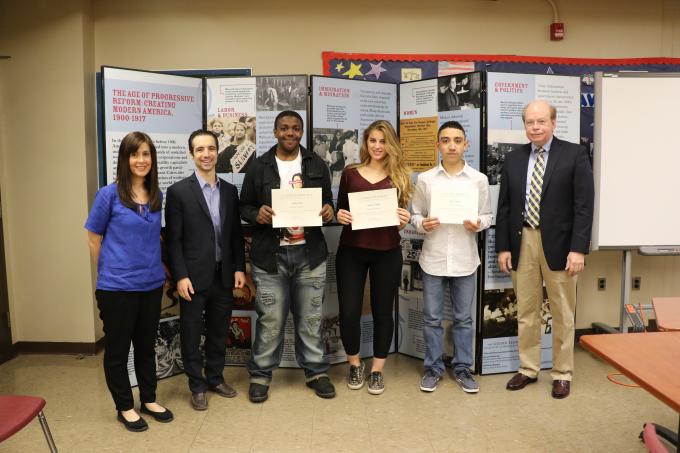 Using a set of document-based questions and The Progressive Era exhibition, students wrote an essay answering the essential question "How did the Progressive Movement address the ideals contained in the Declaration of Independence (equality, life, liberty, and the pursuit of happiness)?" Students inspected documents in the exhibition as well as related materials from the era and used graphic organizers to summarize the key themes of the exhibition. Eleventh grade students Isabella Gorishnya, Andre Lombardi, and Laydon Owens wrote the winning essays on the Progressive Era, and were presented with certificates of achievement during a ceremony at New Dorp High School on Thursday, April 21.
Want to find more Progressive Era resources? Click here to explore Gilder Lehrman's essays, featured primary sources, teaching resources, and more.
Interested in hosting a Gilder Lehrman traveling exhibition? Click here to learn more about how to bring an exhibition to your school. Remember: Affiliate Schools booking their first small ($250) exhibition receive it free of charge!