In the Room Where It Happens: 5 Easy Steps to Working with the EduHam Online Website
Posted by Gilder Lehrman Staff on Thursday, 09/15/2022
The Hamilton Education Program Online (EduHam Online) returns to all schools with students in grades 6–12 for the 2022–2023 school year. Completely adaptable for remote or hybrid learning, the program encourages students to use their newfound knowledge of the founding era to create original pieces—a song, rap, spoken word, or scene—using primary source documents like Lin-Manuel Miranda did in writing the musical Hamilton.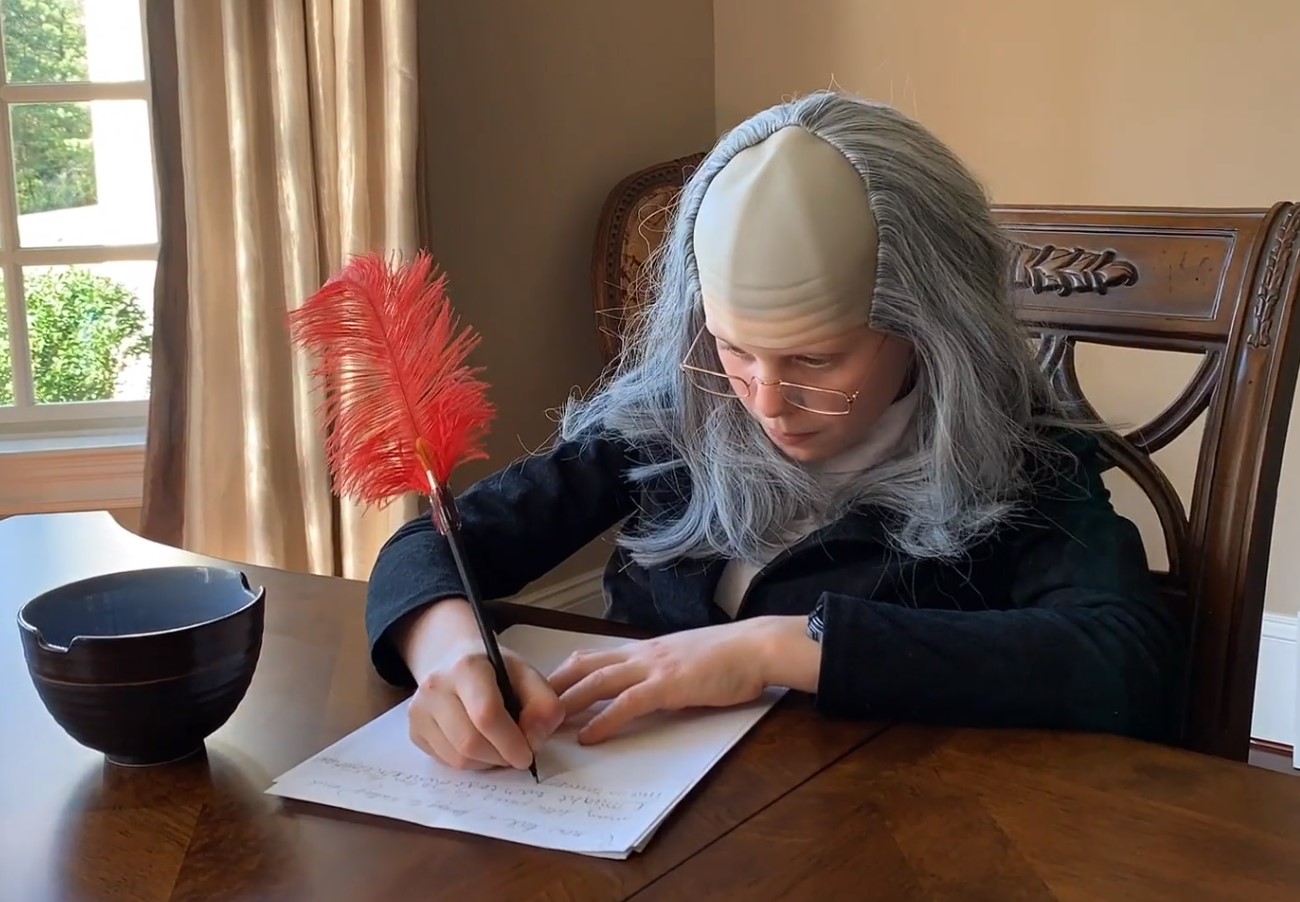 Students participating in the program will have the chance to submit their performance piece and be selected to see a performance of Hamilton in New York City. The competition opens on September 15 and closes on December 16.
Teachers and parents can register to engage in the program for their kids.
USING THE EDHAM ONLINE WEBSITE
Now is the time to start working with your students on the EduHam Online curriculum. After registering for FREE here, you will have access to the full EduHam Online website, which includes all the resources you need to jump into the EduHam experience.
If this is your first time encountering the EduHam Online website, welcome!
The EduHamOnline website features information about more than 45 founding era figures, 14 events, and 24 key documents, as well as 175 supporting documents, video clips from Hamilton, and more. Most importantly, it features lesson plans to help guide students through their educational creative process.
For an immediately helpful video tutorial guide to using EduHam Online lesson plans see below.
Five easy steps to getting started with EduHam Online
1. Scroll down on the homepage to find the Research Link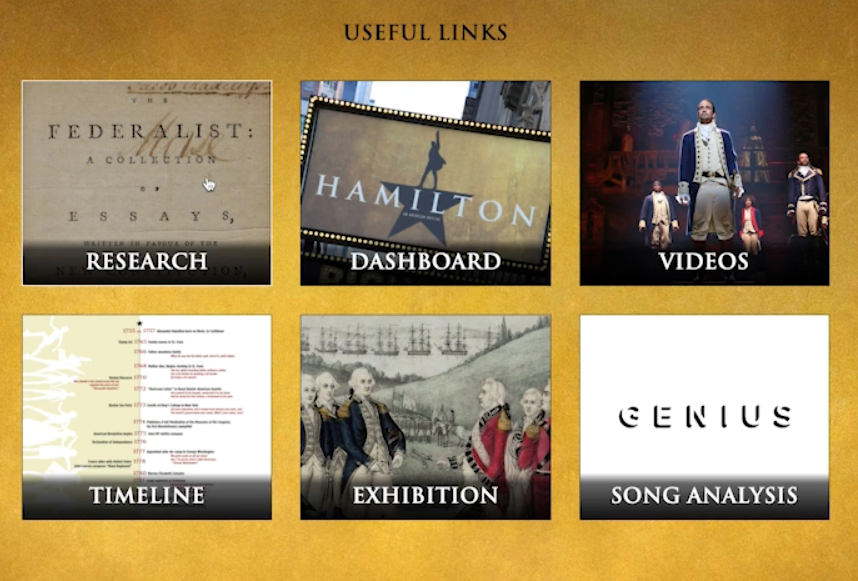 2. Click on the Teacher Guide to find the option of the Teacher Guide for use with high school students and the Intermediate Teacher Guide for use with middle school students.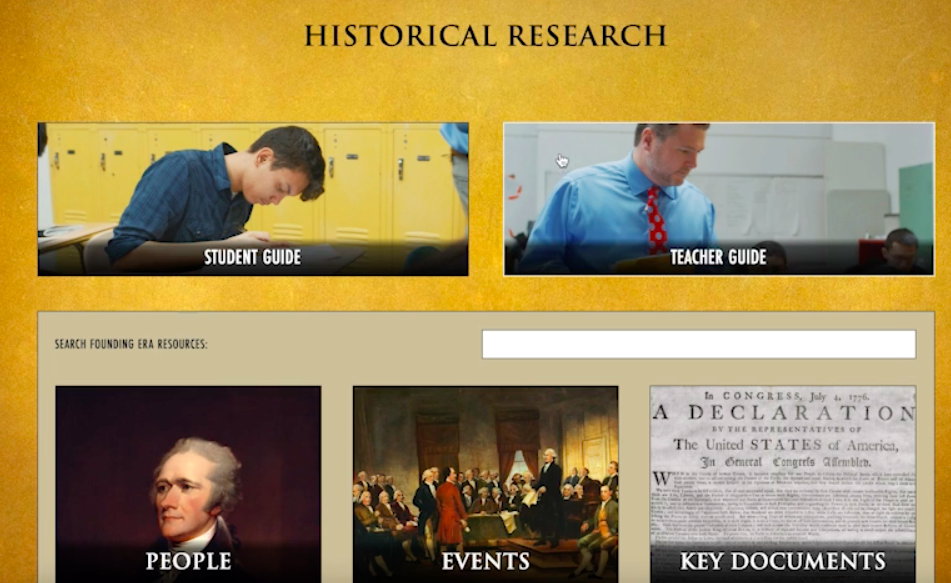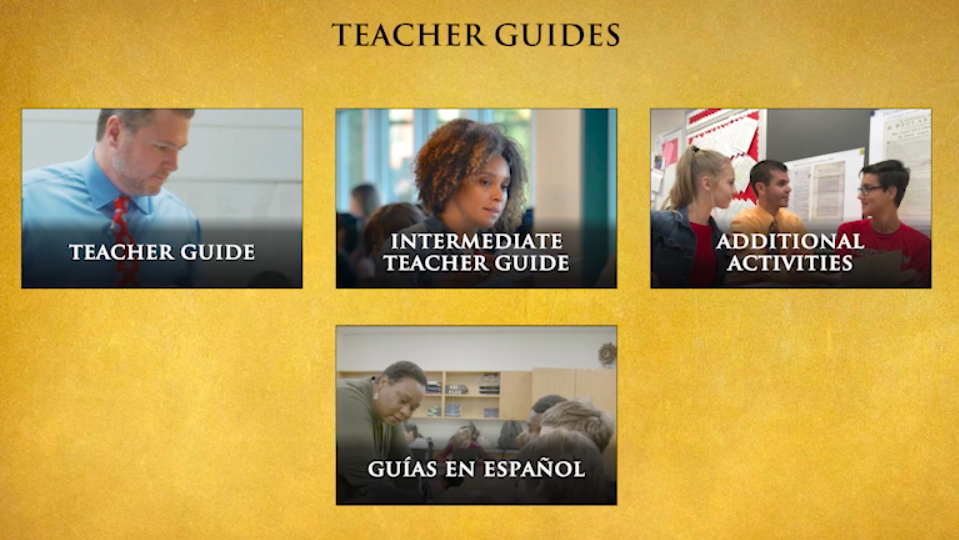 3. After showing students Lin-Manuel Miranda's introduction video, a good way to dive into working on EduHam Online is to use Lesson 3 from the Teacher Guide or Intermediate Guide.
Note: These lessons are different depending on which Guide is being used.
FOR USING THE INTERMEDIATE TEACHER GUIDE (FOR MIDDLE SCHOOL STUDENTS)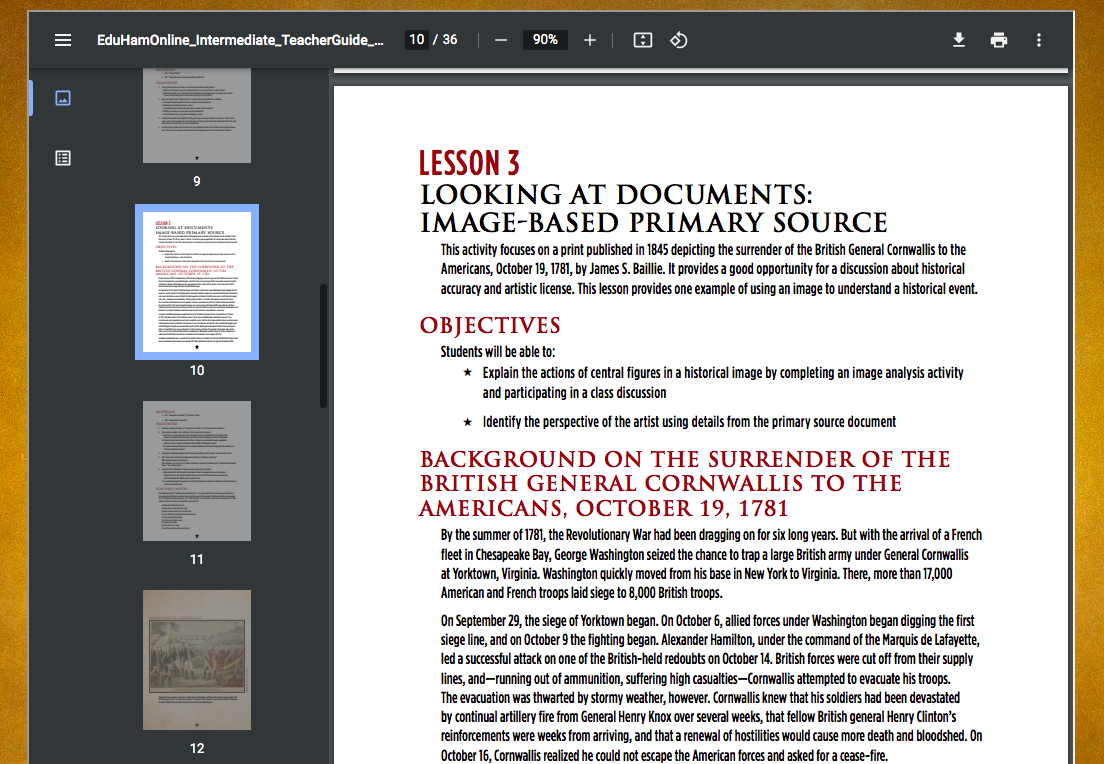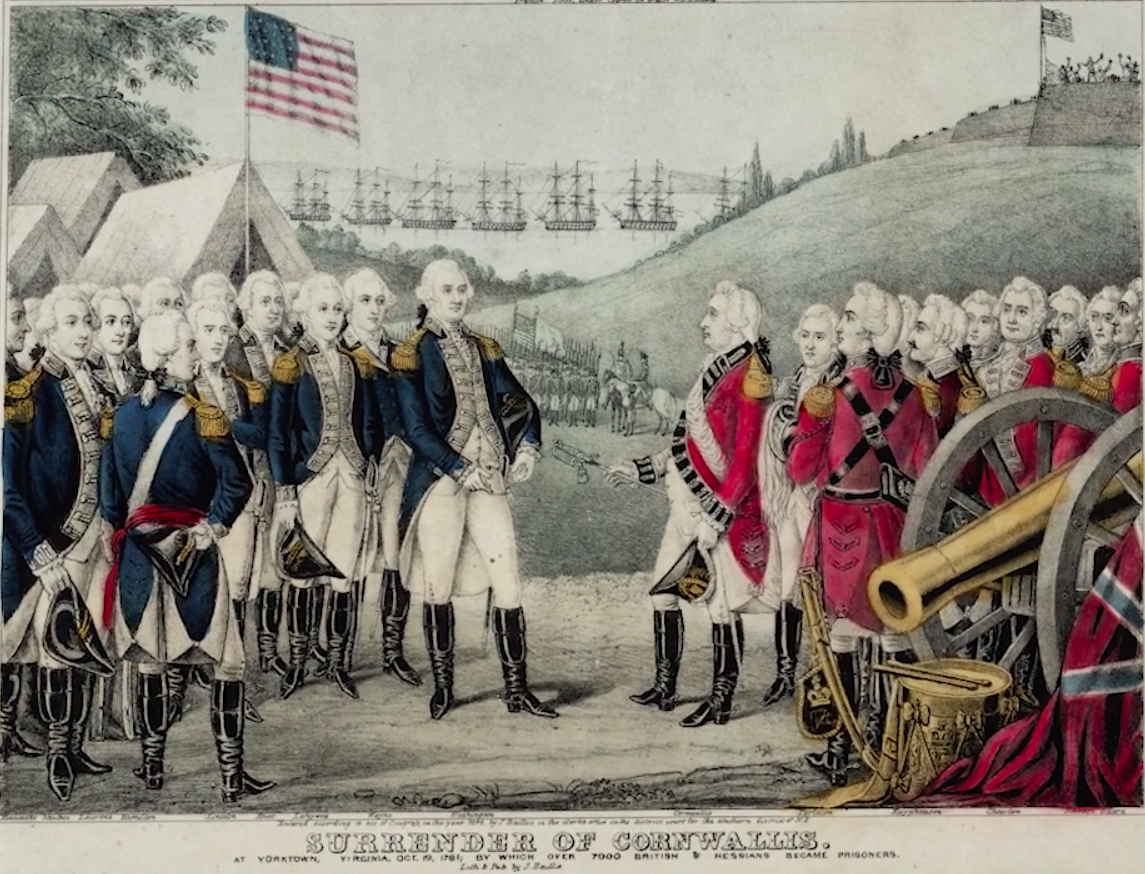 FOR USING THE TEACHER GUIDE (FOR HIGH SCHOOL STUDENTS)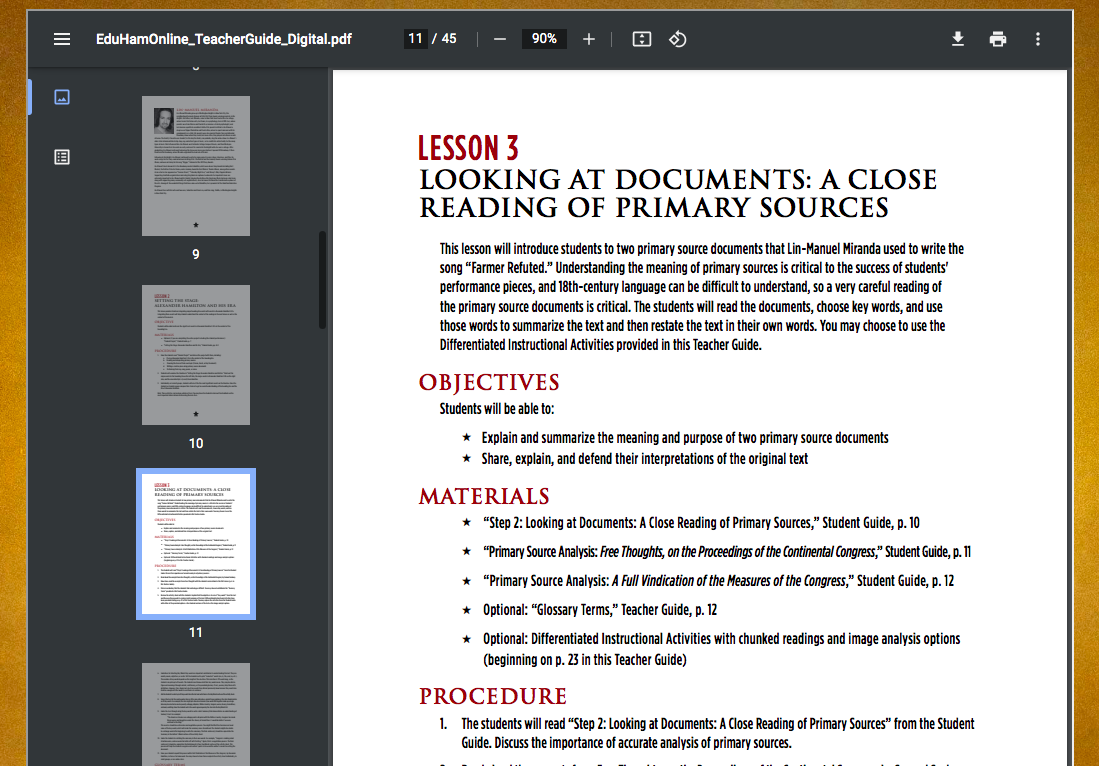 4. Try jumping next into the Document Review portion of this lesson with the Guiding Questions for Free Thoughts, On the Proceedings of the Continental Congress, by Samuel Seabury. Pair this with the Hamilton musical "Farmer Refuted" clip provided.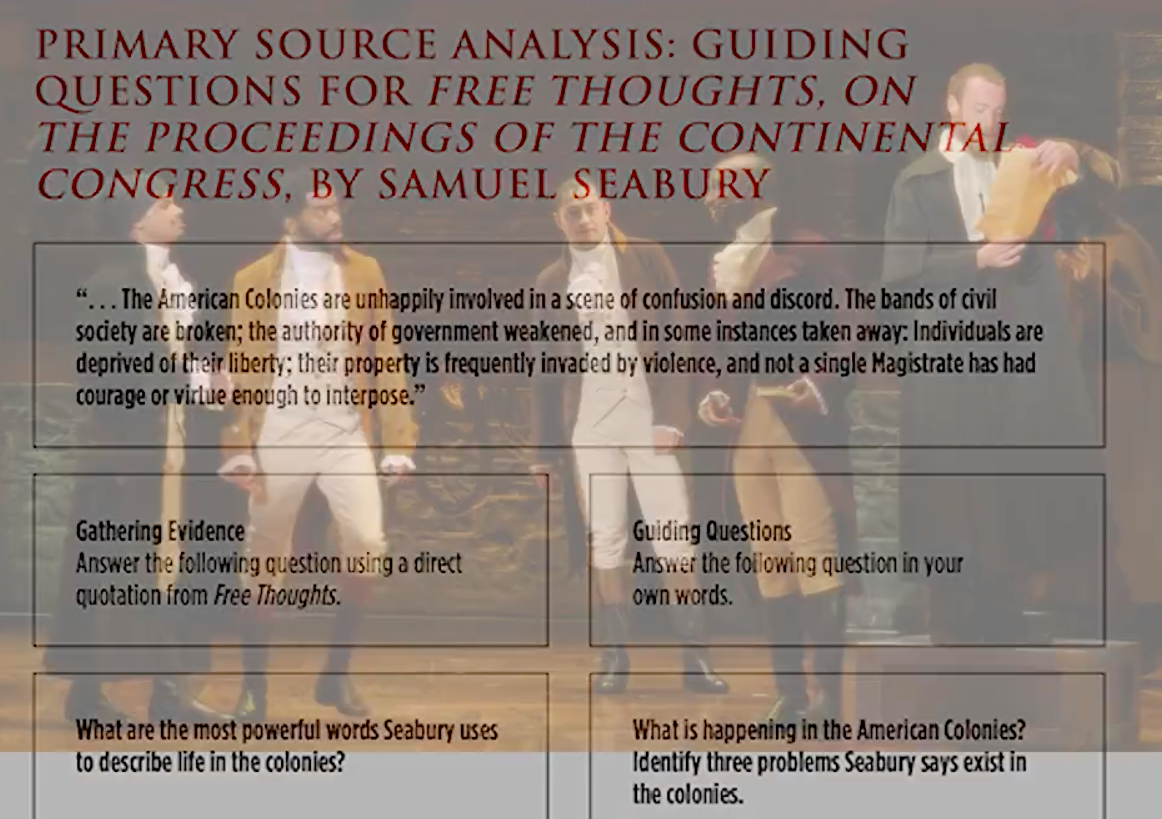 5. Get into the "fun part" more quickly by moving from Lesson 3 to Lesson 5 for students eager to start creating their pieces.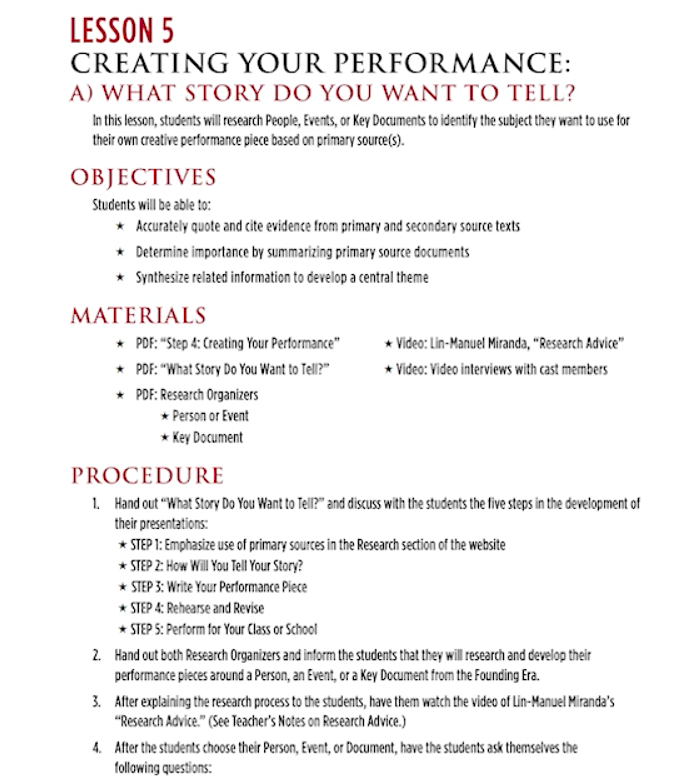 More Educational Fun to Have with the EduHam Online Website
Keep in mind that these suggestions represent one path to navigating through EduHam Online. Teachers and students can make EduHam their own and explore all the resources found on the site, from historical figures in and around Hamilton ("People") to key "Events" (along with a "Timeline"). Also find "Key Documents" for use with all the lessons provided, detailed song analysis, and "Videos" that include Hamilton cast commentary and relevant show clips, like the video below, in which Broadway actor Bryan Terrell Clark discusses his take on George Washington in Hamilton.
EduHam Online is an adventure for your students that can lead to further research and discovery on the Gilder Lehrman Institute website as well, particularly by looking at our History Resources.
All of this is free to use through registering for EduHam Online, which also registers your school in our free, benefit-rich Affiliate School Program.
Enjoy EduHam Online!