Soldier Spotlight: Diary of a Sailor on the Eve of Pearl Harbor
Posted by Sandra Trenholm on Monday, 12/21/2015
Thomas Barwiss Hagstoz Askin Jr. joined the US Navy in March 1938 at the age of 17. His diary, entitled "Memorys and Incidents of My Last 60 (?) Days in the United States Navy," begins on August 14, 1941, when he was stationed on board USS Memphis and counting down the days until his enlistment was up on October 13, one day before his 21st birthday.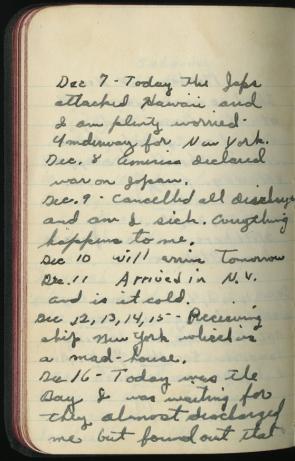 Unfortunately, Memphis was at sea in October, and Askin was told he would not be sent back home to be discharged. His disappointment is palpable in his diary entry on October 14, 1941: "Twenty-one years old and not much to show for them. am feeling quite low today because the Exec said he is only sending 6 men back in the next bunch and I am #10 which of course leaves me behind the 'eight ball.'"
On December 6, 1941, nearly two months later, Askin was finally notified that he would be heading for New York to be discharged.
Dec 6. Today we were notified& – we are leaving tomorrow for New York. Am I happy – yea man.

Dec 7 - Today the Japs attacked Hawaii and I am plenty worried. Underway for New York.

Dec. 8 America declared war on Japan.

Dec. 9 - Cancelled all discharges and am I sick. Everything happens to me.
Although the last entry in the diary is dated December 16, 1941, we know from his service record that Askin remained in the Navy through 1958.
The Gilder Lehrman Collection contains 43 items from Askin's time in the Navy, including the diary, his official service record, a pictorial history of the WWII service of USS Texas, and an assortment of navy buttons, pins, and medals.