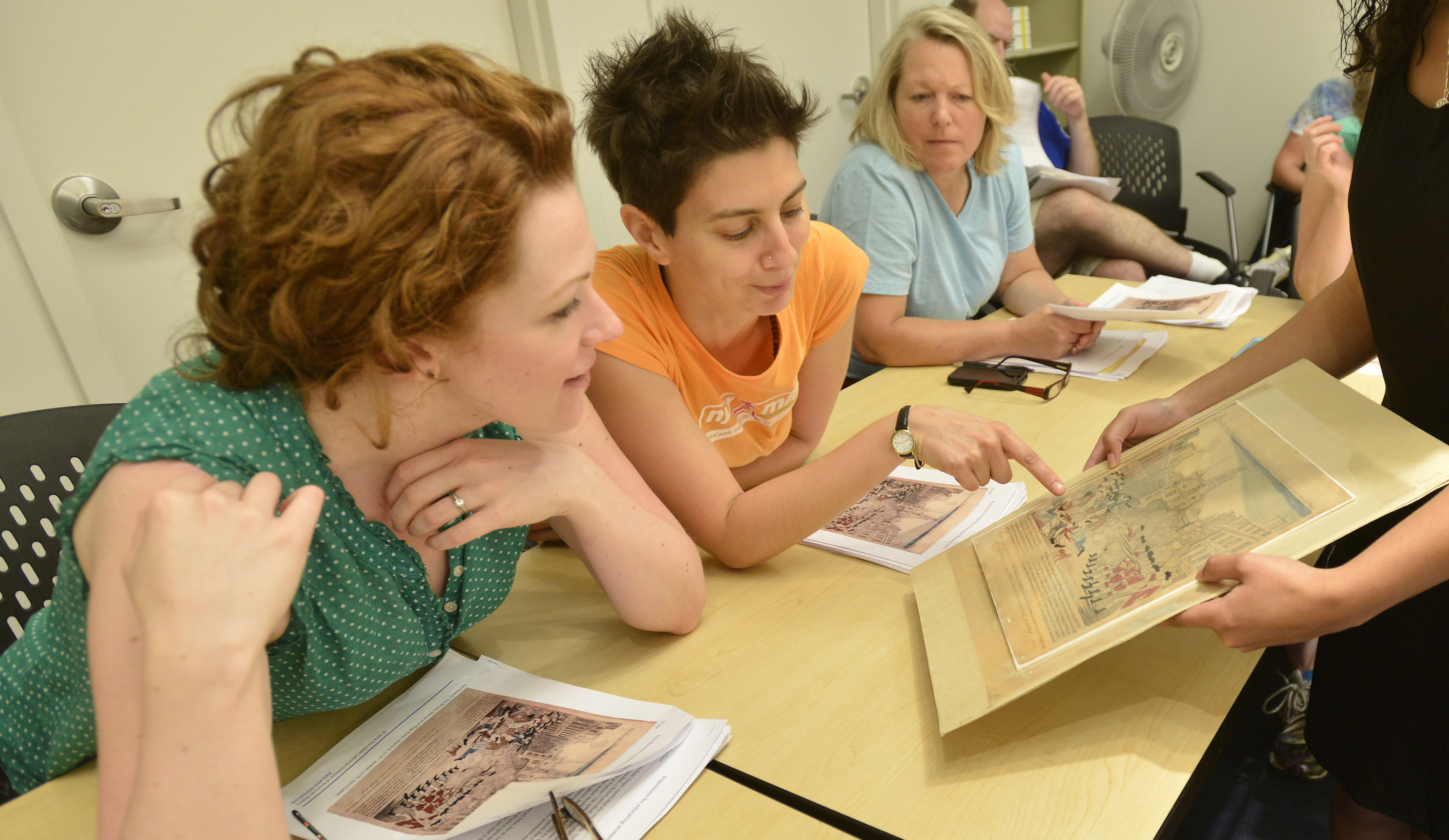 The Gilder Lehrman Institute is pleased to announce our return to in-person programming with our upcoming special event, the Gilder Lehrman Teacher Symposium at Gettysburg College. In July 2022, teachers from across the United States will be able to learn, network, and grow together as they work closely with renowned scholars in various fields of American history.
This Symposium will take place Saturday, July 9 through Tuesday, July 12, 2022, at Gettysburg College in Pennsylvania. We will be offering eight different courses that run concurrently during the Symposium, led by prominent scholars.
Participants will choose one of the eight courses to attend, as each course is a multi-day, intensive experience. Each course will feature the following:
Opening remarks by Manisha Sinha along with a live discussion of her book The Slave's Cause: A History of Abolition.

12 hours of live, in-person lectures/discussions with a prominent scholar on a specific topic

Pedagogy sessions led by a Gilder Lehrman Master Teacher

Program-wide book talks with participating scholars

Networking opportunities with teachers from across the country

A certificate confirming completed hours/CEUs for the Symposium

Access to the GLI Exhibition Hall, where teachers can learn all about the programs and offerings the Gilder Lehrman Institute has available to them, including our Traveling Exhibitions, Affiliate School offers, and the Gilder Lehrman MA in American History Program

Special events that include an American history trivia night, scholar Q&As, and a field trip to the Gettysburg National Military Park Museum and Visitor Center
Registration is on a first-come, first-served basis. Each course has a limited number of seats in order to ensure an intimate experience, so once a course is full, registration for that course will close.
Registration links for individual courses are below.
Please do not register for multiple courses.
Course List

Course Title and Scholar
Course Description

The Making of America
Denver Brunsman

This course will explore the people, ideas, and events that shaped America from the colonial era through Reconstruction.

American Indian History and Westward Expansion
Elliott West

This course will follow the history of Indian peoples in the American West from the coming of Europeans to the era of reservations at the end of the nineteenth century.

The Unlikely History of the New United States: 1810 to 1860
Edward Ayers

SOLD OUT

The origins of much that would become the United States emerged in the tumultuous half-century between 1810 and 1860. A nation barely held together by a fragile federal government expanded at a furious rate toward unknown destinations of high ideals and gross injustice.

The American Civil War
Gary Gallagher

SOLD OUT

This course will examine the era of the American Civil War, with emphasis on its origins, scope, and consequences.

American Immigration: History and Life
Mae Ngai

This course will focus on the history of immigration and citizenship in the United States, with attention to law and policy on the one hand and the lived experience of immigrants and their communities on the other.

US Civil Rights Movement
Hasan Kwame Jeffries

SOLD OUT

This course will examine the US Civil Rights Movement. It will begin by looking at Black life in the early twentieth century—the height of the Jim Crow era—to establish critical context for the Black activism to come.

US Presidential History
Barbara Perry

SOLD OUT

This course will focus on historic crossroads faced by presidents from the nation's founding, to expansion of democracy, to the Civil War, to the Great Depression, World War II and its Cold War aftermath, and the Watergate Era, to the War on Terror and pandemic politics.

The Vietnam War
Robert K. Brigham

This course will examine the origins, course, and impact of America's involvement in Vietnam, emphasizing the evolution of US diplomacy, the formulation of military strategy, the domestic impact of the war, and the perspective of Vietnamese revolutionaries.
Cost per Participant*
Registration for Symposium: $200
Optional Room and Board: $300
If your school would like to pay for your registration via purchase order, please email finance@gilderlehrman.org for more information.
The Gilder Lehrman Teacher Symposium is open exclusively to participants in the Institute's free Affiliate School Program. Check here to see if your school is in the Affiliate School Program. If not, you can sign up here for free and receive all the benefits of becoming an Affiliate School teacher!
The Gilder Lehrman Institute will follow all CDC guidelines for COVID safety, and adhere to the vaccination requirements of our host, Gettysburg College. All GLI staff, scholars, and participants will need to be fully vaccinated in order to attend. For more information, please see the COVID FAQ page. 
You will receive an automated email to confirm a successful registration. If you do not see that email, please check your spam and promotions folder before reaching out.
*Room and Board at Gettysburg College is optional. This fee will cover a single, air-conditioned room for three nights, and breakfast, lunch, and dinner for each day of the Symposium (a total of 9 meals). If you opt-out of staying at Gettysburg College, you will be responsible for your own food and lodging. If you are going to stay off-campus, you will be expected to arrive at Gettysburg College at 4:00 p.m. on Saturday, July 9 for the start of the Symposium. The Symposium will conclude at 1:00 p.m. on Tuesday, July 12.