Pratt, William (fl. 1779-1783) [Testimony and observations of Lieutenant Pratt]
High-resolution images are available to schools and libraries via subscription to American History, 1493-1943. Check to see if your school or library already has a subscription. Or click here for more information. You may also order a pdf of the image from us here.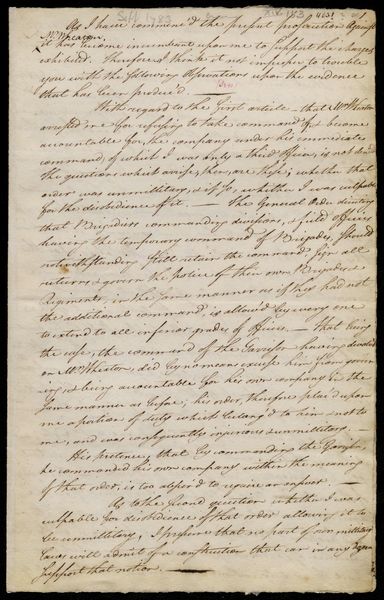 A high-resolution version of this object is available for registered users. LOG IN
Gilder Lehrman Collection #: GLC02437.02597 Author/Creator: Pratt, William (fl. 1779-1783) Place Written: s.l. Type: Manuscript document Date: circa September 1783 Pagination: 8 p. : docket ; 33.2 x 21cm.
Summary of Content: Lieutenant William Pratt's testimony for the trial of Lieutenant Wheaton. Accuses Wheaton of shirking his duty and of arresting him without due cause. According to Pratt, despite being the commanding officer, Wheaton had tried to pass command to Pratt, and had Pratt arrested when he refused. Other charges include "Issuing an order totally unmilitary & ordering Lieut [Greenman?] in arrest for disobedience of it; compelling a soldier who was under his command last winter to give him two pair of boots & one pair of shoes, without compensation; pedling [sic] out goods to the soldiers of the Garrison (when he had the command) at a very extravagant rate; purchasing of the soldiers of the Garrison their ballances [sic] due from the state much beneath their value, & paying them in old clouthing [sic] at an unreasonable & extortionary price; purchasing rum & procuring a man to retail it to the soldiers for him; [fraudulently] withholding (under various trifling pretences ) of money from several soldiers of the Regiment, which was put into his hands to be deliver'd to them & illiberal treatment to the man who came to demand it."
Full Transcript: [partial] [draft]
As I have commenc'd the present prosecution against Mr. Wheaton, it has become incumbent upon me to support the charges exhibited. Therefore I think it not improper to ...trouble you with the following diproations upon the evidence that has been produc'd.
With regard to the first article - that Mr. Wheaton arrested me for refusing to take command of & become accountable for, the company under his immediate command, of which I was only a third officer, is not denied?. The questions which arrise, then, are these; whether that order was unmilitary, & if so, whither I was culpable for the disobedience of it. - The General Order directing that Brigadier commanding division, & filed officers having the temporary command of Brigadier, should notwithstanding still return the command, sign all return & govern the police of their own Brigadier & Regiment, in the same manner as if they had not the additional command, is allow'd by every one to extend to all inferior grades of officers. - That being the case, the command of the Garrison having devoted on Mr. Wheaton, did by no means excuse him from going, & being accountable for his own company in the same manner as before; his order, therefore plac'd upon me a portion of duty which belong'd to him & not to me, and was consequently injurious & unmilitary.
His pretence that by commanding the Garrison, he commanded his own company within the meaning of that order, is too absurd to require an answer.
As to the frone question whether I was culpable of disobedience of that order allowing it to be unmilitary, I presume that no part of our military cause will admit of a construction that can in any degree support that notion. The very genius of our military government forbids the idea. - No member of the Army before a court of Civil Jurisdiction can justify a trespass committed in purseance of an illegal military order; it would therefore be highly unreasonable to compel the Obedience of a command in its nature improper and itn it consequences inquiry and the is most evidently the sense of Congress, for there is no part of the article of war that enjoire obedience to any leit cusul commands. - it has also been the understanding of the Army. - The Court maintain which tried General W. Dougal was undoubtedly at such unstable as any that has been concer'd at any that has been concern'd at anytime this war; the General's defense rested Solely upon this point, that the orders which he disregarded were unmilitary & the Court adjudg'd it sufficient - The judicial Opinion of so respectable a part of the Army I think must indisputably establish the fruition. These two questions being there decided my arrest must be consider'd as fiodorer, cexations groundless; & consequence criminal on the par of W Wheaton - The latter part of the fritcharge stendr supported by the econuant testimony of Doctor Teny - Wr Sherburn & Mr Kirby; and it seems that no part of the transaction was without the knowledge of two of those gentlemen. - The business of this ait is two fold; firstly his falling from the agreement entered into between him & myself after I had perform'd the condition on my part, & fondly the injuries of thrmeing upon me a burden which was no part of my duty, without any other mupity than that of gratifying his pride & supporting his importance.
I have no other evidence in support of the charges then his own consipicion but the voluntary consipion of a fact is always suppos'd to be the greatest proof that can be obtain'd. And it is the more favorable in this case, for it appears to have inadvertently escap'd him without an intent on of discovering the villainy of his conduct. So say that he make so much in that contracts is virtually saying that he made it wrongfully; for it was not expected by Col Olney, the offices of the Regt. or the men - that he should directly or indirectly receive any consideration for performing the cuprief. H was suffer'd to be absent from the Regiment on that account (an indulgence that he earnestly sought) it was therefore suppos'd that he would render a just account of the real sum by him paid for the articles procured without adding any profits. That he has settled these accounts to the Satisfaction of Col. Olney, is so far from being an exculpation of the crime, that it is an aggravation. It involves in it not only the defrauding of the soldier, but the deceiving of his Colonel Olney's letter coiners that he was at that time suspicious of it but was unable to get hold of a clue sufficient to unravel the matter. - The next consideration is, Howe far their confipion of Mr. Wheaton is proved. If it is sufficiently proved it must certainly have great weight then anything produced by him to shew his honesty in those transactions for it cannot be supposed that his vanity to be thoushe an extraordinary money-getter would induce him to tell an absolute falsehood, which must restut so much upon his reputation. This declaration of Mr. Wheaton is proved by the testimony of Mr. Kirby whose friendship for that gentleman induced him to consider Mr. Wheaton's conduct in the most favorable point of view. - This testimony is corroborated by that of Da. Tenny to whom Mr., Kirby mention it immediately afterwards with some degree of surprise & anxiety while he was still prejudiced in favor of Mr. Wheaton. - This combination of circumstances render the proof as clear and convincing as can be explain in any case whatever. - The third charge has reference to the following transactions (Viz) Issuing an order totally unmilitary & ordering Lieut Greenman in arrest for disobedience of it; compelling a soldier who was under his command last winter to give him two pair of boots & one pair of shoes, without compensation; peddling out goods to the soldiers of the Garrison (when he had the command) at a very extravagant rate; purchasing of the soldiers of the Garrison their balances due from the state much beneath their value, & paying them in old clouthing at an unreasonable & extortionary price; purchasing rum & procuring a man to retail it to the soldiers for him; fraudulently withholding (under various trifling pretences ) of money from several soldiers of the Regiment, which was put into his hands to be delivered to them & illiberal treatment to the man who came to demand it.
The observations mad eupon the first charge, will now forcibly apply to the first clause referd to by the third, for there is nothing better rederstored & more universally aknowledged than that no Regimental Staff Officer can be compelled even by his Colonel to do any kind of duty except in the line of hte staff during the time he has first appointment.See More
People: Pratt, William, fl. 1777-1845
Wheaton, fl. 1783

Historical Era: The New Nation, 1783-1815
Subjects: Military HistoryContinental ArmyMilitary LawMilitary UniformsMilitary SuppliesFinanceForgery and FraudCorruption and ScandalSoldier's PayAlcoholClothing and Accessories
Sub Era: Creating a New Government