McDougall, Alexander (1732-1786) to Henry Knox
High-resolution images are available to schools and libraries via subscription to American History, 1493-1943. Check to see if your school or library already has a subscription. Or click here for more information. You may also order a pdf of the image from us here.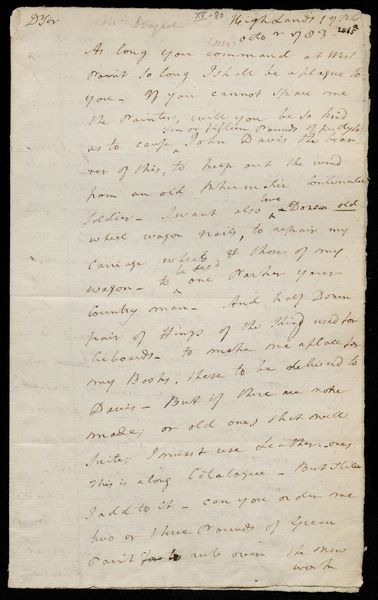 A high-resolution version of this object is available for registered users. LOG IN
Gilder Lehrman Collection #: GLC02437.02688 Author/Creator: McDougall, Alexander (1732-1786) Place Written: Highlands, New York Type: Autograph letter signed Date: 19 October 1783 Pagination: 4 p. : docket ; 32.3 x 20 cm.
Asks Knox to order and send him supplies including nails, paint, and screws. Wonders if one of Knox's artificers can help him hang a new bell he has acquired to summon his servants. Also mentions that "This fellow [most likely referring to Colonel Hopkins] I am well informed has had a Bastard with a negro wench; and when I was lately in Dutcess County, a Muleto woman was shewn to me, by Mr Benson, that is reputed as his Daughter..." Jokes about having an officer write a song about the situation. - McDougall also mentions Hopkins in the context of "the Great Question of Commutation" (soldiers' pay).
[draft]
High Lands 19th
Octor 1783
As long you command at West Point so long I shall be a plague to you - If you cannot spare me the Painter, will you be so kind as to cause [inserted: ten or fifteen pounds of putty to] John Davis the bearer of this, to keep out the wind from an old rheumatic Continental soldier - I want also [inserted: two] Dozen old wheel wagon nails, to repair my carriage wheels & those of my wagon - to [inserted: be deed] one Parker your Country man - And half Dozen pair of Hings [sic] of the kind used for Cuboards - to make me a place for my Books, there to be deliverd to Davis - But if there are none made; or old ones that will suite; I must use Leather ones This is a long catalogue - But still I add to it - can you order me two or three pounds of Green paint [struck: for] to rub over the new work [2] work - If you can please to order it to Parker - together with a Dozen screw nutts - will it be improper to send me 2 or 3 Pounds of Damage Powder to exercise my Horses - For Several of them are very unruly on fireing Guns - My Catalogue is not yet at an End - I have treated my self with a New Bell & the necessary appendages to call my servants - but I have not any one that knows how to Hang it Properly with the Quadrants &c - It is used to be commonly [inserted: done] with us, [struck: that] [inserted: by] ingenious white [struck: sp] Smiths, [struck: did it] can you contrivite to get me information from some of your ingenious artilery artifices - whether any of them can do it - This much for the small articles - now for the great Question [3] Question of Commutation -
I am told, that the Convention of Connecticut have appointed a Committee of Correspondence, [struck: to] in order to Enlighted their neighbours - some of them being asked who they would correspond [inserted: with] in this state, [struck: with], answered with Col Hopkins -
This fellow I am well informed has had a Bastard with a negro wench; and when I was lately in Dutcess County, a Muleto woman was shewn to me, by Mr Benson, [struck: who] [inserted: that] is reputed as his Daughter, - Is there no officer at the Point that is Master of the Dogrel verse? If there is, send him him to me - The fools Cap must [4] Cap must be put on many & an infamous one on [struck: him] [inserted: the Col] in a short Ballad - Put this under the [Nose] - If you receive any Letters at your office for me by the Southerd Post quicken them to me - But remember what I told you about one from Mr. Boudinot - My compliments to Mrs Knox and Miss Brown with great truth your affectionate Humble Servt
Alexr Mc Dougall
Major General HKnox
[docket]
From Genl Mc Dougall 19 Octr
1783