Graham, James (fl. 1679-1700) to Robert Livingston re: the trial of Captain Kidd
High-resolution images are available to schools and libraries via subscription to American History, 1493-1943. Check to see if your school or library already has a subscription. Or click here for more information. You may also order a pdf of the image from us here.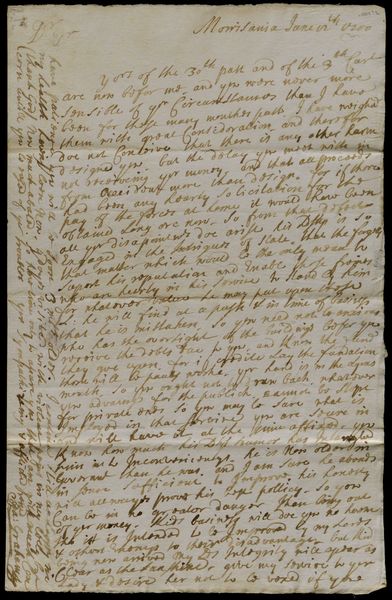 A high-resolution version of this object is available for registered users. LOG IN
Gilder Lehrman Collection #: GLC03107.00572 Author/Creator: Graham, James (fl. 1679-1700) Place Written: Morrisania, [?] Type: Autograph letter signed Date: 1700/06/08 Pagination: 1 p. + addr. 30.3 x 19.5 cm
Graham writes to assure Livingston of the passage of any danger which could have been incurred due to Livingston's dealings with Captain Kidd, and to advise that any of the moneys he had advanced for the victualling of the troops would be returned at the appropriate time, with patience being the proper way to look upon the situation at hand. Docketed on address leaf.
Morrisania June 8th 1700
Dr Sr
Yors of the 30th past and of the 3th [last] are now befor me and you were never more sensible of yr Circumstanses that I have been for these many monthes past. I have weighed them with great Consideration, and therefor doe not Conceive that there is any other harm designed you but the delay you meet with in not receiveing yr money, and that all proceeds from accident more than design for if there had been any hearty solicitation for the pay of the forces at home it would have been obtained Long ere now - So from this defect all yr disapointments doe arise his Ldshp is so Engaged in the Intrigues of state that he forgets that matter which would be the only means to suport his reputation and Enable those freinds who are [dearly] in his Servise to stand by him for whatever value he may put upon those [illegible: 2]: he will find at a push & in time of business that he is mistaken, so you need not be anxious who has the oversight of the buildings befor you receive the debts Due to you and [Know] the fund they goe upon for if credite Lay the fundation there will be [illegible] worke yr hand is in the Lyons mouth so you ought not to draw back whatever you advanse for the publick cannot be stopt for private ends so you may be sure what is Imployed in that service you are secure in and will have it at the time affixed. You know how much his Ldhp's humor has Intangled him in to inconveniencys he is now older in [illegible] than he was and I am sure he abonds in [secure] sufficient to Improve his honesty will allways prove his best pollicy. So you Can be in no greater danger than being out of yr money - Kids business will doe you no harm tho it is Intended to be Improved by my Lords & others [illegible] to their disadvantages but this being now arrived my Lds Integrity will apear as Clear as the sunshine. give my service to yr Lady & desire her not to be vexed if you have patience you will be soon 3 moth older. I continue still unhappy in my health having been now 4 days visited with violent pains in my [belly] but (thank God) now much abated. So have time only to assure you that I am with much Concern until you be eased of yr troubles. Yr sympathizing & afflicted friend
Ja Graham
[docket]
alb: 18 June 1700
James Graham atturny
genl lettir from morisnia
[address]
To The Honorable
Robert Livingston Esqur
of his Majty Councill
att Albany
Present