Leaming, Mack J. (1842-1893) [Unpublished manuscript relating events of the Battle of Fort Pillow, Tennessee]
High-resolution images are available to schools and libraries via subscription to American History, 1493-1943. Check to see if your school or library already has a subscription. Or click here for more information. You may also order a pdf of the image from us here.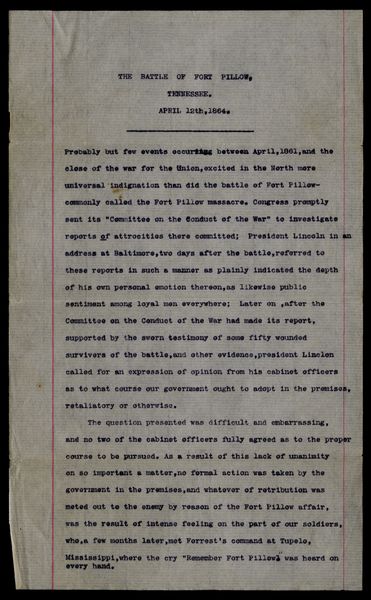 A high-resolution version of this object is available for registered users. LOG IN
Gilder Lehrman Collection #: GLC05080.01 Author/Creator: Leaming, Mack J. (1842-1893) Place Written: Great Falls, Montana Type: Typed document signed Date: 15 April 1893 Pagination: 17 p. ; 33 x 20 cm.
Summary of Content: Colonel Leaming, former Adjutant of the 13th Tennessee Cavalry, reports the graphic details of the 12 April 1864 Battle of Fort Pillow. Describes Fort Pillow as "the stormy days, when, added to the ordinary intensity of civil strife, the masters for the first time, met their former slaves." States that the African American battalion of the 6th United States Heavy Artillery commanded by Major Lionel F. Booth was present, as well as a white battalion of the 13th Regiment commanded by Major William F. Bradford. Reports "Fort Pillow was a natural outgrowth of the slave system ... It told in plainer and more forcible language than mortal tongue can describe, how such a system could dwarf the moral sensibilities of its advocates ... " States that upon being given the opportunity to surrender by Confederate General Nathan Bedford Forrest, Major Bradford declined. Leaming attests that during battle, Confederate soldiers targeted and tortured African Americans both during and after the battle, violating honorable and acceptable conduct of war. Quotes Forrest's first dispatch following the battle: "It is hoped that these facts will demonstrate to the northern people that negro soldiers can not cope with Southerners." Includes hand written corrections.
Background Information: It is estimated that 560 Union troops fought 1,500-2,000 Confederate soldiers in the Battle of Fort Pillow, Tennessee. Most of the Union soldiers killed a Fort Pillow, both during and after ...the battle, were African American. Much historical controversy exists regarding the facts surrounding the Battle of Fort Pillow.See More
Full Transcript: [Draft excerpt:]
Many of the colored soldiers, seeing that no quarters were to be given, madly leaped into the river, while the rebels stood on the bank or part way ...up the bluff, and shot at the heads of their victims. From where I fell wounded, I could plainly see this firing and note the bullets striking the water around the black heads of our soldiers, until suddenly the muddy current became red and I saw another life sacrificed in the cause of the Union. Here I noticed one soldier in the river, but in some way clinging to the bank. Two confederate soldiers pulled him out. He seemed to be wounded and crawled on his hands and knees. Finally one of the confederate soldiers placed his revolver to the head of the colored soldier and killed him..

..a rebel soldier walked past me, halted, and with a curse aimed his gun at a wounded colored soldier...The soldier begged for his life, but the next instant a bullet crashed through his brain...Another colored soldier was standing a few feet away. He had an ugly wound...as cooly as an executioner at a hog killing, the rebel brought down his weapon, jarred the powder into the tube, placed on a fresh percussion cap, again took aim, and the wounded soldier joined his comrade in death. These two murders of wounded colored soldiers I saw committed the day following the battle....

I estimate that fully 300 of our men were killed by the enemy after the works had been stormed and carried, and further resistance on our part had wholly ceased.

Thus ended, in fire and blood, in murder and cruelty beyond the pale of civilized warfare, the battle of Fort Pillow. More than two and a half centuries of wrongs were...resented by the men who operated our artillery there against the oppressors of their race. The steady roar of these guns while the conflict lasted, seemed to be echoing back through the ages the story of the slave master's rule and tyranny, while at the same time, this ringing speech of artillery was proclaiming in language not to be misunderstood, that the "Kingdom was coming."

On the other hand, the men in Gray were there, aroused by passions born of the "peculiar institution" and determined to maintain it at all hazzards [sic]. It seemed to be the last great act in a drama which had been culminating for two hundred and fifty years. It was, in one sense, a farewell shot against victims of the institution they loved so well. Without slavery Fort Pillow would have been impossible.See More
People: Leaming, Mack J., 1842-1893
Booth, Lionel F., -1864
Bradford, William F., -1864
Forrest, Nathan Bedford, 1821-1877

Historical Era: Rise of Industrial America, 1877-1900
Subjects: Fort Pillow MassacreFortificationCivil WarMilitary HistoryUnion ForcesAfrican American HistoryAfrican American TroopsSlaveryAtrocityMassacrePrisoner of WarConfederate States of AmericaConfederate General or LeaderBattleBattle of Fort Pillow (Fort Pillow Massacre)Morality and EthicsSurrenderDeath
Sub Era: