2022 FALL NEWSLETTER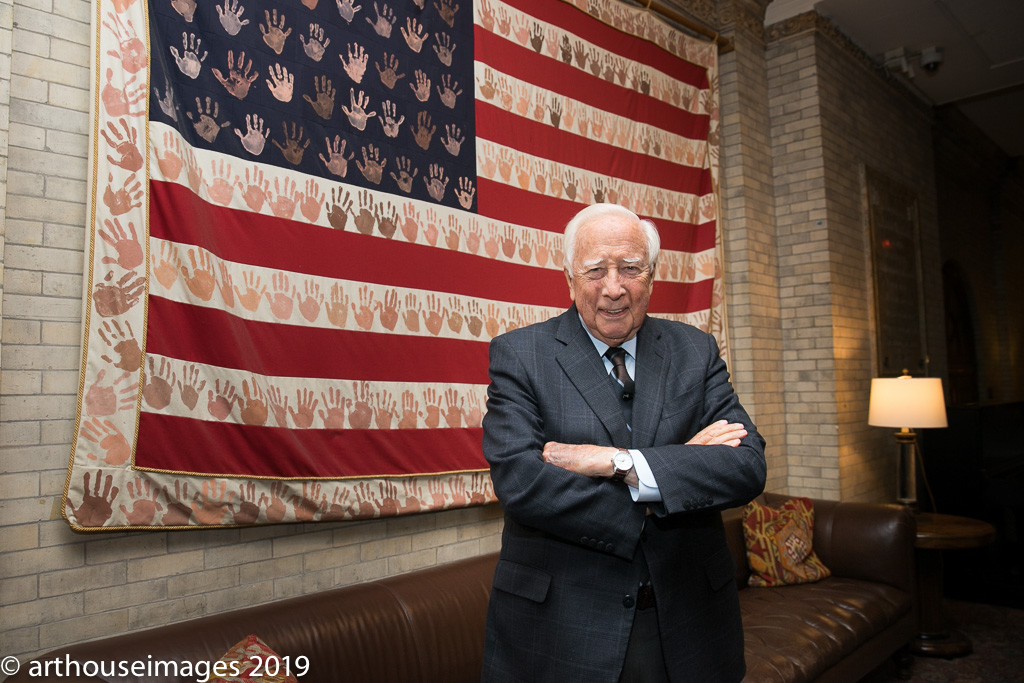 As we head back to school, we celebrate America's history teachers and their dedication to primary source learning. We must also pause to mourn the passing of David McCullough, a "master of the art of narrative history" and "a matchless writer."
He was twice winner of the Pulitzer Prize and twice winner of the National Book Award, and received the Presidential Medal of Freedom, the nation's highest civilian award.
The Gilder Lehrman Institute was fortunate to have a rich and longstanding relationship with David McCullough, from hosting his book talks to benefiting from the educational programs he led for GLI over the past two decades, including his 2019 special lecture for a Gilder Lehrman Teacher Seminar at Hingham Heritage Museum.
David was a longtime Trustee of the Gilder Lehrman Institute and the honoree at our first History Gala in 2012. This summer, an anonymous donor started the David and Rosalee McCullough Endowment Fund in his honor to support history programs for K–12 students.
We continue on in David's spirit.
---
History Teacher of the Year State Winners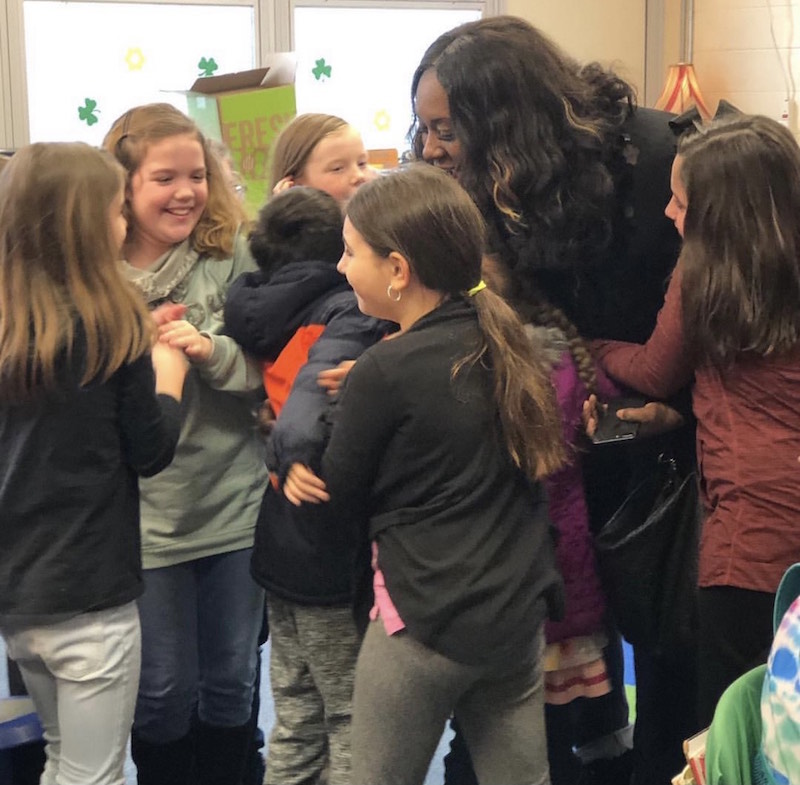 The Gilder Lehrman Institute is proud to announce the 2022 State History Teachers of the Year.
Since 2004, 960 exemplary American history teachers from elementary, middle, and high schools in all fifty states, Department of Defense schools, Washington DC, and US territories have been named State History Teacher of the Year. Many have gone on to work with the Institute, often as master teachers for programs such as History School.
The History Teacher of the Year Award highlights the crucial importance of history education by honoring exceptional American history teachers from elementary school through high school. In September 2022, ten finalists for the National History Teacher of the Year will be announced.
Read the full list of 2022 State History Teachers of the Year here.
---
The Gettysburg College–Gilder Lehrman MA in American History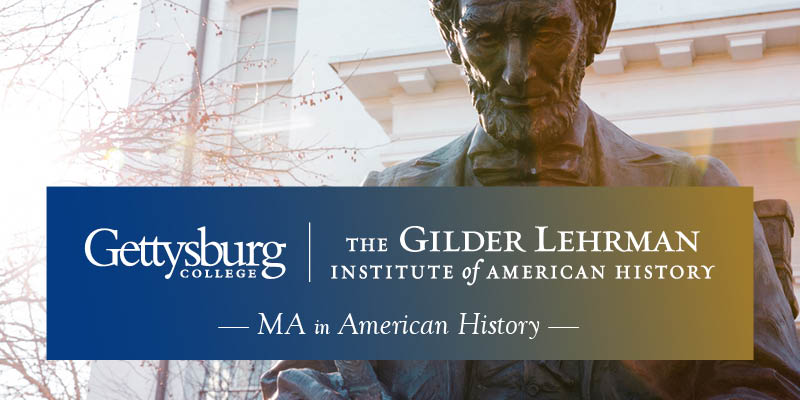 The Gilder Lehrman Institute of American History and Gettysburg College have partnered to offer an affordable, fully online master's degree program—led by renowned, award-winning historians—that brings together the leading non-profit American history organization and one of the nation's top liberal arts colleges.
The Gettysburg College–Gilder Lehrman MA in American History is open to K–12 educators, librarians, district supervisors, National Park Service employees, and museum professionals. Beginning September 2022, a full slate of 3-credit graduate courses will be offered each fall, spring, and summer semester.
Courses cover a range of topics spanning the founding era to the present day. Courses in the 2022–2023 academic year will include
America's First Civil Rights Movement: 1776–1877 led by Kate Masur, Northwestern University
Presidential Leadership at Historic Crossroads: From the Founding to Current Challenges led by Barbara Perry, University of Virginia
American Indian History since 1900 led by Don Fixico, Arizona State University
The Revolutionary Lives of Malcolm X and Martin Luther King Jr. led by Peniel Joseph, The University of Texas at Austin
The Vietnam War led by Fredrik Logevall, Harvard University
The History of Medicine and Public Health in the U.S. with Jim Downs, Gettysburg College
The Gettysburg College–Gilder Lehrman MA in American History offers one of the lowest cost MA programs in the country at just $750 for each 3-credit course. Students who successfully complete ten courses will be awarded a master's degree from Gettysburg College.
Gettysburg's connection to the Gilder Lehrman Institute dates back to 1990, when the College first partnered with Institute co-founders Richard Gilder and Lewis Lehrman to create the Lincoln Prize, an annual $50,000 award given for excellence in scholarly work on Abraham Lincoln, the American Civil War soldier, or the American Civil War era. In 2018, the Institute co-founders, in conjunction with the National Endowment for the Humanities (NEH), established the Gilder Lehrman NEH Professorship of Civil War Era Studies and History at Gettysburg, currently held by Professor Jim Downs.
"No other MA program in the world offers students an opportunity to study US history with so many leading historians," said Professor Downs. "The Gilder Lehrman Institute and Gettysburg College have brought together the leading experts on a range of crucial subjects to provide MA students with the most comprehensive training in US history."
Hear from teachers across the country who completed the MA in 2022 in the video below:
---
The Inaugural Gilder Lehrman Teacher Symposium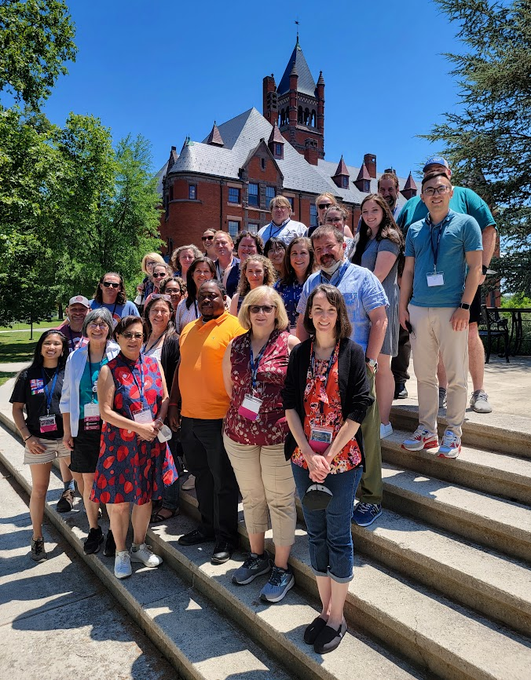 The Gilder Lehrman Institute returned to large-scale, in-person programming this summer with the Gilder Lehrman Teacher Symposium at Gettysburg College in Pennsylvania. In July 2022, teachers from across the United States learned, networked, and grew together as they worked closely with renowned scholars in various fields of American history.
Eight different courses ran concurrently during the Symposium, led by prominent scholars:
The Making of America with Denver Brunsman, George Washington University
American Indian History and Westward Expansion with Elliott West, University of Arkansas
The Unlikely History of the New United States: 1810 to 1860 with Edward Ayers, University of Richmond
The American Civil War with Gary Gallagher, University of Virginia
American Immigration: History and Life with Mae Ngai, Columbia University
The US Civil Rights Movement with Hasan Kwame Jeffries, Ohio State University
US Presidential History with Barbara Perry, University of Virginia
The Vietnam War with Robert K. Brigham, Vassar College
Professor Manisha Sinha, who gave the opening remarks, noted, "The Gilder Lehrman Institute's Teacher Symposium offers an extraordinary opportunity for teachers to hear leading historians and incorporate cutting-edge scholarship on various topics in their school lessons."
"It's hard to imagine a more evocative location to study presidential leadership than Gettysburg, especially with its ties to Lincoln and Eisenhower," said Professor Barbara Perry, about leading her US Presidential History course.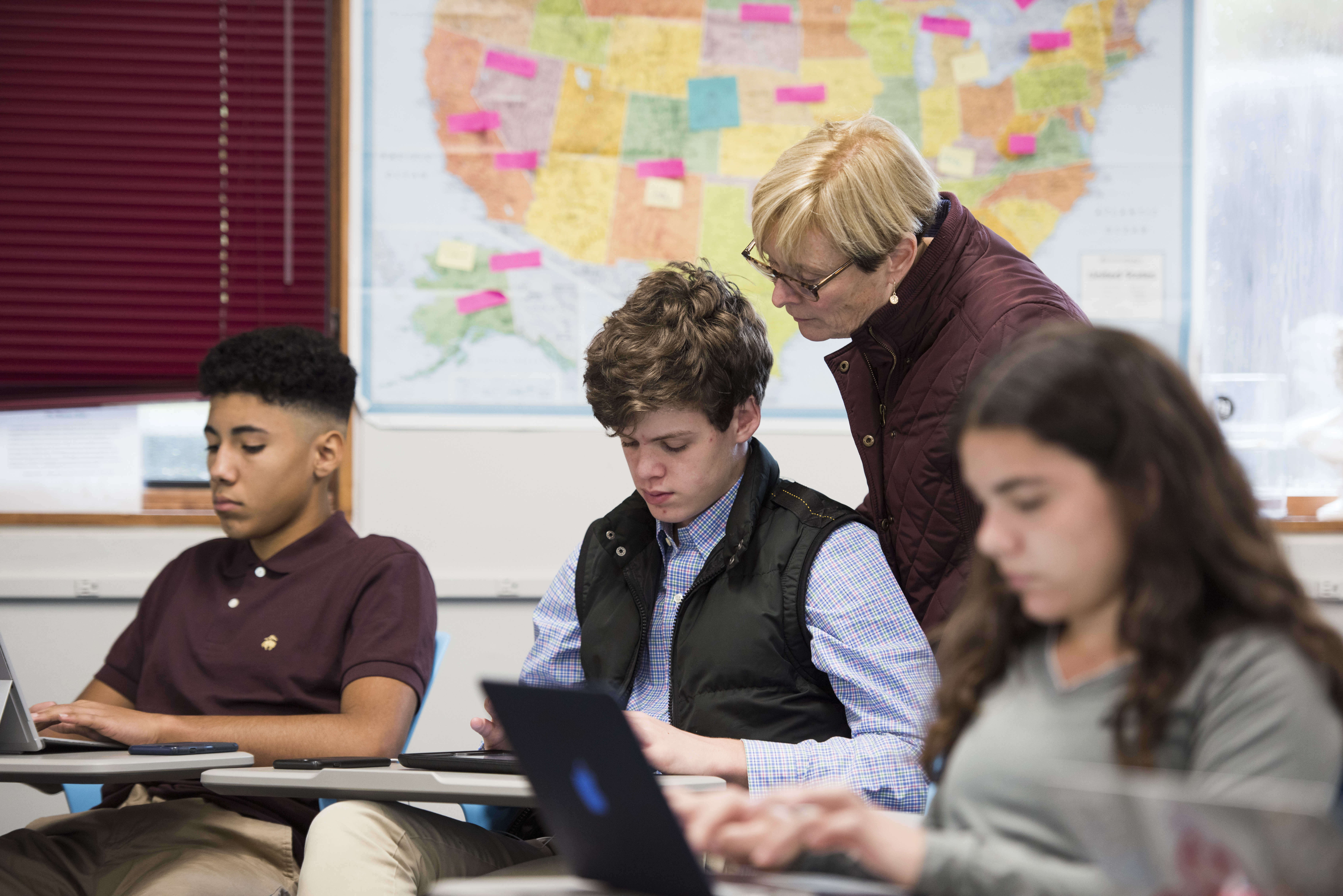 AnnMarie McCloud, a teacher at the Wooster School in Danbury, Connecticut, said: "The GLI Symposium offered so much more than I anticipated. For three heady days in Gettysburg, I, a quite ordinary high school teacher, had the chance to see and hear and speak with renowned historians, experts specializing in spheres I only glide through. While there is a definitive need for professional development related to pedagogy, there is an even greater need for high school educators to explore content in the discipline that defines each day."
---
The Affiliate School Program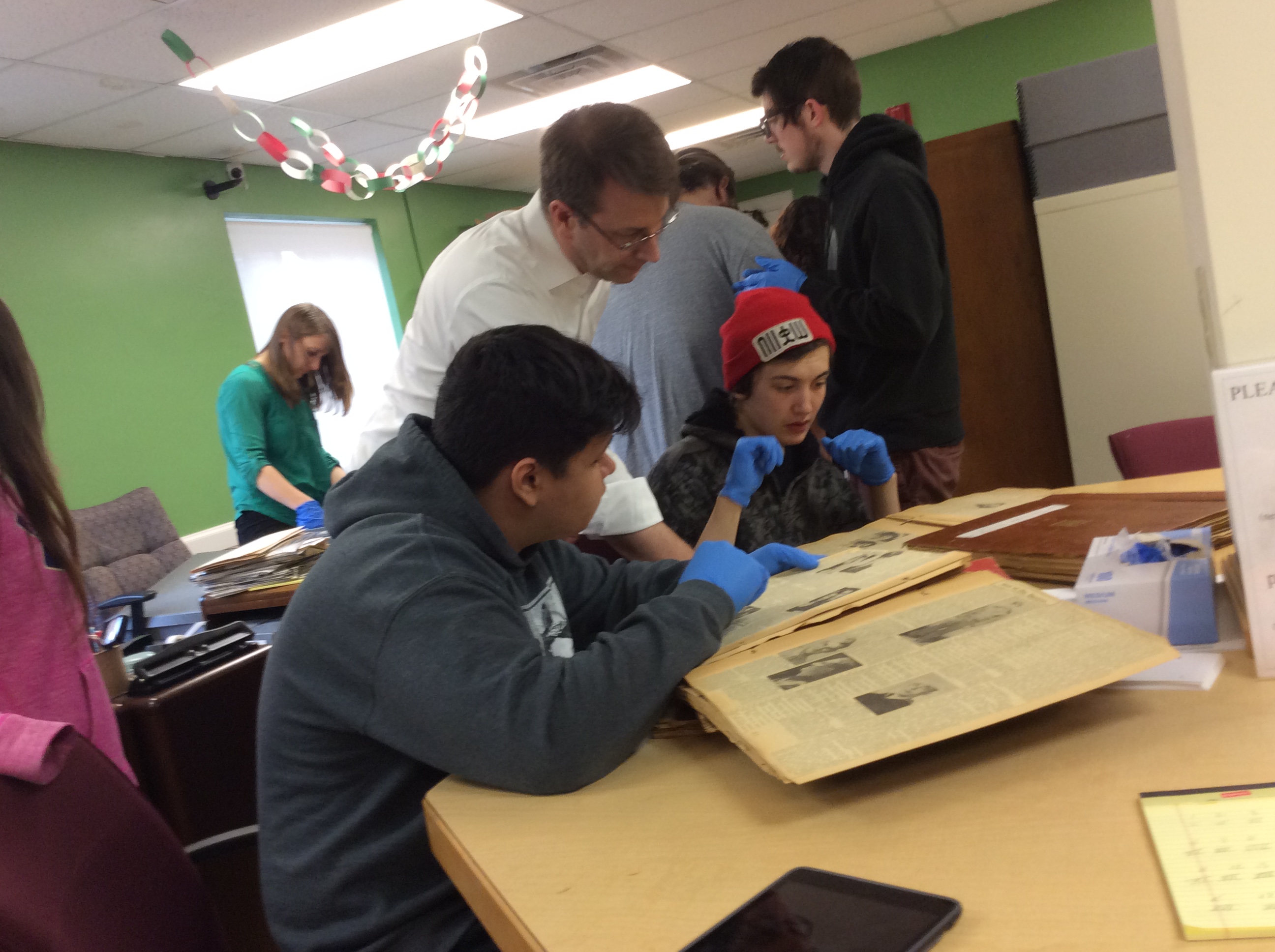 Now in its fourteenth year, the Gilder Lehrman Affiliate School Program has been the gateway to free professional development, primary and secondary sources, lesson plans, and other teaching materials that bring American history to life in the classroom for students and teachers across the country and internationally.
The History
In 2009, the Gilder Lehrman Institute launched the Affiliate School Program, made possible by a We the People Challenge Grant of $1,000,000 from the National Endowment for the Humanities. Richard Gilder matched the challenge grant 3 to 1.
By 2011 the Affiliate School Program expanded to 1,000 schools across the US and by 2012, it grew to include 2,500 schools, making it the largest American history–focused school network in the US. The 10,000th school joined in 2016 and the 20,000th in 2018.
In 2022, as we look forward to celebrating fifteen years of the program, there are more than 31,000 Gilder Lehrman Affiliate Schools.
The Program Benefits
The Gilder Lehrman Affiliate School Program provides K–12 teachers and students with access to all the American history resources they need to excel in the classroom and beyond.
From monthly giveaways of free history books, posters, courses, and classroom resources to exclusive access to our Teacher Seminars, scholarship opportunities, and book awards for students, students and teachers benefit from an overarching program that gives them what they need to succeed.
Being an Affiliate School is also the entry to Hamilton Education Program Online, which helps students see the relevance of the founding era by using primary sources to create a performance piece (e.g., a rap, poem, dramatic piece) following the model used by Lin-Manuel Miranda to create the musical Hamilton.
Being an Affiliate School member also gets you access to the Gilder Lehrman Collection's digital catalog of more than 80,000 primary sources with accompanying lesson plans and classroom activities, a free subscription to the journal History Now, eligibility to enroll in the Gettysburg College–Gilder Lehrman MA in American History, and discounts on Digital Professional Development Programs and Self-Paced Courses.
We urge you, if you are already part of this network, to explore everything available to you. If you are not yet registered, please come see how thousands of teachers and students benefit every day.
Learn more about how the Gilder Lehrman Affiliate School Program is making American history available to all by visiting https://www.gilderlehrman.org/programs-and-events/affiliate-school-program.
---
Celebrating American Historical Holidays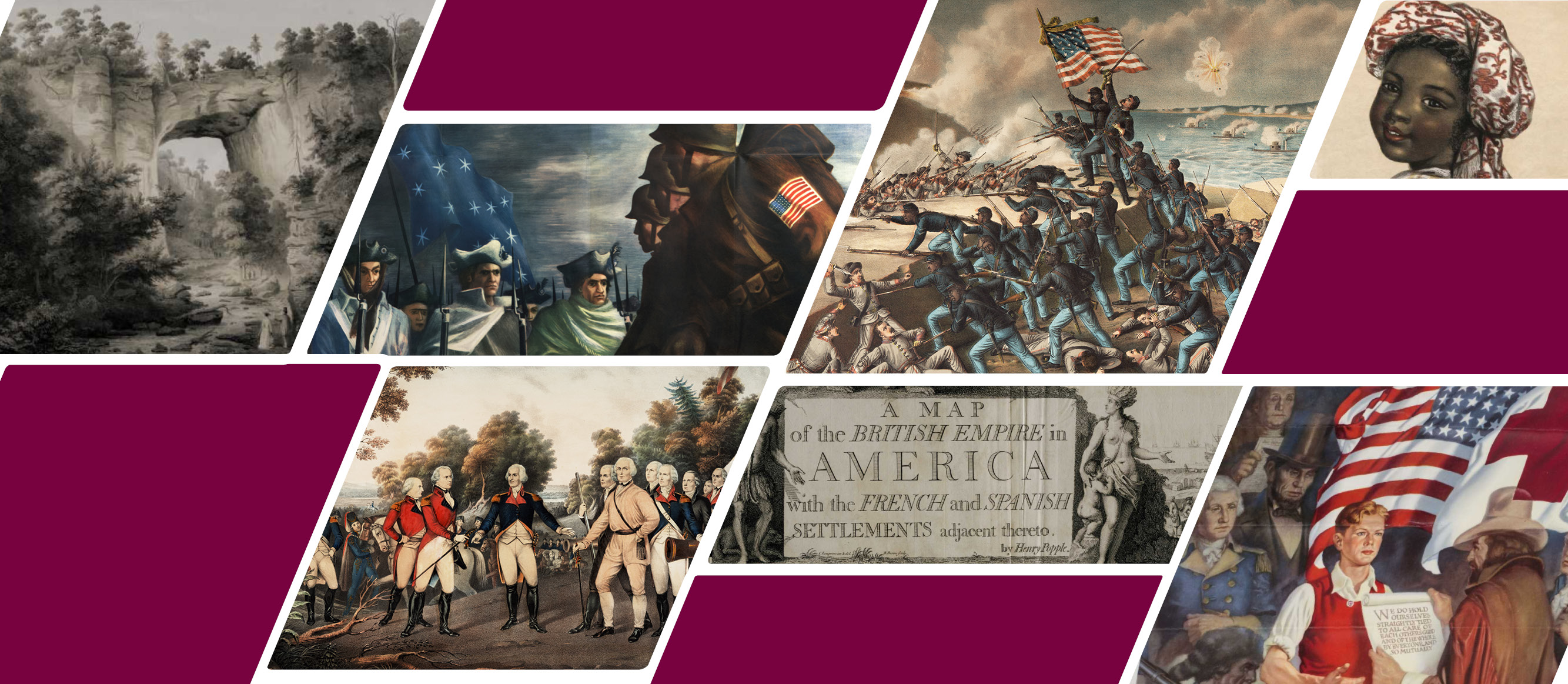 Recognizing and celebrating historical holidays—from memorializations of monumental American figures such as Martin Luther King Jr. to remembrances of events like Juneteenth—offer entry points for a deeper exploration of the pivotal moments, key figures, and central conflicts in American history. For teachers, these holidays provide an excellent way to focus classroom study and activity.
The Gilder Lehrman Institute offers American historical holiday resources from its Collection of more than 80,000 primary source documents, essays published in its online journal History Now, videos of talks by eminent scholars, lesson plans by American history teachers, and more to help teachers guide discussion, create class projects, and gain content knowledge that can be directly applied to their curriculum.
Start your school with Constitution Day Resources here!