Take a Deeper Dive into the World of HAMILTON with Gilder Lehrman
Posted by Gilder Lehrman Staff on Monday, 06/29/2020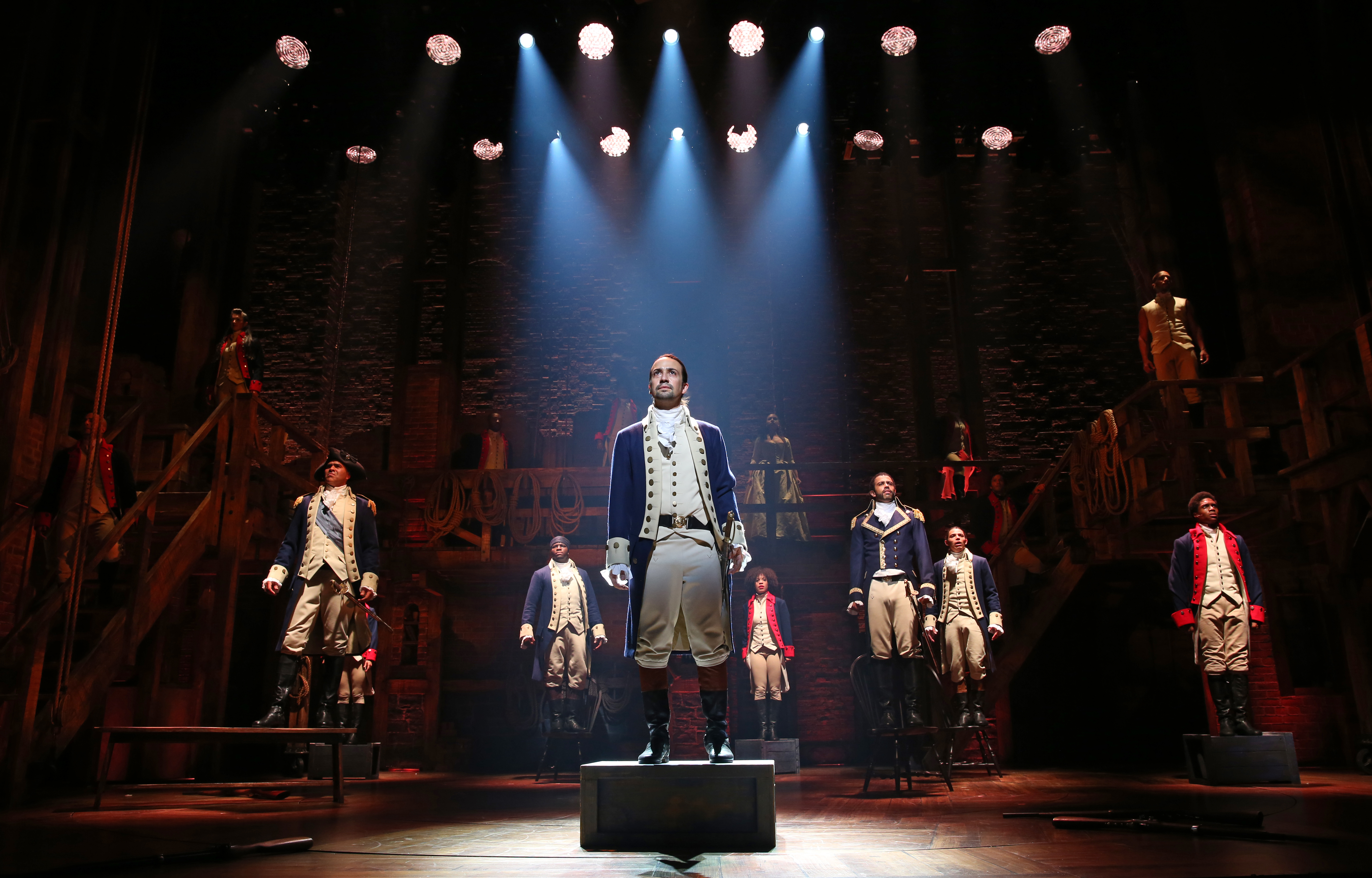 On July 3 the 2016 original Broadway cast production of Lin-Manuel Miranda's Hamilton will be released to Disney Plus subscribers. The Gilder Lehrman Institute has been honored to provide the curriculum and implementation of the Hamilton Education Program (EduHam) since 2016, bringing more than 164,000 students from 1,985 schools in 38 states to experience the historical phenomenon and participate with it directly through their own primary source research and creative performance. This summer families can work with their kids on the same curriculum and creative projects at home with EduHam at Home.
Whether you have seen the show on stage or will be seeing it for the first time on Disney Plus, you will feel inspired by the musical to want to know more. Below are just a few of the many resources we offer to delve further into the world of Alexander Hamilton and into the intentions of the musical's creators.
Characters from Hamilton Come to Life
Lin Manuel-Miranda discusses George Washington's Farewell Address.
Daveed Diggs (who plays Thomas Jefferson) compares the Declaration of Independence to a break-up letter while looking at Peter Timothy's copy.
Phillipa Soo (who plays Elizabeth Schuyler) contemplates the love between the Schuyler sisters as she reads Angelica's letter.
Angelica Church to Philip Schuyler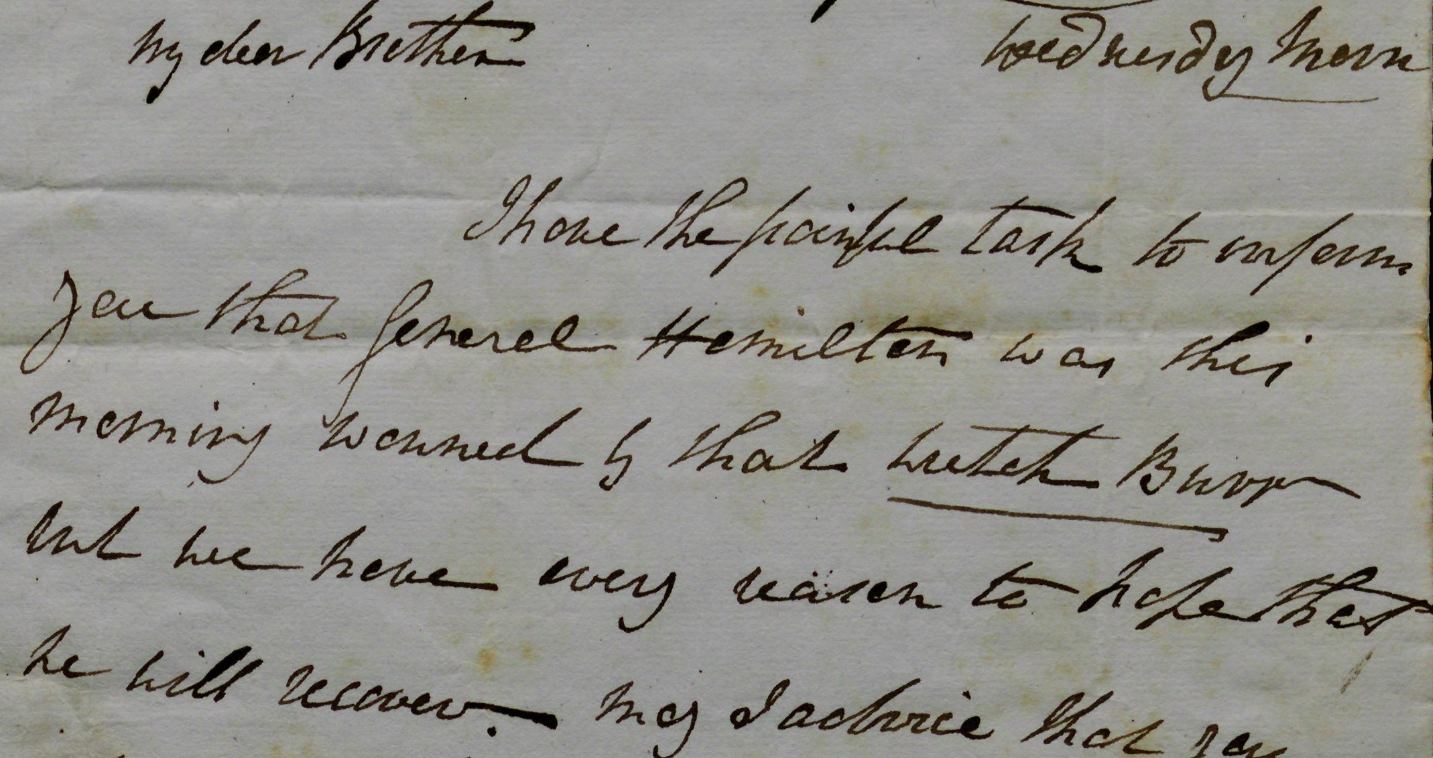 Read Angelica's frantic letter to her brother, written after the duel, when she thinks Hamilton might still survive. She begins: "I have the painful task to inform you that General Hamilton was this morning wouned [sic] by that Wretch Burr but we have every reason to hope that he will recover."
Understanding the Burr-Hamilton Duel
This engaging article explores why the duel happened and all the most commonly asked questions about it, shot for shot.
Alexander Hamilton's Passionate Love Letter to Eliza

Hamilton writes to Elizabeth Schuyler: "Is my language too strong? . . . you will only know when wrapt in each others arms we give and take those delicious caresses which love inspires and marriage sanctifies." The letter continues, showing what happens when a man who writes like he's "running out of time" writes a love letter.
A Poem Links Unlikely Allies in 1775: Phillis Wheatley and George Washington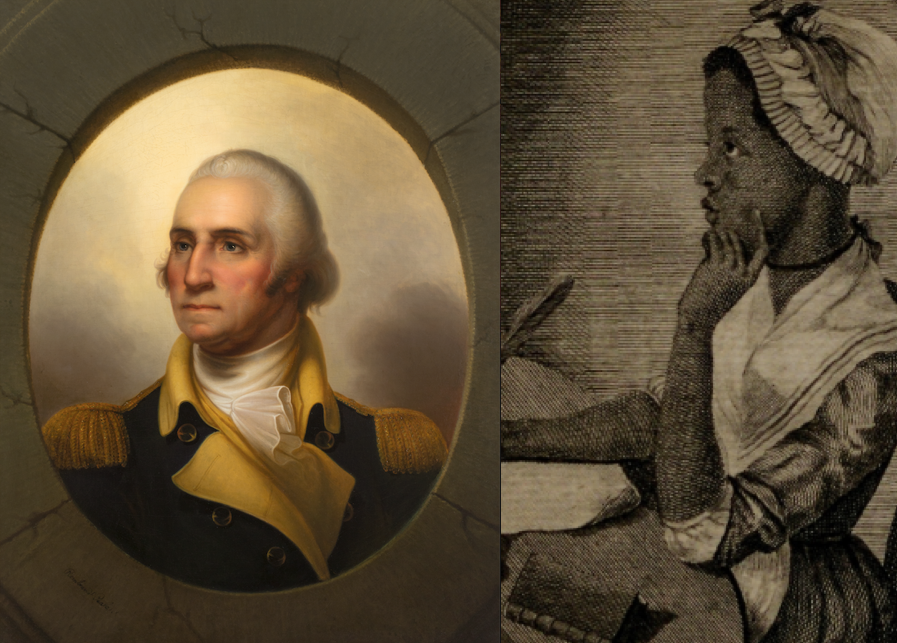 The Continental Congress commissioned George Washington as commander in chief of the Continental Army on June 19, 1775. Phillis Wheatley's ode to George Washington, published in the spring of 1776, envisioned the newly risen Washington as a hero worthy of Homeric verse and gained Washington's admiration for Wheatley's poetry in turn.
George Washington on the Abolition of Slavery, 1786
Washington gradually came to realize that slavery was immoral and contrary to the Revolutionary ideals of liberty and equality. In 1774 he endorsed a document, known as the Fairfax Resolves, that condemned the slave trade as "unnatural" and recommended that no more slaves be imported into the British colonies. Five years later, he approved John Laurens's plan to grant slaves their freedom in exchange for service in the Continental Army.
Hamilton's New York: Lower Manhattan Walking Tour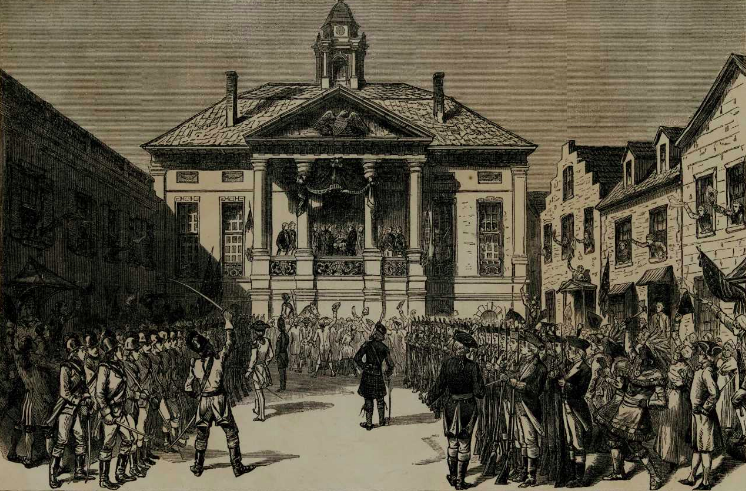 See how New York City looked back in the day in this educational engaging video. Professor Cindy Lobel lays out the city as Hamilton knew it in a straightforward and fun way.
Black Americans during the Founding Era
Annette Gordon Reed discusses Thomas Jefferson and her award-winning book The Hemingses of Monticello: An American Family on the Gilder Lehrman Institute program Book Breaks: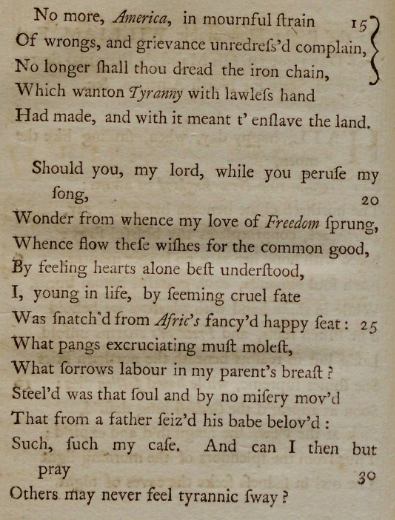 Phillis Wheatley's Poem on Tyranny and Slavery, 1772
In 1772, the renowned African American poet Phillis Wheatley wrote a poem comparing the tyranny of Britain to her experience of slavery. Explore her poem and her world with this Spotlight on a Primary Source.
Former Slave, Doctor Cuffee Wells, 1781
Information regarding African American soldiers in the Revolutionary War is usually difficult to track down. In this rarest of documents, get a glimpse of early African American history beyond the experience of slavery.
Revolutionary Stories
"Dear Girl, how much I love you" - The Revolutionary War Letters of Henry & Lucy Knox

What's war without a love story? Stuff like this is rarely talked about in AP US History in high school, but here is a story of two people who loved each other through the most trying of times, written in their own words. SPOILER ALERT: He survived the war for a happy ending.
A Family Torn Apart by War, 1777
On a personal level, the Revolutionary War pitted family members against one another. Discussion questions give even more depth to a heartbreaking letter and let the reader meditate on the ravages of war in one family.