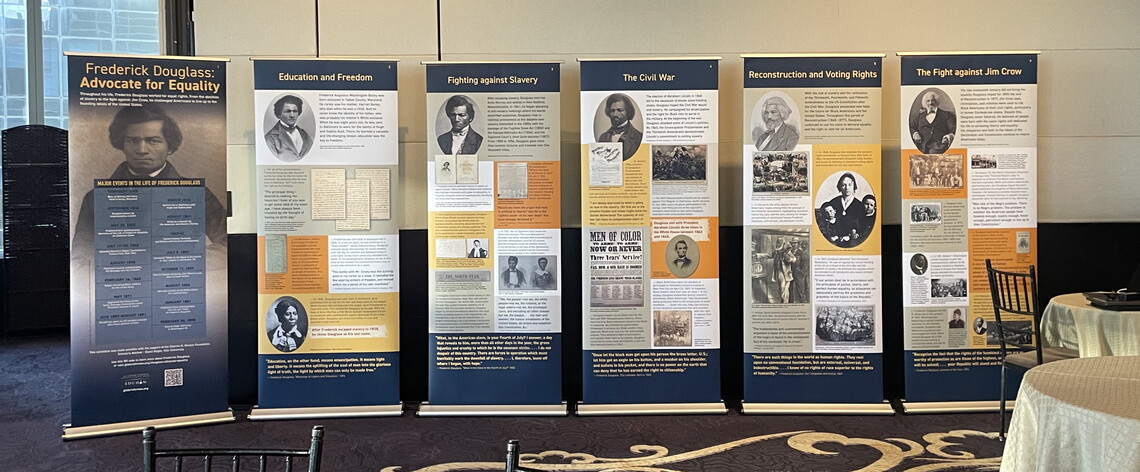 Frederick Douglass: Advocate for Equality features an exploration of the full trajectory of Douglass's epic life from 1818 to 1895. In this traveling exhibition, viewers can learn about Douglass's escape from slavery, his work as an abolitionist, and his tireless fight for equality for all individuals in the Jim Crow era. This exhibition explores Douglass's impact and his life through his own words and in photographs and documents from the Gilder Lehrman Collection.
LOGISTICAL INFORMATION
Size: Six freestanding retractable panels, each 33" x 81", requiring minimum 15-18 running feet for display.
Rental Fees: $450 for a four-week display period
Purchase information: Your institution may purchase a copy of this exhibition for permanent use for $1,375. The travel case is available as a separate purchase.
SUPPLEMENTARY MATERIALS
These materials will be available once you book your exhibition.
Frederick Douglass Exhibition Resources: This resource page was curated to provide documents, videos, reading suggestions, and more resources for the Frederick Douglass: Advocate for Equality exhibition and for any GLI patron who simply wants to know more about Douglass's incredible life and works.
Exhibition Guide including program ideas, suggested reading, and full panel text.
Please email exhibitions@gilderlehrman.org for more information.