Knox, Lucy Flucker (ca. 1756-1824) to Henry Knox
High-resolution images are available to schools and libraries via subscription to American History, 1493-1943. Check to see if your school or library already has a subscription. Or click here for more information. You may also order a pdf of the image from us here.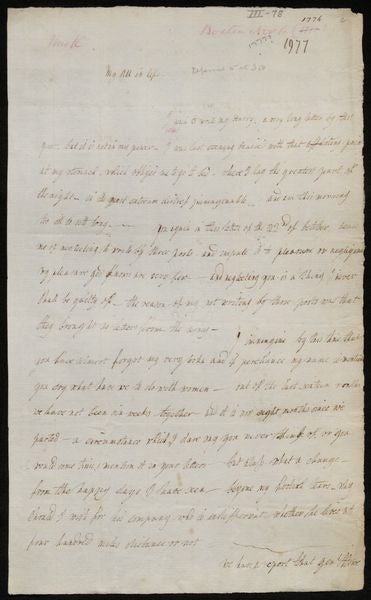 A high-resolution version of this object is available for registered users. LOG IN
Gilder Lehrman Collection #: GLC02437.00480 Author/Creator: Knox, Lucy Flucker (ca. 1756-1824) Place Written: Boston, Massachusetts Type: Autograph letter signed Date: 6 November 1776 Pagination: 2 p. ; 31.7 x 19.2 cm.
Discusses her poor health, explains why she did not write for three posts, and laments their separation. Seeks verification of a rumor that General William Howe met the same fate as General John Burgoyne. Letter dated below signature as 6 November. Year inferred from content.
[draft]
My All in life
I wish to write my Harry a very long letter by this post, but it is not in my power - I was last evening [s/z?eaised] with that afflicting pain at my stomach - which obliged me to go to bed - where I lay the greatest part of the night - in the most extream distress immaginable - and am this morning too ill to sitt long - you again in this letter of the 22nd of October, acuse me of neglecting to write by three posts - and impute it to pleasure or negligence my pleasure God knows are very few - and neglecting you is a thing I never shall be guilty of - the reason of my not writing by those posts was that they brought no Letters from the army -
I immagine by this time that you have almost forgot my very looks and if perchance my name is mentioned you cry what have we to do with women - out of the last sixteen months we have not been six weeks together - and it is now eight months since we parted - a circumstance which I dare say you never think of or you would some times mention it in your letters - but alass what a change - from the happy days I have seen - begone my foolish tears - why should I wish for his company who is indifferent - whether he lives at four hundred miles distance or not -
We have a report that Genl Howe [2] has met the fate of Genl Burgoine - if that is true, do you think you can content yourself to return to my arms, if you can may god almighty soon place you there is the prayer
of your unhappy wife
L K
Boston November 6th